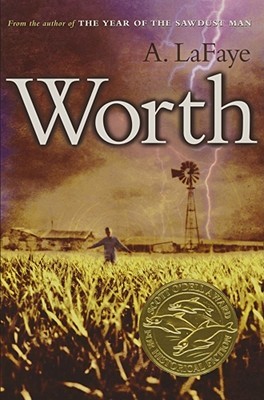 I received this book for free from the library in exchange for an honest review. This does not affect my opinion of the book or the content of my review.
Worth
by
A. LaFaye
Genres:
Literature
Published by
Simon & Schuster Books for Young Readers
on June 1, 2004
Pages:
160
Format:
Hardcover
Source:
the library
Buy on Amazon
Goodreads
Third in the Nissa great literature series for juvenile readers and revolving around Nathaniel Peale and his whole family. Based in 19th century Nebraska.
In 2008, Worth was nominated for the Rebecca Caudill Young Reader's Book Award. In 2006, it won the Simon Honor Book. In 2005, it won the Scott O'Dell award, and in 2004, it won the California Book Award Silver Medal for Juvenile. And I can see why it won all these awards. This is brilliant.
My Take
Absolutely brilliant. I'd give it a "7" if the rating system would let me. It's ideal for nine- to thirteen-year-olds…and adults will appreciate LaFaye's absolutely gorgeous, and I mean, GORGEOUS, descriptions that are so unique and yet capture the feeling.
"Then a fog rolled in, misting me clean through — no pain, no thoughts, nothing but wet gray haze, liked I'd been set adrift in a boat at dawn."
Yep, if you fancy yourself a writer, BUY this book. It's easy to read and those descriptions…oh, yeah…
"Just like that he went from laughing to crying so hard he couldn't breathe. The suddenness of it sent Ma forward, like she was catching someone who'd taken a fall."
LaFaye has created a world that brings it home, how families struggled with the anger between farmer and rancher as well as the battle to survive, to earn that homestead, to pay the bank, to make it. The storm and Nate's struggle are excellent metaphors for their trials.
It's a story rampant with guilt. Pa's. Nate's. Worth's. LaFaye uses first-person protagonist point-of-view from Nate's perspective, and we learn firsthand how agonizing those pains are. The leg, his father's abandonment, and the new "son" who's come to take his place, all with LaFaye's deft turn of phrase, describing emotions and actions in totally new ways that make you feel it all.
I do have a couple niggles…I wanna know more about Ma. A woman who "hears the lightning in the tall grass" and tinkers with repairs. Ya gotta admire a woman like her. But I also want to know why she's taken against Worth. For such a "Christian" woman, she sure is unChristian. I'm also confused over those oranges. How could they have lasted long enough to get to Nebraska from New York?
Listening to Nate talk about their home in Nebraska, and how it started out. The slow, very slow, accumulation of chairs, a table, beds…even windows. Further on, the talk is about schoolin'. Ma desperately wants Nate to go, and she is the learned one in the family. It's a great opportunity to talk with your kids about education. The limitations on how far (or if) one could attend school. I know the kids'll come up with all sorts of positives about that one, lol, and it's a good opportunity to note those negatives. How it hampered people as well as the whys of not being able to go to school. And Nate's exposure to learning is what helps him and Worth bond.
Another good topic is the relationship Pa has with his ranching neighbor. It's a Christian (and I mean this in the original way) attitude that pays big dividends for both families and is an excellent example of working together to solve problems.
The Story
It's a disaster in so many ways, leading to radical changes in the Peale family. Pa must deal with his guilt while Nate battles the loss he knows and the one he fears.
As for Worth…he's lost so much more…
The Characters
Nathaniel "Wood" Peale is eleven years old and hasn't yet been to school. Ma, Mary Eve, mends household goods for folks, although Pa, Gabe, takes the credit. People prefer to think women can't do a man's work. Vernon, Dixie, and Belle are the draft horses; Dimple is the cow. Missy is the daughter who died while in Verna Crawford's neglectful care; Mr. Crawford shooed Nate out. I think Uncle Jasper is Ma's brother. Uncle Paul had been building a curing shed.
John Worth is an orphan boy, a city boy from New York whose family died in a tenement fire. Tommy was his brother, and he'd had three sisters.
Seth Clemson is their neighbor who runs a herd of cattle. One of his hands is Gavin Tussler. More neighbors include Tin Harper, a rancher; the Kinleys are farmers; the Campbells got themselves a new son; the Gantrys are a ranching family feuding with their neighbors, the farming Danvers (and Calvin Danver was found dead); the Dales; and, Widow Kerensky is a rancher.
Doc Kelly is the local doctor. Baker is the even-handed sheriff. Mr. Carter owns the bank. Ralph Pitcher runs the mercantile. Pastor Emerson preaches. Mr. Kennel teaches school in a soddie. The other students include Penny Dale, Milton Harper, Horace Danver, Katia Mavchek, Trevor Gantry, Theo Harper, the Kerensky twins, Margaret Planck, and Alexander and Anemone Cordimas who are from Greece.
Hester Feringeld was a neighbor while Mrs. Kempki worked in the drug store in Chicago. Benny Saddler had been Nate's friend. Mana is Greek for mother. I'm thinking that Eddie Dawson's ma would have preferred not to have survived. Willie Sharp's success gives Worth his goal.
The Cover and Title
The cover is an out-of-focus photograph of a young Nathaniel running through a field of fluorescent yellow hay. In the pinks and browns background is the family farm, a windmill on the right with streaks of pink lightning flashing, a portent of the storm that is to come. A white informational blurb is at the very top with the author's name in a deep grayed-out brown right aligned under it. The title is below that in white with a deep brown shadow. Off-center at the bottom is a round gold medallion for the Scott O'Dell Award.
The title can go two ways: that orphan boy and for what it's Worth.
Related Posts