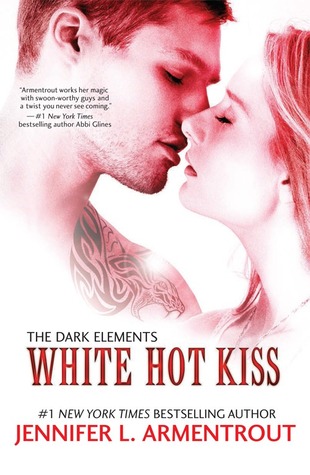 White Hot Kiss
by
Jennifer L. Armentrout
Genres:
Urban Fantasy
,
YA
Published by
Harlequin
,
Teen
on February 25, 2014
Pages:
400
Format:
Paperback
Source:
the library
Goodreads
One kiss could be the last 

Seventeen-year-old Layla just wants to be normal. But with a kiss that kills anything with a soul, she's anything but normal. Half demon, half gargoyle, Layla has abilities no one else possesses. 

Raised among the Wardens—a race of gargoyles tasked with hunting demons and keeping humanity safe—Layla tries to fit in, but that means hiding her own dark side from those she loves the most. Especially Zayne, the swoon-worthy, incredibly gorgeous and completely off-limits Warden she's crushed on since forever. 

Then she meets Roth—a tattooed, sinfully hot demon who claims to know all her secrets. Layla knows she should stay away, but she's not sure she wants to—especially when that whole no-kissing thing isn't an issue, considering Roth has no soul. 

But when Layla discovers she's the reason for the violent demon uprising, trusting Roth could not only ruin her chances with Zayne…it could brand her a traitor to her family. Worse yet, it could become a one-way ticket to the end of the world.
Also by this author:
Origins
First in The Darkest Elements urban fantasy series for young adults and revolving around Layla. Based in Washington D.C.
My Take
This is certainly a twist on your usual YA romance. Half-good, half-bad, Layla is pivotal to many concerns on both sides of the divide. For such a lovely, sweet, young thing, she also has more than her fair share of haters, and she rates one hunk of a bodyguard. Brings that total up to two. Hunky bodyguards.
The conflicts show up immediately: Layla loves Zayne but can't have him; Zayne cares for Layla; Layla feels shame about her heritage — she can't even shift!; Layla wants to help, but is terrified that Abbott will restrict her movements, and she needs to be free; she wonders if the Wardens have brainwashed her; and, she's not treated well in a space where they claim to care about her.
I can understand wanting to be free, and Armentrout does a nice job of portraying a seventeen-year-old girl in her conflict between wanting to retain her freedom and yet wanting to do the right thing.
That jealousy of Layla's got old fast. She's such a child insisting that everything revolve around her. It's not like she doesn't know about Danika, the restrictions Zayne faces, and she's so immature in her reactions. Although, she's not as immature and mean as Eva. Jeez. Then there are those comments she makes to other Wardens about Petr's soul. I mean, duhhhhh. What is she thinking? It is interesting how very opposite the Wardens and Roth are. The Wardens promote themselves as Saviors and the demons as true evil, and yet there's Roth's point. And Petr's actions certainly do not support the concept of what a Warden is supposed to be. I do not see how his soul can remain pure with the thoughts he has or the actions he undertakes.
I don't like how Abbott treats her. Pushing her aside, telling her this isn't her world, even though she's half Warden. That comment he makes about it was better she didn't know about the stain she carried. Puh-lease. He's never treated her like family. He's tolerated her. This whole thing is messed up. But in a good storytelling way, *grin*. I want one side or the other to be the bad guy. I want to believe that one side is telling the truth. And Armentrout throws out so many possibilities. So many ways the story could swing.
It's a courtship of sorts. Layla's in hopeless love with Zayne, she can't kiss anyone as it will suck their soul out, and Roth is after her with the sexual innuendoes, the kisses, poking and prodding at the concepts with which she's been indoctrinated.
Both Roth and Abbott are jerks in this. Why not just explain to Layla what the dangers are? Lay it out for her. This is another one of those stupid tropes where those in the know think not telling anyone else anything is a help. It's never a help.
I'm frustrated with Armentrout pulling out the stupid tropes as it affected my tension levels. I wasn't as tense with the hunting. And it is scary. They come from everywhere, could be anyone, and yet I was more twisted up by stupid than the terror.
I can't believe Roth and Layla don't think about the clothes when they set it up for her to be "rescued" by the Wardens. I mean, hullo, it's a pretty big, in-your-face, kind of deal.
Yeah, there are a lot of oh, brothers in here for me, and still…Armentrout grabs my heart and twists…
With all that happens and that surprise ending…I'm just glad I only have to wait until the end of October for Stone Cold Touch, 2.
The Story
Orphaned, Layla has been taken in by the Wardens and barely treated like family. Worse, they tell her nothing about her past or the potential of her future. She does know that her kiss can steal a person's soul. Instead she contributes by marking the soulless for the Wardens to collect and send back to Hell. Until her seventeenth birthday…
The Characters
Layla Shaw is a high schooler with AP papers due. She's also half-demon, half-gargoyle who can see souls or the lack of one. Zayne is a Warden and Abbott's son. Roth calls him "Stony" and claims he's in love with Layla. Morris is the human chauffeur who picks Layla up.
Stacey Boyd is her best girlfriend; Sam is her best guy friend with a love for random knowledge. Gareth Richmond's dad is rich, and he throws the best parties while Eva Hasher is a mean girl.
Roth is an Upper Level demon, who is working for the Boss, Satan. He's also Astaroth, the most recent Crown Prince of Hell. All the previous ones served their purpose or went bad; they got sent to the demons' equivalent of death, the fiery pits of Hell. Lucy is his mother. In name only. Bambi is the snake who lives on Roth's skin as a tattoo; wait'll you meet Thumper. He also has three kittens: Fury, Nitro, and Thor. Cayman is a demon who is friends with Roth and keeps an eye on his place.
The Wardens
Abbott is the Warden/gargoyle in charge, and he's Zayne's father as well as a father figure to Layla. Geoff monitors security. Jasmine is a mated Warden (see "Bitter Sweet Love", 0.5) and married with twins: Isabelle and Drake. Danika is Jasmine's sister; she's intended to be Zayne's mate. Nicolai is one of the few who is kind to Layla.
Elijah Faustin (who turns out to be her father!!) is being relocated to the Northeast along with his son, Petr. Both of them harass and brutalize Layla any chance they get.
Wardens are gargoyles, and they police the supernatural world, taking out the demons. The Alphas are angels, the Seraphim, and they command the Wardens. They enforce the Law of Balance.
Tony is an nine- or ten-year-old seer.
Demons are escapees from Hell and lack souls. The Lesser Key of Solomon is a catalog of demons and includes the secret of recreating the Lilin. Poser demons can look and act like humans. The evil they bring is their bite, it's like rabies and contagious. Mean and aggressive, Seeker demons locate and retrieve anything their handler sends them for. Upper Level demons include Dukes or Infernal Rulers, not on Layla's mess-with list. Fiends are the most common and always look young, and they have a wide range of abilities. Hellions are "cracked-out mutant apes and pit bulls rolled into one" and not supposed to be out topside. Rack demons are "from the inner bowels of Hell" and feed off the pain of others. Caym and Paimon are some of the Upper Level demons after Layla. Naberius is one of Paimon's lackeys.
Lilith is a demon with abilities like Layla, and it's put Layla on Hell's Most Wanted List. Sounds like she was the first feminist, lol! She birthed every monster the world now knows including the Lilin, a "race of demons who could steal souls with a single touch…her first and most powerful children".
Wraiths are souls that got stuck between Heaven and Hell and can interact with humanity.
The Cover
The cover is very pretty and romantic with its pink and white with the pink enough to separate the tattooed Roth and the innocent Layla from the background as he leans down and she reaches up to kiss.
The title is all about Layla's White Hot Kiss, not one that kills, but close enough.
Related Posts