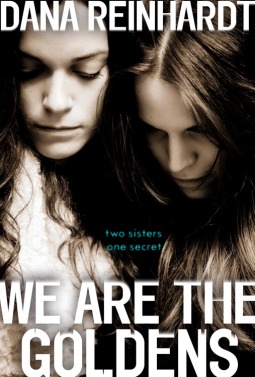 by
Dana Reinhardt
Genres:
Chick Lit
,
Fiction
,
YA
Published by
Wendy Lamb Books
on May 27, 2014
Format:
eARC
Source:
Netgalley
Goodreads
Nell knows a secret about her perfect, beautiful sister Layla. If she tells, it could blow their world apart.

When Nell and Layla were little, Nell used to call them Nellaya. Because to Nell, there was no difference between where she started and her adored big sister ended. They're a unit; divorce made them rely on each other early on, so when one pulls away, what is the other to do? But now, Nell's a freshman in high school and Layla is changing, secretive. And then Nell discovers why. Layla is involved with one of their teachers. And even though Nell tries to support Layla, to understand that she's happy and in love, Nell struggles with her true feelings: it's wrong, and she must do something about it.
A fictional exploration of the twin-like relationship between siblings with one veering off in one direction while the other mourns her loss.
I did receive this as an ARC from the publisher.
My Take
I'm conflicted. We are the Goldens is well-written, but incredibly depressing. I'm also rather annoyed that Reinhardt kept teasing me, "promising" a fatal ending, which was, in the end, unexpected. It's Nell's story with a history of how the girls came to be, their closeness until high school intervenes with its hormonal challenges. The day-to-day interactions and how close Nell is to Felix, and eventually the truth of their relationship. This dialog is split against Nell's occupation with her sister's growing coldness. The fears Nell has about Layla. The questions she has about why Layla is pulling away. Wondering what's wrong with her, with Layla, with their parents, with school. When it's wrong to keep secrets and how to let those secrets out to protect.
The story starts with Nell's complaints about how Layla is changing, the fears of starting up at a new school as she moves from prep to high school. It's her dreams. The dreams, fears, and hopes we all had in school. Wanting to be popular, wanting to be liked, and the fear of joining an organization where one's sibling is a star. The social interactivity that is capable of creating problems. Wrong choices, improper desires, and needy wants spread throughout the story.
The dangers of high school with attractive teachers and hormonal teenagers. The dramas and traumas for which teens are willing to exploit each other.
I do wish we'd gotten a reason why the Creed boys spend so much time with Nell.
They have great parents who are interested in how their girls are doing, but not paying enough attention, not setting better boundaries.
I love Nell's observation about teen support with Hugh Feldman giving his girlfriend, Ava Price, a standing ovation. Sweet.
The Story
It's so much change, Nell finally going to City Day where Layla goes to school. With all the dreams a younger sister who wants to make her mark can have.
Only Layla has a new interest, one she's unwilling to share, and Nell is frantic to understand, even as Layla pulls away more and more.
The Characters
Nell and Layla Golden are the younger and older siblings who have shared everything. Until now. Their parents divorced when Nell was five with the girls splitting their time between their parents. Turned Mom into the Fun Killer and Dad into the Fungineer. Mom still hasn't remarried and Dad married Sonia.
Felix De La Cruz is Nell's best friend. His dad, Angel, gets diagnosed with cancer; Julia is his mother.
Parker and Duncan Creed are the ghosts of two boys who died. When they were alive, Nell and Layla and the family spent holidays with them — Dad and Mr. Creed had been college roommates.
Sam Fitzpayne is the boy Nell falls for. The one she refuses to hear bad things about. Hazel Porter, a senior, and Andie are objects of Felix's passion. Since he can't have who he really wants. Chiara is one of Layla's friends. Austin Baker.
Coach Jarvis coaches the girls' soccer team. Mr. George Barr is the Intro to Visual Arts teacher, a class every student must take. He's adored by all his students. Mrs. Eisentein is directing the school play. Mr. Garcia teaches humanities. Ms. Bellweather is the school registrar.
The Cover
The cover is moody with Layla and Nell, long wavy hair flowing down and around their bodies, standing too close, too enwrapped.
The title is the girls, for We are the Goldens.
Related Posts