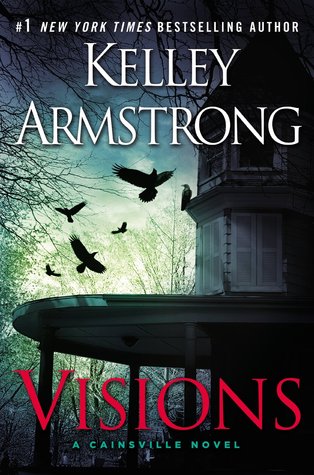 Visions
by
Kelley Armstrong
Series:
Cainsville #2
Genres:
Urban Fantasy
Published by
Dutton Adult
on September 14, 2014
Pages:
432
Format:
Hardcover
Source:
the library
Goodreads
Also in this series:
Portents
Omens, the first installment in Kelley Armstrong's exciting new series, introduced Olivia Taylor-Jones, daughter of notorious serial killers, and Gabriel Walsh, the self-serving, morally ambiguous lawyer who became her unlikely ally. Together, they chased down a devious killer and partially cleared her parents of their horrifying crimes.

Their success, however, is short-lived. While Olivia takes refuge in the old, secluded town of Cainsville, Gabriel's past mistakes have come to light, creating a rift between the pair just when she needs his help the most.

Olivia finds a dead woman in her car, dressed to look like her, but the body vanishes before anyone else sees it. Olivia's convinced it's another omen, a sign of impending danger. But then she learns that a troubled young woman went missing just days ago—the same woman Olivia found dead in her car. Someone has gone to great lengths to kill and leave this young woman as a warning. But why? And what role has her new home played in this disturbing murder?

Olivia's effort to uncover the truth places her in the crosshairs of old and powerful forces, forces that have their own agenda, and closely guarded secrets they don't want revealed.
Also by this author:
Omens
,
Wild Justice
,
Sea of Shadows
,
The Masked Truth
,
City of the Lost
,
Forest of Ruin
,
Betrayals
,
A Darkness Absolute
,
Indigo
,
Rituals
,
The Unquiet Past
,
This Fallen Prey
,
Stolen
,
Rough Justice
,
Dime Store Magic
,
Industrial Magic
,
Haunted
,
Broken
,
Dark Screams: Volume Nine
,
No Humans Involved,
,
Waking the Witch
,
Portents
,
Missing
,
Alone in the Wild
,
Watcher in the Woods
,
Otherworld Secrets
,
Wherever She Goes
,
"The Case of the Half-Demon Spy"
,
"Truth & Consequences"
,
"Territorial"
,
"Escape"
,
"Adventurer"
,
Otherworld Chills
,
A Stranger in Town
,
"Bargain"
,
Hex on the Beach
,
"Recruit"
,
"Checkmate"
,
"Framed"
Second in the Cainsville urban fantasy series set between Chicago and a small town outside it and revolving around Olivia Taylor-Jones, alias Eden Larsen, and Gabriel Walsh.
It's been three weeks since Olivia fled her home in Omens, 1, and only yesterday that Edgar Chandler was arrested.
My Take
I do love the sound of this town, a perfect Currier and Ives cozy village, where everyone is interested in everyone else. Until you begin to see under that rug, the questions that rise up. I also love the story, even if Armstrong makes me crazy with all the questions I have, the information I want, and she keeps on tugging at my heartstrings, my curiosity…I gotta know!
It's a dance through Visions. Some of the story is told from Liv's perspective using the first person and some is from Gabriel's but using the third person. It's one of changing relationships, growing knowledge, forays of manipulation… Olivia and Gabriel each need to grow, to understand themselves and the people and family around them better. God knows we learn a ton more about Gabriel's childhood, who his father is. The opposition who steps momentarily out of the shadows along with the visions that begin to break down Liv and Gabriel's resistance. Truths rising up.
Olivia is developing a backbone when it comes to family. And as much as Cainsville comes to mean to her at the end, it's also giving her a truer life. Gabriel. Oh, you'll cry for this Gabriel. He only knows survival and at such a cost.
LOL, Rose has dating advice…and it involves banana bread. It is not, however, advice that will help Liv, caught as she is between three men. A man she feels duty-bound to love even as she realizes the truth about her attraction to him, the contrast forcing her to see the other two as too real, too alive to be ignored.
Ya really gotta feel for Gabriel. He's so careful, so held back, so bound around by his own childhood issues that when Olivia comes into his life, he has no idea how to handle it. Even if the elders are all rooting for him. And I can see Olivia's point about Gabriel's promises. Dang it. I want to say she's wrong, to go for it, but Armstrong has made that impossible! And then there's Rose. Lol, she does not pull her punches when it comes to assessing her grand-nephew.
There's Ricky, mmmm-mmm, a man who is too persistent for words. It's impossible to say no for so many reasons, lol. Gorgeous, fair, and honest. He's so honest…! He's also romantic and so amazingly vulnerable that he is sweet.
Then there's James. The man who "can see beyond her background" and can't bear to lose.
It's a messy story with all the balls Armstrong has tossed into the air. Balls that may seem unrelated but that are all pushing at Olivia and Gabriel to change how they see their worlds. Balls that change how we see the characters in the series.
Note to Self: Don't pack weapons in a purse or backpack unless they're spares.
The Story
There are omens and portents everywhere Olivia looks, a "gift" her birth mother refuses to explain. Only there's one "portent" that Olivia doesn't need explained when James confronts Gabriel about their deal. And Olivia is furious at learning the truth about why Gabriel hired her.
But there's still the appeal for her birth mother. There's still the omens and now the visions arising…
The Characters
Olivia Taylor-Jones, a.k.a., Eden Larsen, is the adopted daughter of Lena Taylor and the now-deceased Arthur Jones and heiress to a department store fortune. Lena is not a demonstrative mother; it was her adopted father with whom Olivia had such a warm and loving relationship. Howard is her adopted mother's lawyer. Pamela Larsen is her birth mother and imprisoned for life for multiple murders. Her birth father, Todd, is in another prison. TC is the cat she doesn't want. The same one that goes missing and Olivia goes nuts.
Gabriel Walsh looks like a thug in an expensive suit. In reality, he's a wealthy defense lawyer who knows what his clients face. He's hired Olivia as an investigative assistant to aid him in preparing her mother's appeal. His mother was Seanna Walsh, a drug addicted prostitute who cared more about her fix than her son whom she abandoned at 15. His Great-aunt Rose is a psychic in Cainsville who wished she could have done more for him as a child. Lydia is Gabriel's secretary.
Ricky Gallagher is Don's son pursuing an MBA. Don Gallagher heads Satan's Saints, a motorcycle gang, and he's one of Gabriel's clients. Wallace is Don's sergeant-at-arms. Chad "Sully" Sullivan is an errant member of the gang.
James Morgan is Olivia's ex-fiancé. He's the CEO of a rising tech firm, the son of a former Illinois senator, and on the city's most eligible bachelor lists. Karen is James' administrative assistant. She used to like Olivia. James is getting an ultimatum from Neil, his father's former campaign manager. Maura is his escalating mother.
Detective Fuentes insists on interviewing Olivia about Ciara. Kendrick Walker works at a funeral home.
Cainsville is a sweet, sleepy village with some deep secrets. Susie is a fellow waitress at the diner, which is owned by Larry, an ex-con and a dream boss. Grace is Olivia's landlady. The elders of the village include Ida and Walter Clark, Veronica and Roger who volunteer at the police station, and Minnie. Patrick is the diner's resident novelist and one of the few who dares to talk back to the elders. Chief Eddie Burton is married with two teens. Doc Webster is the town doctor.
The drug-addicted Ciara Conway is one of their own. And the woman Olivia saw in her car. Macy Shaw is the trapped woman at the State Hospital, and she's a gamechanger. Her brother, Tommy, has had numerous run-ins with the law.
The Carew house is owned by Cainsville and has been abandoned since its last owner died. Daere Carew Bowen is Pamela's mother and Liv's maternal grandmother, a.k.a., Grandma Jean, who married John Bowen. They moved to Chicago where John was a factory foreman.
Edgar Chandler was arrested for two of the murders for which her parents had been sentenced: Jan Gunderson and Peter Evans. Seems that Will Evans, Peter's father, was the one who killed his son and his girlfriend. Michael Anderson was Chandler's bodyguard, the one who's now missing half his foot.
The Black Shuck, a.k.a., the black dog, a Cŵn, means danger to everyone in Cainsville. It's a Cŵn Annwn who confronts Olivia at the fund raiser, gives her the boar's tusk amulet, tells her she has no reason to fear the black hounds. The nice one who wants Olivia to come over to their side. The Wild Hunt, a.k.a., Gabriel's Hounds. I get the impression that Arawn is a leader or something of the Cŵn Annwn when Minnie wonders if Ricky is this Arawn.
Tristan Crouch is with The Belarus Group and very persuasive.
Tylweth Teg are Fae; do not say fairies! Matilda is Mallt-y-nos, the Night Hag, and seduced into one last ride. A choice that will doom her. And lose her Gwynn of the Tylweth Teg to Arawn's delight.
The Cover
The cover is the dark grey of the rounded roof of an old Queen Anne porch for a house going to wrack and ruin, ravens flitting about in the green-toned stormy sky.
But are the Visions in this title truly dreams, hallucinations, or reality?
Related Posts