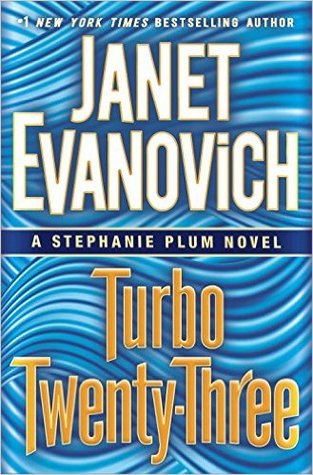 I received this book for free from the library in exchange for an honest review. This does not affect my opinion of the book or the content of my review.
Turbo Twenty-Three
by
Janet Evanovich
Genres:
Romantic Suspense
Published by
Bantam
on November 15, 2016
Pages:
288
Format:
Hardcover
Source:
the library
Buy on Amazon
Goodreads
Also by this author:
Takedown Twenty
,
The Chase
,
Top Secret Twenty-One
,
The Job
,
Stephanie Plum #3 – #7
,
Wicked Charms
,
Love Overboard
,
Stephanie Plums
,
Plum Spooky
,
,
Tricky Twenty-Two
,
The Pursuit
,
The Scam
,
Curious Minds
,
Dangerous Minds
,
Hardcore Twenty-Four
,
"The Shell Game"
,
Look Alive Twenty-five
,
The Big Kahuna
,
Fortune and Glory
,
The Bounty
Twenty-third in the Stephanie Plum romantic suspense series and revolving around a bumbling bounty hunter in Trenton, New Jersey in the fall.
My Take
Okay, it was fun to read, but it's still without any real heat or heart, emotion (and show) which has been missing since Fearless Fourteen, 14. And I think the heart is running out on Joe too.
Evanovich has plenty of tell romance-wise between Stephanie, Joe, and Ranger. Well, you know, their kind of romance. And, yes, there is no heat here either. There isn't even any heat between Ranger or Joe. Hmmm, I think I could safely say it's pretty dead.
At least Grandma is having some fun.
'And I was careful to balance out my meal with something from different major food groups. I got fried protein, tasty carbohydrates, and gravy.'

'Gravy isn't a food group.'

'Say what?'"
I gotta hand it to Lula. She's always got something goin', and she cracked me up with her entrepreneurial side. It's practical, as she's playin' to her strengths, lol. That whole demo reel thing she's doing with Randy Briggs is just another of her outrageous ideas that keeps things lively in the Stephanie-verse. It's too bad Evanovich didn't go further with this. At least something would have been lively. There could've been some "good times" if Lula or Randy had exchanged views about each other.
I was a little confused about Bogart's. On the one hand, Evanovich implies that his business is in trouble, and then says that he's looking to expand. It took awhile, but I finally put it together.
Yep, that Stephanie has some reputation, and the bad guys are folding all around her. And I really hate to say this, but I think Evanovich needs to fold Stephanie Plum up as well. I've heard many complaints that every story is essentially the same, but I'd always enjoyed the character interaction. Only…that's become too same-same as well, only with such lukewarm exchanges. And lukewarm is probably still too hot a word to use…
The Story
Larry Virgil skipped out on his latest court date after he was arrested for hijacking an eighteen-wheeler full of premium bourbon. Fortunately for bounty hunter Stephanie Plum, Larry is just stupid enough to attempt almost the exact same crime again. Only this time he flees the scene, leaving behind a freezer truck loaded with Bogart ice cream and a dead body — frozen solid and covered in chocolate and chopped pecans.
As fate would have it, Stephanie's mentor and occasional employer, Ranger, needs her to go undercover at the Bogart factory to find out who's putting their employees on ice and sabotaging the business.
It's going to be hard for Stephanie to keep her hands off all that ice cream, and even harder for her to keep her hands off Ranger. It's also going to be hard to explain to Trenton's hottest cop, Joe Morelli, why she is spending late nights with Ranger, late nights with Lula and Randy Briggs — who are naked and afraid — and late nights keeping tabs on Grandma Mazur and her new fella.
Stephanie Plum has a lot on her plate, but for a girl who claims to have "virtually no marketable skills", these are the kinds of sweet assignments she does best.
The Characters
Stephanie Plum is still collecting bounties for Vinnie. Lula is her entrepreneurial wheelman, a former 'ho who no longer files but keeps showing up for work. Dad is retired and mostly grunts at the TV and the table. Mom is a not-so-secret lush who irons when she's worried…she irons a lot. She's starting to think Aunt Marge and Uncle Tub have the right idea. Grandma Mazur has all the life of the house. Grandma's latest boyfriend is Bertie, who rides a motorcycle and tends bar at Kranski's.
Vinnie's Bail Bonds is…
…owned by Vincent Plum, Stephanie's cousin who has the occasional fling with Madam Z, the local dominatrix. He's married to Lucille whose father, Harry the Hammer, is fronting Vinnie. Connie Rosolli is the hairy office manager. Her Uncle Lou is mobbed up.
Ranger is a former Special Forces operative who has his own security company, Rangeman, and he has the hots for Stephanie as well. Tank and Calvin get a mention.
Detective Joe Morelli is a plainclothes cop working crimes against persons…and is Stephanie's boyfriend. Bob is his I'll-eat-everything golden retriever. Mooch is his cousin and the cheating Anthony is his brother.
Trenton PD
Eddie Gazara is a beat cop married to Stephanie's cousin, Shirley the Whiner. Jimmy is his partner, struggling not to laugh. Detective Butch Zajak. Detective Manny Rogezzi is investigating the Winkle incident; he married Marilyn Fugg. Gary is in Booking. Detective Gary Marble is working the Bogart case.
Bogart is…
…an ice cream company known for its Bogart Bars, although they're not too popular right now. Harry Bogart owns the company; Susan is his wife. Arnold Zigler used to be the human resources manager. Kathy is Harry's secretary; Evelyn does all the clerical work. Jim works the floor. Tina, Doris, Betty, Miranda, PeeWee Stutz, Maureen Gooley, Gina Slater, Lucinda Keever, Stan Ducker is the Jolly Bogart clown, Sylvia Mook, Maria Ortiz, and the shifty-eyed Marty are Stephanie's co-workers. Gus is the foreman. William "Butchy" Boone is the idiot; he and Noodles work the loading dock. Jeff Soon is the new vice-president.
Mo Morris is…
…the cousin who is Bogart's rival with his ice cream company. Vicky works the reception desk. The unhappy Kenny Morris is Mo's son.
Randy Briggs is a perved-out little person. Handy Howie has an infrared video camera. Laurene is supposed to be working the clacker. Snowball was a surprise. Ronald Brickett got shot out of his job by PC idiots. Joey and Boomer work at the junkyard.
Patty Giovichinni works the cash register at Giovichinni's. Mrs. Morganstern is outraged about what happened to Eddie. Sharelle Jones is a friendly hooker. Carolyn Freeda's son, Mickey, is an EMT. Gaylord Brown sells used, sorta-legal cars. Wayne works for Gaylord. Marion Wurtzler is one of Grandma's friends. Marjorie Bend is another funeral parlor habitué.
Larry Virgil loves hijackin' them trucks. Simon Diggery is a professional grave robber; Ethel is his pet boa constrictor. Myra Kranshaw was Simon's latest. Eugene Winkle is nasty all over. Bernard Smitch is a UC-Berkeley graduate mime who likes to make political statements. Benjamin Kwan has his fingers in a lot of pies…and ice cream cups. Chewy works for Kwan. Dottie Loosey is just plain mean.
The Cover and Title
The cover is deep turquoise tubes with shadows of royal blue undulating across, over, and under as a background. The author's name takes over the upper half in a metallic white outlined in gold. There's a thin ribbon of navy blue across the middle with the series information in gold. Below it is the title in a metallic gold outlined in yellow.
The title is an indicator as to where it falls in the Stephanie Plum timeline, Turbo Twenty-Three.
Related Posts