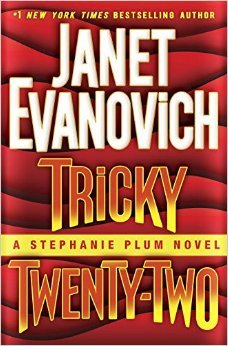 I received this book for free from the library in exchange for an honest review. This does not affect my opinion of the book or the content of my review.
Tricky Twenty-Two
by
Janet Evanovich
Genres:
Romantic Suspense
Published by
Bantam
on November 17, 2015
Pages:
320
Format:
Hardcover
Source:
the library
Buy on Amazon
Goodreads
Something big is brewing in Trenton, New Jersey, and it could blow at any minute.

Stephanie Plum might not be the world's greatest bounty hunter, but she knows when she's being played. Ken Globovic, a.k.a., Gobbles, hailed as the Supreme Exalted Zookeeper of the animal house known as Zeta fraternity, has been arrested for beating up the dean of students at Kiltman College. Gobbles has missed his court date and gone into hiding. People have seen him on campus, but no one will talk. Things just aren't adding up, and Stephanie can't shake the feeling that something funny is going on at the college - and it's not just Zeta fraternity pranks.

As much as people love Gobbles, they hate Doug Linken. When Linken is gunned down in his backyard, it's good riddance, and the list of possible murder suspects is long. The only people who care about finding Linken's killer are Trenton cop Joe Morelli, who has been assigned the case, security expert Ranger, who was hired to protect Linken, and Stephanie, who has her eye on a cash prize and hopefully has some tricks up her sleeve.
Also by this author:
Takedown Twenty
,
The Chase
,
Top Secret Twenty-One
,
The Job
,
Stephanie Plum #3 – #7
,
Wicked Charms
,
Love Overboard
,
Stephanie Plums
,
Plum Spooky
,
,
The Pursuit
,
The Scam
,
Curious Minds
,
Turbo Twenty-Three
,
Dangerous Minds
,
Hardcore Twenty-Four
,
"The Shell Game"
,
Look Alive Twenty-five
,
The Big Kahuna
,
Fortune and Glory
,
The Bounty
,
Full House
,
The Recovery Agent
Twenty-second in the Stephanie Plum romantic suspense series and revolving around an inept bounty hunter and her crew in Trenton, New Jersey. If you're interested, there is a chronological listing of the Stephanie Plum books on my website.
My Take
I have to assume that somehow Stephanie is good enough at her job that she apprehends most people fairly easily, 'cause she never does seem to learn. It's a tricky business, how Stephanie manages.
Evanovich has a way of describing that will make you laugh even as she lays out the backgrounds of her characters. Even though most of the characters in the book are the same core cast each time, Evanovich always manages to keep her descriptions fresh, using a different string of adjectival phrases to draw their pictures for us.
"We'd been casually cohabitating with the occasional mention of love and marriage. He kept condoms at my house, and I kept tampons at his house, but that was as much as we'd moved in so far."
The heat between Stephanie, Morelli, and Ranger is supposedly still there, but I still don't feel it, even as Ranger is more out there about his attraction to her.
"'I need the red dress for that?'

'The red dress is for me,' Ranger said. 'I like the red dress.'"
Still, Evanovich surprised me with that non-proposal. Here it is, Stephanie is all set for it. Only it's not it. Nor does it seem all that real throughout the book, as Joe continues to stalk her and Stephanie only talks about being mad. There's no show to it. No reinforcement. And, of course, I'd'a taken advantage of it to jump Ranger. Of course Stephanie has her issues with that whole Catholic guilt thing.
I'm also afraid for Joe. What's going on? I thought he loved his job?
Whoa, we learn more about Lula's previous activities as a 'ho than has been previously revealed. And I cracked up at the end result of a couple of bangers who kidnap Lula and her Firebird, lol.
The situation with Gobbles and Mintner is an interesting series of complex maneuverings that are signature Stephanie. I do wish Evanovich had been less obtuse about how Stephanie got the wind up. Another oddity is the pizza delivery "prize". How was that supposed to work?
I'm surprised Stephanie takes that car from Ranger. She's gotta know it'll have a short shelf life — Joe claims her cars have a 24-hour expiration date. She's also exploring alternative jobs, which is a crack-up. She's so absolutely hopeless at so many things.
"'Did you ever work at baking?'

'No, but I watched Ratatouille about a dozen times."
Hmmm, Evanovich has been dropping bits and pieces for several books about how Ranger vaulted so quickly into the sophisticated security company he runs. And it has my imagination running wild.
Oh, yeah!!! Go, Mom! She gets it in this one, why Stephanie likes being a bounty hunter. I'm anxiously curious to see if this perspective continues into number twenty-three. 'Cause it still bugs me that Mom never pursued that interest in nursing.
It's a book (the whole series, really) which needs to be read with a pile of snack foods and fried chicken, as Steph and Lula's major food groups are donuts and Cluck-in-a-Bucket.
The Story
Not being the world's greatest bounty hunter, Stephanie Plum knows when she's being played. There's something off about Ken Globovic arrest. Things just aren't adding up, and Stephanie can't shake the feeling that something funny is going on at the college — and it's not just Zeta fraternity pranks.
As much as people love Gobbles, they hate Doug Linken. When Linken is gunned down in his backyard, it's good riddance, with even the widow thrilled.
The Characters
Stephanie Plum is a lucky-by-chance bounty hunter who blackmailed her cousin into a job. Grandma Mazur (Edna) is a crazy nightmare in tennis shoes, depending upon your perspective. She does crack me up with her bright interest in everything, and I'm damned glad she doesn't live with me, lol! She's also, ahem, Gina Bigelow. Ellen is Stephanie's long-suffering mother (and Edna's daughter) who copes with Jim Beam and lots and lots of ironing. Frank is her even longer-suffering father who focuses on TV and dinner. Valerie is the pregnant-again sister about whom we haven't heard much in a long time. Big Blue is a Jay Leno-type car. A '53 powder blue-and-white Buick Roadster that is indestructible, and which Stephanie hates to borrow on account of it not fitting her image.
Detective Joe Morelli works for the Trenton PD's homicide division and is Stephanie's on-again, off-again hot boyfriend. Bob is his orange eat-everything-in-sight dog. Anthony is his productive brother who keeps getting divorced and remarried, resulting in a houseful of kids.
Carlos Manoso, a.k.a., Ranger, is former Special Forces with that special skillset. A former bounty hunter, he now owns an exclusive security company, Rangeman, and is baffled by his love for Stephanie. Tank is his second-in-command. Hal (who is terrified of Lula) is one of his men. Ella is Ranger's executive housekeeper.
Supposedly Lula, a former 'ho, is employed by Vinnie to file and is Stephanie's best friend. Since the office has gone digital, we're not sure what she files, but Stephanie should get her job. It'd be easier. Lula cracks me up with her confidence and dress sense — Steph describes her as a plus-size woman who squeezes herself into startlingly colorful clothes that are three sizes too small. Aha! Lula's landlord is a combative lesbian, which explains why her small lavender house is mostly graffiti-free. Turns out a seventy-five-year-old woman lives in the attic.
Vincent Plum Bail Bonds is…
…ostensibly Vinnie's, her slimy cousin's agency, but is in reality owned by his scary father-in-law, Harry the Hammer. Lucille is Vinnie's very long-suffering wife whom we never actually meet. And every single time, Evanovich cracks me up with her description of Vinnie. Connie Rosolli is the short Italian bombshell who manages the office. Her ancient Uncle Lou is old-school and still likes to make his own shells. Well, he is still whacking people.
FTAs are…
…people who were arrested and failed to appear for court. Ginny Scoot cut off her boyfriend's favorite appendage; Ken Globovic; "Billy Bacon" Brown, a fry cook at Mike's Burger Place, had the misfortune to use bacon grease in his heist (Eula is his mother, a former 'ho); Blatzo is a high-money bond with a brutal interest in women; Jesus Sanchez walks Frank, his sister's dog; and, Richard Nesman has a thing for shoes (he's married to Larry Staples).
Kiltman College is…
…a local school with a reputation for excellence in the sciences. It's also where Ken Globovic, a.k.a., Gobbles, is enrolled and is the main terror for Zeta — the Supreme Exalted Zookeeper — a fraternity at the school that is too enthralled with Animal House. Julie Ruley is a journalism major and Gobbles' girlfriend. Brian Karwatt and Becker are a couple of the fraternity brothers.
Martin Mintner is the dean of students who has a vendetta against Zeta. Ginger Mintner is his ex-wife. Professor Pooka is a nut job who needs serious help. He's also the faculty advisor for Zeta and builds rockets for a hobby. Avi Attar is a famous student (youngest Jeopardy champion, wunderkind, and a biology prodigy) whom I suspect is about to become a fixture in the series, otherwise I have no clue why Evanovich would include him. He's a good-looking kid with a kind nature.
Harry Getz had been partners with Doug Linken in their construction business, G&L Builds. Monica is Doug's annoyed, booze-swilling wife grateful to all her husband's girlfriends.
Law enforcement
Eddie Gazarra is a Trenton cop who is married to Shirley the Whiner, Stephanie's cousin. Stan is the cop who's gonna wish he hadn't had that burrito for breakfast. Chris Frye is with the CDC, Chuck Bell is FBI, and Les Kulick is Homeland Security.
The gossipy women of Mom and Grandma's acquaintance include…
…Mrs. Kranski, Mrs. Rundig, Mabel Schein, Betty Shatz, Mrs. Kulicki, and the pole-dancing Emily Root.
Susan Gower is a high school friend of Stephanie's and is now the charge nurse at the ER. Mr. Zajak is one of Stephanie's neighbors with a healthy interest in her parking lot antics.
As a side note, Grandma's been…
…catfishing with Scooter Stud Muffin and Kenny.
The Cover and Title
The cover is rows of undulating reds. The author's name is big and white at the top in an embossed font while a narrow banner of bright yellow spans the lower front with the series information. The title is an outline in yellow with an arched gradation of red to yellow in a font as big as the author's name.
I suspect the title is more a reflection of Stephanie's precarious life, a Tricky Twenty-Two.
Related Posts