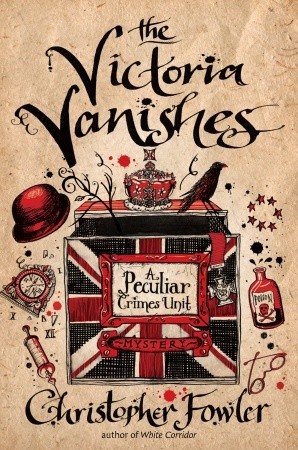 I received this book for free from the library in exchange for an honest review. This does not affect my opinion of the book or the content of my review.

The Victoria Vanishes

by Christopher Fowler
Genres: Crime
Published by Bantam on October 28, 2008
Pages: 326
Format: Hardcover
Source: the library

Buy on Amazon
Goodreads


Also by this author: Full Dark House, The Water Room, Seventy-Seven Clocks, Ten Second Staircase, White Corridor, Bryant & May on the Loose, Bryant and May Off the Rails, London's Glory: The Lost Cases of Bryant and May, The Memory of Blood, The Invisible Code, Bryant & May and the Bleeding Heart



Sixth in the Bryant & May crime series and revolving around two too-old detectives too stubborn to retire in London, England.

In 2009, The Victoria Vanishes was nominated for the Dilys Award and the British Fantasy Award for Best Novel.
My Take
This has been a very confusing story with all the flips and flops between Theseus, Masters, Kasavian selling the building, where all the women worked, what they did, and the killer's purpose. It is leavened by Fowler's sense of humor and all the personal activity amongst the unit, especially with Bryant's special touch, lol.
It opens with Finch's funeral and goes downhill — and funnier — from there. The end of the next morning's meeting sets the tone when Bryant wanders in.
"Some folks can fill a room with joy just by entering it. Whereas being in Oswald's presence for a few minutes could make you long for the release that death might bring."
Hmm, the way Renfield is clearing out Bryant's office and packing off his books, I can see more and more why he isn't welcomed. I cracked up as various members of the PCU pop in and all sing the same refrain: that Embalming Under Lenin and A Complete History of the Trouser Press could well help solve a crime. Of course, seven helps in this story *grin* too.
"Then we spend the next few days hiding what we've discovered from anyone who might stop us."
It's been fun to watch the evolution of today's PCU members, as they come to see the practicality of Arthur's crazy approach. They've come to accept the success of the duo's style, and it's never more true than when they remonstrate with Renfield over April. I love it. As for that assignment Bryant throws at everyone, well, it'll start to affect Renfield as well.
Fowler does enjoy using Bryant and May as his sound-off against society's ills, including poor pronunciation, tantrum-throwing children, and the true purpose of a pub.
"I hate small-mindedness … I bought some peas in the supermarket last week and do you know what it said on the packet? 'Does not contain nuts.' I hate the endless admonishments of a nanny state that lives in fear of its lawyers."
I do understand that! It's so stupid, too, when producers promise that these pears don't contain wheat!
Oh, wow. It comes out why Renfield insists on playing by the rules. He makes a damn good point, too. Then again, there's a lot to be said for ignoring standard procedure as well.
I hate that Kasavian. And I do NOT understand how he can claim the building has been sold, and then that another department is being moved in. It's like a two-day notice, and you'll wonder what could possibly happen next before you discover where the unit is moving to!
"'Whatever happens, whatever the future holds. All ten of us. I'm including Raymond in this.'

'Oh, wonderful — the children I never wanted,' said Bryant. 'Whose round is it?'"
The Story
It's a case tailor-made for the Peculiar Crimes Unit. A lonely hearts killer is targeting middle-aged women at some of England's most well-known pubs — including one torn down eighty years ago. What's more, Arthur Bryant happened to see one of the victims only moments before her death at the pub that doesn't exist.
Indeed, this case is littered with clues that defy everything the veteran detectives know about the habits of serial killers, the methodology of crime, and the odds of making an arrest. Now, with the public on the verge of panic and their superiors determined to shut the PCU down for good, Detectives Bryant and May must rise to the occasion in defense of two great English traditions—the pub and the Peculiar Crimes Unit.
That's easier said than done. A lost funeral urn, the eighteenth-century mystic Emanuel Swedenborg, the Knights Templars, the secret history of pubs, and the discovery of an astounding religious relic may be enough to convince one of the pair to take back his resignation letter.
But with Bryant consulting a memory specialist and May encountering a brush with mortality, do the Peculiar Crimes Unit's two living legends have enough life left to stop a murderous conspiracy…and a deadly cupid targeting one of their own.
For all that the younger crowd wants them out, you'll never expect this severance!
The Characters
Senior Detectives Arthur Bryant and John May are oil and water with Bryant roiling the water as May smoothes them out. Alma Sorrowbridge is Bryant's landlady now living with him in his Chalk Farm factory. And increasingly frustrated with his oddball habits. I ask you, socks in the oven? Jane is John's ex-wife. Elizabeth is their daughter who died; Alex is the son who moved to Canada.
The Peculiar Crimes Unit (PCU) is…
…a holdover from World War II, originally intended to handle "peculiar" crimes that could destroy British morale. Today, their case closure rate is high, even if their procedures are…unusual. Raymond Land has been the acting unit chief since 1973; Leanne is his straying wife. The rest of the unit includes Detective Sergeant Janice Longbright, who favors film-star styles from the 1950s; Dan Banbury is their IT guy (he has few communication skills but is an amazing hacker) and crime scene manager; Giles Kershaw is their upper class forensic pathologist; Detective Constables Meera Mangeshkar and Colin Bimsley (he has DSA, Diminished Spatial Awareness); and, the agoraphobic April May, who is the office manager (and John's granddaughter), per the task force that recommended hiring civilian liaisons. Oswald Finch is the now-dead pathologist (White Corridor, 5). Sergeant Jack Renfield is partly to blame for that; Sergeant Leonard Renfield was his father, and was as big a pain who blamed Bryant for his lack of success. Crippen is the office cat.
The Home Office is…
…the nominal boss of the PCU. The weaselly Leslie Faraday and his barracuda of a boss, Oskar Kasavian, are in charge.
"Land fancied he heard the distant sound of noosed bodies falling through trap doors. Certainly the sun went in and drained all warmth from the room."
Mrs. Naomi Curtis, a legal secretary with the Swedenborg Society, patronizes the Seven Stars. The Victoria Cross is a pub that was demolished in 1925 into which Carol Wynley, who had worked at the Holborn Security Group, went that night. Carol Wynley's partner has had a stroke; he's also a journalist who is able to work from home.
Mrs. Jocelyn Roquesby, a secretary with Theseus Research, went into the Old Bell tavern where Lenska is the barmaid. Eleanor Roquesby is her daughter; Jocelyn's ex-husband, Phillip, has some government post. Dr. Peter Jukes had been one of Jocelyn's colleagues and chief scientist for chemical and biological defense at Porton Down Laboratory.
Joanne Kellerman had died in a pub called The Old Dr. Butler's Head. Jazmina Sherwin is in front of the Albion. Mary Sinclair and Jennifer Winslow had worked with Jackie Quinten in the past. Ye Olde Mitre tavern is technically part of ancient Cambridgeshire. Simon manages the Pineapple pub.
Theseus Research is…
…an outside resource for the Ministry of Defense. Katherine Cairns-Underhill is a virologist. Iain Worthington is a senior epidemiologist at the Royal Free Hospital. U.S. Senator Nathan Maddock is a hard-line right-winger. Mandume is a guard.
Dr. Harold Masters is an academic — a lecturer and curator at the British Museum — who enjoys his time off with the Insomnia Squad. Bunthorne is the cat Bryant dropped off with Masters one day. For half an hour. Jane is his now-deceased wife.
The Coven of St. James the Elder is…
…led by Maggie Armitage, a white witch and a friend and frequent consultant with Bryant. Maureen's familiar is Captain Smollet. Dame Maud Hackshaw knows about conspiracy theories.
Kiskaya Mandeville deals in herbal remedies, organic therapies, hypnotism, and sofa repair. Oliver Golifer owns the Newman Street Picture Library. Izabella is Bimsley's latest (in his attempt to get over Meera).
The Grand Order of London Immortals is interested in London's most infamous characters, and its members include Stanhope Beaufort, a bombastic architectural expert; Raymond Kilpatrick, a verbose professor banned for lecturing due to his musical preferences; and, Jackie Quinten, a widow with an interest in Bryant.
Twelve Elms Cross is…
…a mental hospital in East Kent. Abigail Cochrane is the chief warden and curator. Anthony Pellew had been consigned there. Lorraine Bonner had been his community warden. The Clock House is where Anita Pellew once lived; Zosia is a barmaid there, and Patrick is the Irish pot man.
The Dead Diary is a collection of daily files listing the day's dead. Alex Reynolds is an admitting surgeon. Another Alex is part of a -phobia club that meets at the Ship & Shovell pub. Monica Greenwood, a repressed artist, is married to Paul, a stuffy historian (The Water Room, 2). Janet Ramsey is a journalist at Hard News whose life PCU saved in Ten Second Staircase, 4.
The Cover and Title
The cover has a parchment-like background with all the text in a flamboyant black font. The title springs upward at the top with the author's name in a straight line at the bottom. The series information is the label on the label holder of the file drawer, which is fronted with a British flag and encircled with objects in red and black from the story including the bowler hat and glasses to the hypodermic and poison bottle, the raven, the clock, and Her Majesty's crown on top.
The title is The Victoria Vanishes, the pub that disappears into the night.
Related Posts