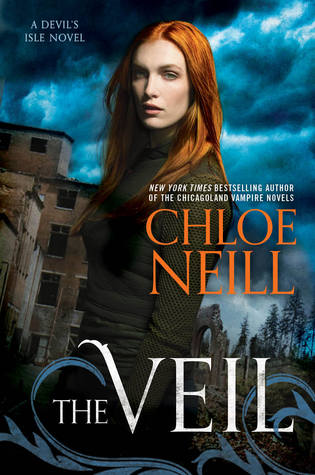 I received this book for free from the library in exchange for an honest review. This does not affect my opinion of the book or the content of my review.
The Veil
Genres:
Urban Fantasy
Published by
NAL Trade
on August 4, 2015
Pages:
336
Format:
Paperback
Source:
the library
Buy on Amazon
Goodreads
Seven years ago, the Veil that separates humanity from what lies beyond was torn apart, and New Orleans was engulfed in a supernatural war. Now, those with paranormal powers have been confined in a walled community that humans call the District. Those who live there call it Devil's Isle.

Claire Connolly is a good girl with a dangerous secret: she's a Sensitive, a human endowed with magic that seeped through the Veil. Claire knows that revealing her skills would mean being confined to Devil's Isle. Unfortunately, hiding her power has left her untrained and unfocused.

Liam Quinn knows from experience that magic makes monsters of the weak, and he has no time for a Sensitive with no control of her own strength. But when he sees Claire using her powers to save a human under attack—in full view of the French Quarter—Liam decides to bring her to Devil's Isle and the teacher she needs, even though getting her out of his way isn't the same as keeping her out of his head.

But when the Veil threatens to shatter completely, Claire and Liam must work together to stop it, or else New Orleans will burn…
First in the Devil's Isle urban fantasy series and revolving around Claire Connolly, a Sensitive in New Orleans.
Do check out Stormi's audiobook review as well.
My Take
It's no Chicagoland Vampires. In fact, there are no vampires at all. I had been expecting it to be similar, but in fact, it's more like Suzanne Johnson's Sentinels of New Orleans in that there is a Beyond and paranormal types who have come to the city.
That's where the similarity ends, for this is no benign invasion. Rather it's a rogue group (a really big one!) that wants license to horrify and destroy humans. It's resulted in a horror of magic and a concentration camp imprisoning magic users. Magic users who include Sensitive humans. It doesn't matter that these Sensitives have never done anything wrong, they may. Oh yeah, and magic and electricity don't mix. Sound anything like Ilona Andrews' Kate Daniels series?
What's worse is that Containment knows there are ways to manage the problem and chooses to ignore it. I suspect they prefer the power and money of controlling all of Louisiana. Nor are they the only ones.
The Veil revolves around Claire, and it's her fears that introduce us to the problem on a personal level as well as the more general one. She has a small circle of close friends with a larger circle of people for whom she cares.
Naturally, there are rogue elements on both sides of the law — you know which ones I prefer, lol. Yep, those hardy, stalwart rebels trying to prevent a massive betrayal. There is a good lesson in here, reminding us that there is good and bad in every group of beings. That it's too easy to demonize a group making it easier to kill them all. It's what we're doing today to Muslims, what we've done and still do to blacks and anyone else who threatens the insecure among us. Sure, we all want to be able to blame someone and pinning our "hopes" on a group makes it so much easier.
Romance-wise. Not there. I think Neill is trying to create one, that or she's playing it very subtle and will develop it over the stories to come. Claire's stance on protecting her Quarter is nice, very inspiring, but Neill misses on this one as well. It's yet more tell without the show that would pull the reader in. And what's with native New Orleanians not knowing basic French? Gunnar is learning to say bonjour? Claire needs a translation of allons? Gimme a break.
The ending is satisfying as it does solve one particular problem even as it introduces future issues. Neill, unfortunately, doesn't create that sense of NEED, that desperate hope that she'll quickly churn out the next so I can find out what does happen next.
Still, it is a story that pulls you in, and I am looking forward to the next in the series.
"Laissez les bon temps rouler."
The Story
Magic and the Sensitives who absorb it, are under siege, threatened with imprisonment for what they may become, and Claire Connolly is terrified of Containment discovering what she has become.
The Characters
Claire Bridget Connolly owns and operate the Royal Mercantile, an antique shop that has been in her family ever since her great-grandfather, Michael Connolly, started it up, and a fixture in the French Quarter for the past 100 years. Antiques may not be the hot ticket they used to be, but the MREs and other basic supplies Claire also stocks do bring the coin in. Her dad, Mark Connolly, died as a result of friendly fire.
Antoine Lafayette Gunnar Landreau is one of Claire's best friends along with Tadji. Gunnar is the Devil's Isle commandant's senior civilian advisor. His late Aunt Reenie had adored War Night. Emme is Gunnar's younger sister. Zach is a younger brother. Their father is Dr. Cantrell Landreau and their mother is Stella. Campbell is Gunnar's cousin and is married to Sloane.
Tadji Dupre comes from a family of voodoo practitioners, and she fled them, their magic. Now she's a graduate student (and a terrible cook) studying the evolution of language, how the war is causing a change. Phaedra and Zana Dupre are her family and Sensitives, mother and aunt respectively.
Liam Quinn, a Cajun, is a bounty hunter from an old and respected Creole family. He's particularly motivated to go after wraiths because they killed his little sister, Gracie, seven months ago. He lives in Devil's Isle, actually, he never left as it's where his family lived, and he wants to protect his grandmother, Eleanor Arsenault. She's only blind in one sense. Foster is his grandmother's dog. Victoria and Maria are Eleanor's nurses. Gavin is his brother, a tracker who is conflictedly in love with Nix. His mother was Juliet Aresenault, the eldest, who hooked up with the wrong guy, Buddy Quinn, a jazz-playin', hard-drinkin' Cajun.
Containment is…
…the military unit that managed the war and now tasked with guarding the Paranormals. Their headquarters in front of Lafayette Square is the Cabildo. They also enforce the MIGECC Act (the Magic Act), which is the Measure for the Illegality of Glamour and Enchantment in Conflict Communities, a law passed by Congress banning magic. Agents include Phelps, Thomas, and Jack Broussard, an offensive agent with a grudge. Hawkins is one of the guards on the gate.
Some of the Containment contractors include SecuriCrew and ComTac whose CEO is Richard Rutledge. Trey is Claire's usual delivery guy of supplies from Containment. Ida is his wife. Sandra Guest is a soldier who helped Claire in the past. Lizzie is a Para with medical training who works at the clinic.
The PCC is…
…Paranormal Combat Command and was formed 47 years ago by the government which needed Sensitives to close the Veil and promised them immunity. The same ones who disappeared and formed Delta. Will Burke is with PCC Materiel…and a Sensitive.
The Sensitives are…
…humans who attract magic, but they aren't physically equipped to handle it. The magic causes them to evolve (or devolve). Wraiths are Sensitives who have devolved, becoming mindless beings preying on anyone. Other Sensitives include Marla Salas whose surviving mother is Lorene, and Tom, who was one of the seven.
Devil's Isle is…
…officially the District, in the former Fabourg Marigny, a neighborhood in New Orleans that was destroyed during the war and turned into a prison for Paras. Moses Mech is one of those good Paras and Liam's mechanic inside Devil's Isle. Solomon is your friendly neighborhood crime lord who likes people and Paras owing him. Some of the Para types are Seelie, a peskie which is a small flying Para that likes to bite, a Nephele which is a cloud nymph, Valkyries, and angels. Nix is a dryad living in hiding.
The Consularis are…
…the good Paras who have ruled the Beyond and want to stay there.
Those trapped on this side of the Veil include Darby Craig, a biologist formerly with PCC Research. Malachai (he has wings!) is a general. The Court are the bad who want to overthrow the Consularis — or take over our world.
Mrs. Proctor is one of Claire's regulars. A cheeky old lady, lol. She thinks that seventy-eight-year-old Clark from the ice house is a boy! Mrs. Rosenberg is another customer. Rainier Beaulieu had been a cheating boyfriend of Claire's. Dolores Johnson is one of the women Tadji interviews for her thesis.
War Night is a holiday that celebrates the end of the war. The Zone encompasses Louisiana, Alabama, Mississippi, Tennessee, Arkansas, and the eastern half of Texas. The Vanguard were the New Orleanians who'd served in the war and organized the first War Night parade. Tony Mercier is the Big Chief of the Mardi Gras Indians, the feathered performers. A tête dure is a hardhead. Magic has "salted" the soil of the Zone, its power causing a chemical reaction in the earth.
The Beyond is on the other side of the Veil, a barrier that prevents either world from mixing. The government knew about it 47 years ago. Paranormals (Paras) are supernatural beings who live in the Beyond.
The Cover and Title
The cover is blues and browns. The stormy dark blues of a building storm and a collage of the tilted browns of an old brick building and the ruined arch at Talisheek form the background. Claire herself is standing in profile with her head turned to us, her long red hair flowing down her back and front, and wearing a browner version of the grays that New Orleans has adopted. A pale blue scroll wraps itself around the white title while the author's name is in a deep orange.
The title is all about the barrier keeping Paras on their side with humans on the other. It's The Veil that is weakening again.
Related Posts