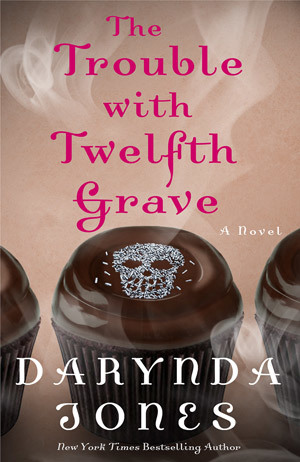 I received this book for free from the library in exchange for an honest review. This does not affect my opinion of the book or the content of my review.
The Trouble with Twelfth Grave
by
Darynda Jones
Genres:
Urban Fantasy
,
YA
Published by
St. Martin's Press
on October 31, 2017
Pages:
352
Format:
Hardcover
Source:
the library
Buy on Amazon
Goodreads
Also by this author:
Seventh Grave and No Body
,
Eighth Grave After Dark
,
First Grave on the Right
,
The Dirt on Ninth Grave
,
Third Grave Dead Ahead
,
Eleventh Grave in Moonlight
,
Summoned to Thirteenth Grave
,
A Bad Day for Sunshine
Twelfth in the Charley Davidson urban fantasy series and revolving around a god/grim reaper married to the devil's son.
My Take
It's about love, and how it will find a way past anything, using first person protagonist point-of-view from Charley's perspective. It's hysterically funny — other than Charley still insisting on naming everything, and I mean everything — and a great story that had me on the edge of my seat right up until that ending, laughing and worrying. Sometimes both. Sometimes one after the other and the other and…
Taft turns out to be a surprise with that new crew he's hanging with. Lucky for Charley, that's for sure!
Meanwhile Jones uses everything Reyes knows of the past to hammer away at Charley and her friends — living and dead. And she adds to it with the rumors that abound about Lucifer's son, including that he is dark matter. It's something of a horror story, the Reyes who has escaped that hell. The damage he does to so many.
And that Jones sure knows how to keep my curiosity up and running. All that Sturm und Drang at the end…jeez… Fortunately, mmm, no, actually, unfortunately, we not only have to wait until next October [2018] for the next installment, but it'll be the final one too. As crazy as Charley makes me, she has been a kick in the pants.
Do be sure to read the epigraphs at the start of each chapter. They're a hoot.
The Story
The angels have given Charley a deadline. Put Rey'azikeen down or they'll do it. She's got three days.
Three days ago.
And don't forget…pickles are serious business.
The Characters
Charley Davidson makes a living as a private investigator (Davidson Investigations) and consults for the police. Being the grim reaper who can talk to the dead is damned handy. Discovering she's a god, one Elle-Ryn-Ahleethia, is not so handy. Val-Eeth is Charley's god title. Reyes Alexander Farrow, Lucifer's son (Rey'aziel), a god named Rey'azikeen who has been trained in mental and physical combat, and God's younger brother, is her not-quite-there husband who just escaped a hell dimension…and seems to have mislaid himself. Beep, more formally known as Elwyn Alexandra, is their two-month-old baby, in hiding with Reyes' parents, the Loehrs. Gemma, a psychologist, is Charley's older sister. Hellhounds are Beep's guardians.
Uncle Bob "Ubie" Davidson is a detective for the Albuquerque PD and recently married to Cookie Kowalski, Charley's receptionist, office manager, and best friend. Amber is Cook's thirteen-and-three-quarters-year-old daughter. Quentin attends the School for the Deaf in Santa Fe. They're starting up a detective agency, Q&A Investigations, and already have a case. Petaluma gets hired as the special investigator in charge of acquisitions.
Charley's other friends include…
…Angel who is a thirteen-year-old gangbanger who died years ago; now he works for Charley. Garrett Swopes is a bounty hunter. He's also an excellent researcher who enjoys cupcakes. Zoe is his current girlfriend. Osh'ekiel "Osh", a former slave demon (Daeva), is fated to be Beep's husband. Artemis is a dead Rottweiler who considers herself Charley's bodyguard. Pari, who owns a tattoo parlor, has a love for speed; Tre is one of her artists and her boyfriend. Nicolette Lemay is a clairvoyant nurse. Sister Mary Elizabeth talks to the angels and keeps Charley informed of the gossip. Mr. Wong, an Asian ghost in Charley's apartment for years who turned out to be a celestial being, is actually her general and advisor.
Rocket is a savant who died in the 1950s in the now-abandoned asylum and writes down the name of every person who has died. His sister, Blue, is also dead and keeps him company. Strawberry Shortcake, a.k.a., Rebecca Taft, is also dead and worried about her brother.
Detective Forrest Joplin has a real hard-on against Charley. Officer David Taft is Strawberry's missing brother. Special Agent Kit Carson of the FBI knows all about Charley. Special Agent Nguyen is Kit's partner.
Elohim, a.k.a., Jehovah, is God, Reyes' older brother. Michael is the archangel who loves to threaten Charley.
Victims include…
…Patricia Yaeger is a clerk at district court, Indigo Russell is a recording artist??, and Don Koske is an accountant?? Maya was Patricia's husband.
Mrs. Joyce Blomme lives in a haunted house. Charlie and Charisma are her great-grandchildren. Chanel Newell is her granddaughter. Mrs. Medina is the old lady in 1B. Dick, Adcock, and Peterman is a law firm. Domino is a dead private investigator who hangs out at Trickster's on San Mateo. Parish McCoy is the barkeeper and Domino's brother. Betty is Parish's baseball bat. Guess Charley isn't the only one who names inanimate objects. The assistant coach at the School for the Deaf is a CODA, a child of a deaf adult. Kathryn is a volunteer at Presbyterian Hospital. Saratoga Sally is a shrewd businesswoman and bag lady.
Hector Felix is quite the demanding jerk. His overwhelming mother is Edina Felix, a powerful matriarch in El Paso who runs a big crime family. Elena is Hector's sister. Judianna Ayers had been a model before her face was slashed to ribbons.
The god glass was made by God and can imprison anyone, including the corrupt priest, Father Arneo de Piedrayta, using it to get rid of his "enemies"; Mae'eldessahn, a malevolent deity; and, Kuur, a demon assassin. Pandu Yoso wrote a trilogy that reads like Elle-Ryn's biography: The First Star, The Dark Star, and Stardust. Calamity's is Reyes' bar and grill. Wyatt is a cop and a patient for whom Gemma broke the rules. The Loretto Chapel in Santa Fe is famous for its staircase.
The Cover and Title
The cover has a nice, steamy cafe au lait background with dark chocolate cupcakes and glossy deep brown frosting — and a white sprinkling to create a skull on top of the middle one. The title is an embossed red centered over the cupcake while the author's name is in an embossed white spanning the cupcake liner. I love the font used, as it reflects Charley's craziness. Of course, it would have been handy for the reader to know which series this is.
The title is a useful trick in telling me exactly where in the series I am, and it is definitely The Trouble with Twelfth Grave.
Related Posts