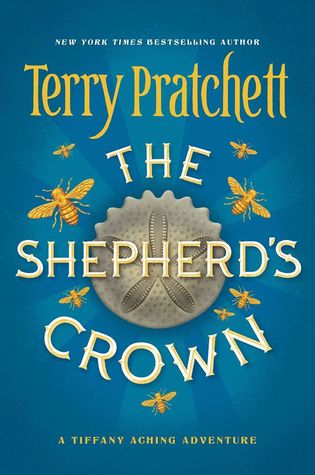 I received this book for free from the library in exchange for an honest review. This does not affect my opinion of the book or the content of my review.
The Shepherd's Crown
by
Sir Terry Pratchett
Series:
,
Genres:
Fantasy
Published by
Harper
on September 1, 2015
Pages:
276
Format:
Hardcover
Source:
the library
Buy on Amazon
Goodreads
A shivering of worlds.

Deep in the Chalk, something is stirring. The owls and the foxes can sense it, and Tiffany Aching feels it in her boots. An old enemy is gathering strength.

This is a time of endings and beginnings, old friends and new, a blurring of edges and a shifting of power. Now Tiffany stands between the light and the dark, the good and the bad.

As the fairy horde prepares for invasion, Tiffany must summon all the witches to stand with her. To protect the land. Her land.

There will be a reckoning…
Also by this author:
I Shall Wear Midnight
,
The Light Fantastic
,
Sourcery
,
Mort
,
Guards! Guards!
,
Moving Pictures
,
Small Gods
,
A Blink of the Screen
,
Reaper Man
Fifth and last in the Tiffany Aching subseries and forty-first (and last) in the overall Discworld series. This story revolves around Tiffany Aching, the Chalk's own witch. If you're interested, there is a chronological listing of the Tiffany Aching books on my website.
My Take
It's an opportunity for everyone to make one last appearance (at least with Terry Pratchett writing) as we learn about the danger of pride as well as the price of independence with an excellent theme of do your best and let that be your recognition.
As Nanny Ogg says, "Granny never said as she was better than others. She just got on with it and showed 'em and people worked it out for themselves."
There's always someone who knows better, and you're better off holding your own counsel. And I'm that happy that Tiffany stands up to that nasty Earwig. (There is a bit in which Earwig agrees with Nanny Ogg! And if that ain't one for the books…)
"Sigh…"being a witch is a man's job: that's why it needs women to do it."
Don't let the teacher catching you recite your A-B-Cs the way the young Feegles do! Teens…those young 'uns are allus dressin' any which way. Why, now they're scrawny with their kilts hangin' low on their hips with their pants showin'!
"Our rulers rule by consent, which means that we like having them as rulers, if they do what we want them to do."
The Quin has her own bit of learning to do. It's a checkered sort of progress as the main story is on Tiffany, but I do wish Pratchett had taken a bit more time on this part. It's a very tiny bit of snark, this, on my part. I did enjoy Tiffany introducing her to the concept of people helping for no reward.
Oh, boy. I finally found out exactly what pig boring is. And it's exactly what it says. Petulia talks to pigs until they're bored to death. Those Feegles…lordy, they crack me up every time, and I am going to miss them.
I had to laugh, for it's too, too true that retired men are underfoot in their own homes. If you're one of them, read The Shepherd's Crown for ideas on a better retirement. It involves sheds.
"Just because they are old doesn't mean they can't be powerful."
Ach, waily, waily, it's the last of the Discworld, the last of Tiffany Aching… It's been a fun ride watching Tiffany grow into those boots. Although, the way The Shepherd's Crown is written, there are all sorts of possibilities for the future…*fingers crossed*…
We'll be offski…for now.
The Story
There's a muttering, an undercurrent of anger, rising in the Chalk and Lancre.
A time of endings and beginnings, old friends and new, a blurring of edges and a shifting of power. Now Tiffany stands between the light and the dark, the good and the bad, and as the fairy horde prepares for invasion, Tiffany must summon all the witches to stand with her. To protect the land. Her land.
The Characters
Tiffany Aching is but a young girl yet old in experience and skill as a witch. Her steading is the Chalk, and she's living on her parents' farm. An ancestor, Daniel Aching, found the shell all those generations back. These days the Achings refer to it as the crown of crowns. Joe Aching is her father, a respected sheep farmer who holds his land from the baron. Jester is his dog. Wentworth is Tiffany's brother. Hannah and Fastidia are the married sisters. You'll be hearin' about Granny Aching, an old woman and Tiffany's mentor who died in Wee Free Men, 1. Thunder and Lightning were Granny's sheepdogs.
The Chalk is…
…named for the soil. Its local ruler is the new Baron, Tiffany's former sweetheart, Roland de Chumsfanleigh, who is now married to Letitia Keepsake, an untaught witch (I Shall Wear Midnight, 4). And he's still putting his foot in it. Horace is, um, an animate Lancre Blue cheese.
Miss Milly Standish is having triplets with little Tiffany Robinson, the unwanted girl. Milly's mother and her cronies have lots of advice to hand out. Young Robinson will be marrying the new mother, if he knows what's good for him. Mistress Holland is the wife of the miller and thought she knew what she was doing. Mr. Aching's mates at the Baron's Arms (owned by John Parsley) include Sid Pigeon (he brings a friend, Of Piston the Steam); Shake Gently, who's a good ploughman but not too bright; Dick Handly; Thomas Greengrass; Robert Thick (he's married to Josephine); Jim Twister; Noddy Saunters; and, Jack Tumble. Mr. Block is the local carpenter. His sister, Margaret, was helped by Tiffany.
We first met Becky Pardon and Nancy Upright as little girls at the scouring fair in I Shall Wear Midnight. They're both wanting to become witches.
The city of Ankh-Morpork features…
…throughout the Discworld and is ruled by the Patrician, Lord Vetinari. Drumknott is his lordship's clerk. Boffo's Joke Emporium on Egg Street is the witch's go-to store for everything needed to appear to be a true witch and is run by Mrs. Eunice Proust, a witch, with the help of Derek, her son. Shrucker and Dave, the dwarves who run the broomstick business, have moved under the arches.
Preston is Tiffany's young man away (I Shall Wear Midnight) to Ankh-Morpork studying to be a doctor at Lady Sybil Free Hospital. He works with the Igors, a.k.a., Uberwald servants, who change their shape all the time by sewing body parts on themselves. Dr. Lawn has promoted Preston to surgeon.
Tiffany's fellow witches include…
… Granny Esmeralda "Esme" Weatherwax (Wee Free Men), one of the oldest and wisest of witches who didn't do nice, simply did what was needed, and her cat, You (Wintersmith, 3). Long Tall Short Fat Sally is allergic to the tides and is being taught by blind Mrs. Happenstance. Miss Tick is the witchfinder who loves a good dunking (Wee Free Men); Agnes Nitt is a witch and a singer in Quirm; Letice Earwig is a right pain who thinks she's all that; and, Harrieta Bilk tends the young lumberjack. Eskarina feels the tsunami in the traveling now (I Shall Wear Midnight).
Gytha "Nanny" Ogg knows how to have a good time and has her cat, Greebo (Wee Free Men). Her sons and daughters and in-laws all pitch in to help, including Jason Ogg, a blacksmith, and Shawn who is the army of Lancre, and a few other things.
Tiffany's witch friends include Petulia Gristle, a witch who specializes in pig magic and was very good at pig boring (she married a pig farmer); Annagramma Hawkin is a much better witch since Wintersmith, 3; Dimity Hubbard; and, Lucy Warbeck.
Unseen University is…
…in Ankh-Morpork and teaches young men to be wizards. Archchancellor Mustrum Ridcully had been in love with Esme. Ponder Stibbons, the archchancellor's right-hand wizard, operates the Hex, the magic equivalent of a computer.
The Nac Mac Feegles are…
…six inches high and blue with very red hair and a preference for not bathing. This particular group is the Chalk Hill clan. Rob Anybody is the Big Man, the husband to the kelda, Jeannie. Maggie is Jeannie's oldest daughter, and she's after fighting alongside the boys. Wee Mad Arthur was a stray Feegle in Ankh-Morpork's police force who didn't know he was a Feegle (I Shall Wear Midnight). Daft Wille is always putting his foot in it. Big Yan; Awf'ly Wee Billy Bigchin is the clan's gonnagle; Hamish is the one who pilots Morag, the buzzard; Wee Clonker; Wee Slogum; Wee Fungus; Wee Gimmie Jimmie; and, amongst the children, there's Slightly-more-wee-than-Wee-Jock-Jock, Wee Duggie Bignose, Wee Dangerous Spike, Wee Callum, and Callum.
Lancre is…
…the kingdom ruled over by Queen Magrat Garlick (she'll be wearing the faux Queen Ynci's fe-mail armor) and her husband, King Verence. She's a witch who thought she'd left magic behind. Esme is one of their children. I'm not sure if Millie is one of the children or the nanny. Hodgesaargh is the royal falconer who brings the Lady Elizabeth, his favorite gyrfalcon.
Captain "Sailor" Makepeace has a wife who is always washing, polishing, and cleaning. Reservoir Slump, Laughing Boy Sideways, Smack Tremble, Wrinkled Joe Hopper (his Betsy fusses like an old hen), and Stinky Jim Jones (his Milly worries about his tools). Mrs. Whistler likes Geoffrey's goat. Mr. Nimlet has some nasty toenails.
Lord Harold Swivel is a nasty man with a put-upon wife and three sons. Harry is the oldest and doesn't "need" school; Hugh is the middle son who wants to enter the church; and, Geoffrey is the youngest, the most literate, and the most inquiring. He's also got a useful knack that will stand him in good stead. Mephistopheles is the very clever baby goat Geoffrey raises and trains. Mr. Wiggall is the boys' tutor. McTavish is the elderly stable lad who befriends Geoffrey.
The Elves are led…
…by the Quin of…er…the Queen of the Elves, a.k.a., Nightshade. She is married to the King of the Elves, except he's been off rioting, drinking, and farting with all his buddies. Peaseblossom is an elf lord with a wicked, traitorous mind. Lords Lankin and Mustardseed are twittering in corners.
Of the Dew the Sunlight is a goblin who has changed his name to Of the Lathe the Swarf and is thumbing his nose at the elves. Darling Dove runs a pub. Oi Dong is the Abbot of the History Monks. Martin Snack and Frank Sawyer want to be lumberjacks, but, with a nod to Monty Python, only if they don't have to wear women's panties. Mr. Slack is in charge of the camp. Old Mother Griggs over in Slippery Hollow woke all a'flutter. Herne the Hunted is afraid while young Elsie is mesmerized. Dr. Sensibility Bustle still has a spot in Tiffany's brain after events in A Hat Full of Sky.
The kelda is the chief of a Feegle clan. A steading is the territory a witch thinks of as her own. Death only comes out to collect the most [note]worthy souls. A shamble is a witch's aid to inner concentration and always has to be made right there and then. Borrowing is moving one's mind into another creature to use its body and share its experiences.
The Cover and Title
The cover is rather conservative for the Discworld with its deep Wedgwood blue background with the shell back and center with thick rays of a lighter colonial blue pouring forth. Swarming out from the shell are bees. Both the author's name (centered at the top in gold) and the title (circling the shell in white highlighted with gold) are embossed.
The title is who will wear The Shepherd's Crown, who has earned it.
Related Posts