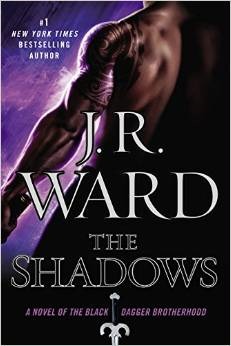 I received this book for free from the library in exchange for an honest review. This does not affect my opinion of the book or the content of my review.
The Shadows
by
J.R. Ward
Genres:
Paranormal
,
Romance
Published by
Penguin
on March 31, 2015
Pages:
576
Format:
Hardcover
Source:
the library
Buy on Amazon
Goodreads
Two brothers bound by more than blood fight to change a brutal destiny in the heart-wrenching new novel of the Black Dagger Brotherhood by #1 New York Times bestselling author J. R. Ward.

Trez "Latimer" doesn't really exist. And not just because the identity was created so that a Shadow could function in the underbelly of the human world. Sold by his parents to the Queen of the S'Hsibe as a child, Trez escaped the Territory and has been a pimp and an enforcer in Caldwell, NY for years- all the while on the run from a destiny of sexual servitude. He's never had anyone he could totally rely on... except for his brother, iAm.

iAm's sole goal has always been to keep his brother from self-destructing- and he knows he's failed. It's not until the Chosen Serena enters Trez's life that the male begins to turn things around... but by then it's too late. The pledge to mate the Queen's daughter comes due and there is nowhere to run, nowhere to hide, and no negotiating.

Trapped between his heart and a fate he never volunteered for, Trez must decide whether to endanger himself and others- or forever leave behind the female he's in love with. But then an unimaginable tragedy strikes and changes everything. Staring out over an emotional abyss, Trez must find a reason to go on or risk losing himself and his soul forever. And iAm, in the name of brotherly love, is faced with making the ultimate sacrifice...
Also by this author:
Possession
,
The Bourbon Kings
,
Blood Kiss
,
The Beast
,
Blood Vow
,
The Chosen
,
Blood Fury
,
"Dearest Ivie"
,
The Thief
,
"The Rehearsal Dinner"
,
"The Reception"
,
Consumed
,
The Savior
,
Blood Truth
,
Where Winter Finds You
,
The Sinner
,
J.R. Ward
,
A Warm Heart in Winter
,
Claimed
,
The Wolf
Thirteenth in The Black Dagger Brotherhood paranormal romance series and revolving around the vampire king and his guards, their mates, and their friends. The couple focus is on Trez, iAm, and Selena, a Chosen. It's been nine months, I think, since The King, 12.
My Take
This one will make you cry. Eventually. It took awhile before I got into the story. It was too easy for the first half to put the book down. Disappointing, since I've been curious as to Trez and iAm's story. Once I got into the second half, things picked up and Ward set me up for that crying jag.
We finally get the story of how Trez met Rehv, what the deal is with Trez and the s'Hisbe, how he escaped, and the truth of the Queen's actions. Since his escape some twenty years ago, Trez has drowned his anger in sex while iAm has taken on the role of caretaker and troubleshooter. A task at which he has focused so much time and energy, that he has never been with a woman.
Selena's illness is a good lesson for us all about seizing life by the horns. Only, it shouldn't take coming death to push any of us into living as fully as she finally does. It also brings up bad memories for some of the Brothers who have had their own experiences with deadly illness.
I'm sorry. I know I should feel bad for Luchas, but I can't. The little jerk deserves what he's getting after the way he treated his brother, Qhuinn. And still Qhuinn loves him.
One thing I have noticed in The Shadows is that Ward appears to have toned down the slang used by the Brothers, and all of a sudden, Fritz is referred to as a butler and not a doggen. I wonder if it's a sop to her publisher as a result of reader complaints or… I hope not. The language used, the slang slinging, is part of what I enjoy about the Black Dagger Brotherhood.
Ooh, a glymera female is interested in battle…I will have to be sure and read Blood Kiss when it comes out in December. It should be most interesting, lol.
Too bad, Throe can't resist battle or treachery. That s'Hisbe Queen is something else as well. I do wish Ward had given us some idea why the queen would do the things she did. Assail has his own treacherous actions to account for, and one of them gets settled in a spectacular fashion.
Poor Layla. She's so conflicted about meeting Xcor, about caring for him, about the deal she made, her pregnancy, how she's betraying Qhuinn, the Brotherhood. Of course, Xcor isn't much better off. He is falling in love, a weakness, and is yet another who "knows" he's not worthy. It will break your heart to read the words he says that make you aware of his past and how much he cares for Layla and wants to do things "properly".
For all their hardness, the Brothers are so sweet with their mates and loyal to their friends. They're usually pretty snarky with each other, but I guess there was too much sorrow in this for the snark is low-level. And Trez. Oh, he's so very sweet in how much he adores his queen, his Selena. He'll do everything he can to make her time memorable. And when you read about their date to the Circle the World restaurant, you know he'll do anything. And the Brothers, their friends, their mates step up and help ensure her safety. Even when the gun battle breaks out, lol. Selena has the best time. Who knew Fritz could drive like that?
There are a few tropes in here that make me nuts. Yeah, the I'm-not-good-enough-for-you one, Trez's lame reaction to Selena's hopes for Trez's future, that whole routine of I'm-leaving-you-now-so-it-doesn't-hurt-later (hah! It'll hurt even more now and then afterwards!).
There are two major conflicts going on in The Shadows: Selena's illness and the s'Hisbe threat against Trez. That's not to say there aren't a number of more minor conflicts from the introduction of Paradise's frustration, Rhage's ills, Luchas, Layla and Xcor, Throe's betrayals, Assail's various issues, the growing power of the lessers, and more. Some are introductions for future issues… What am I saying? They're all either a set-up or Ward dangling tantalizing bread crumbs for future stories. Writers may want to read the Black Dagger Brotherhood series if only to take notes on how well Ward shows and teases us with wanting to read more. I do like that she resolves each focus couple's happily ever after — her resolution of Trez's issues is unexpected — but leaves so much else trailing.
The Story
He's bonded, and he doesn't want to be. He isn't worthy of such a female of worth. A female who is keeping a dread secret from him. From all of them.
Throe is questioning Xcor's change of focus and demands to know what they'll do about Wrath.
And the Brotherhood is throwing open a training program with females and civilians welcome.
The Characters
TrezLath "Trez" Latimer is ordained to service the next queen of the s'Hisbe and nothing will be permitted to harm him. iAm, a.k.a., Chef, is his twin brother and was used as a hostage against him. They escaped the Grand Palace and Trez now runs nightclubs, drugs, and hookers. iAm took over an Italian restaurant a year ago, Sal's (the previous owner was Salvatore Guidette III), and loves cooking there. Both are Shadows. Deadly.
Shadows are…
…an evolutionary offshoot from vampires and they can rearrange people's thoughts. They are also renowned as healers and completely fixated on doing everything by direction of the stars. I think maichen means maid or servant. The Grand Palace of the s'Hisbe is their queen's home. s'Ex is the Queen's executioner and lover. AnsLai is the high priest, there is a Chief Astrologer, and the Tretary, the official charged with witnessing and recording sacred events. Queen Rashth is a bitch and has little to no interaction with her children. Catra vin SuLaneh etl MuLanen deh FonLerahn is the princess heir who ghosts through the palace. maichen is the maid who falls in love.
The shAdoWs is…
…Trez's new club in addition to The Iron Mask. Big Rob is his second-in-command on security. Silent Tom is another security guard.
The Brotherhood is…
…composed of a small group of gorgeous, extremely well-developed, black leather-wearing vampires lethal with fighting skills, and I think there must be a height requirement of at least 6'4″-plus. Hellren are male mates while shellan are the female half. Mahmen means mother. Chosen are specially bred females who serve the Scribe Virgin, a person revered as a goddess, and give blood to unmated Brothers. They do have one particular problem: too much inbreeding has created a genetic defect, the Arrest. Glymera are the vampire nobility.
Selena is a Chosen and hiding her illness.
Wrath, the Blind King, is the vampire king mated to Beth, and they have a son, L.W. George is Wrath's seeing-eye dog. Rhage, a.k.a., "Hollywood" for how incredibly beautiful he is, is mated to Mary, a human (Lover Eternal, 2). He also turns into a dragon when enraged and loves Tootsie Pops. Mary works at Safe Place, a shelter for battered vampire women and their children founded by Marissa. Butch was a Boston cop who turned out to be a descendant of Wrath's bloodline, and he mated Marissa after becoming a Brother (Lover Revealed, 4). Zsadist is mated to Bella, Rehv's sister, and they have a daughter, Nalla.
Vishous gets visions, has a very lethal, tattooed right hand, which he keeps safe in a glove, and he recently got his tongue pierced. He's mated to the ghostly Doc Jane (Lover Unbound, 5). Dr. Manny Manello, Doc Jane's old boss and the former Chair of the Department of Surgery at St. Francis Hospital, is mated to Payne (Lover Unleashed, 9). Ehlena works with Doc Jane and Manny as a nurse; she's mated to Rehvenge, the king of the symphaths.
John Matthew is a mute soldier mated to Xhex, Trez's security chief (their story is in Lover Mine, 8, although John shows up in various earlier stories). Tohrment had taken John in and later mated with Autumn (Lover Reborn, 10). Lassiter is a fallen angel none of the Brothers want around, but he won't leave. Phury is the Primale in charge of all the Chosen. Cormia is his mate and the First of the Chosen (Lover Enshrined, 6). Qhuinn was shunned, exiled by his family for being different. He's now a soldier with the Brothers and finally mated to Blay (Lover at Last, 11). Both men are very supportive of Layla, a Chosen who is pregnant with Qhuinn's child.
Fritz is the Brothers' doggen, butler. Goddamn Cat, a.k.a., Boo, has attached himself to iAm.
The antsy and rebellious Paradise is Abalone's daughter; Vuchie is her maid. Abalone (the Brothers call him Applebottom) is the First Adviser to the King and a member of a Founding Family. Fedricah is their butler. Salliah is a relative back in the Old Country. Peyton, son of Peythone, is intended to be Paradise's hellren.
Luchas is Qhuinn's older brother; their father was Lohstrong. He's not recovering from being stuffed in a barrel of the Omega's black, oily blood, but Selena gives him something to think about. Dr. Havers is Marissa's estranged brother. Craeg is a male who walks in and asks for an application. I think it's Throe.
Assail is a neutral glymera and a businessman. He'll sell his lucrative product to anyone, including his people's enemies, but he won't tolerate breaking any of the terms in their contract. Unfortunately, he's also using his product. And he's still in love with Sola. Ehric and Evale are twins and Assail's cousins.
The Band of Brothers are…
…the Brotherhood's enemies focused on killing Wrath. The hideous-looking Xcor is their brutal leader, trained by the Bloodletter, and his weakness is his love for Layla. He's forced a deal on her: meetings with him or he attacks the Compound. His men include Zypher, Syphon, Balthazar, Syn, and his second-in-command, Throe, a former glymera of the Bluerme bloodline.
The Lessening Society is…
…a group of humans who have given up their souls to the Omega, a godlike being from another plane of existence, in order to destroy all vampires. Each member, each lesser, a.k.a., slayer, gives up their full name being known only by the first initial of their last names and is supported by the Society for the rest of their almost-immortal lives. The Forelesser is their leader, Mr. C in this installment. And he quickly realizes it's no sinecure. He must build up a treasure chest and acquire weapons, get the job done, and remove the Brotherhood.
The Cover and Title
The cover has a smoky purple and lilac background with a firm, very manly back facing us. One with a curvaceous and very muscled shoulder and bicep tattooed in a tribal pattern.
The title is Trez and iAm's tribe, the s'Hisbe, The Shadows.
Related Posts