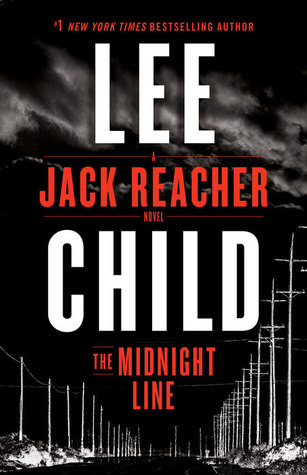 I received this book for free from the library in exchange for an honest review. This does not affect my opinion of the book or the content of my review.
The Midnight Line
by
Lee Child
Series:
Jack Reacher #22
Genres:
Thriller
Published by
Delacorte Press
on November 7, 2017
Pages:
368
Format:
Hardcover
Source:
the library
Buy on Amazon
Goodreads
Also in this series:
MatchUp
Also by this author:
"High Heat"
,
Personal
,
Make Me
,
"Small Wars"
,
Night School
,
MatchUp
,
Past Tense
,
No Middle Name
,
The Hero
,
Blue Moon
,
"Cleaning the Gold"
,
The Sentinel
Twenty-second in the Jack Reacher thriller series revolving around a retired military MP, a major, who's drifting as he wills.
My Take
Child uses a third-person simple subjective point-of-view from Reacher's perspective, so we see the story unfold through what Reacher perceives. A story that first takes a slap at our government officials who take money from lobbyists to protect the pharmaceutical companies and not the people whom they were elected to protect, and second, at the military that doesn't take decent care of our vets.
There was a bit more snark about the 'self-righteous' with that comment 'Teddy Roosevelt … the great naturalist, except for when he was shooting things like tigers and elephants.'"
I found it interesting that the day after I read The Midnight Line, several pharmaceutical companies were in the news for wrongdoing…that they slid out of. They seem to know too many people in high places in government. Sounds like Scorpio's networks in Rapid City.
Child starts off with two separate strings that merge: Reacher and the ring and Bramall and the missing person. It's a good blend of two personal missions that become a crusade with a fascinating encapsulation of the history of heroin. Jesus. It's also a good example of how using real events can make a story more personal, bring it alive, for the reader.
I am curious if it's true what Noble says about his expense account. Seems kinda gruesome…and cheap! Especially considering how our public officials are taking any and all handouts.
I do enjoy Reacher's assessment and explanations of how he sees a fight going forward. Reacher also makes note of the importance of being able to read a map and making judgment calls based on it. The boy is an anachronism, but Child does make it work.
I did enjoy this story. Well, okay, the storytelling was good. The story itself was so incredibly sad, yet hopeful. Which feels weird to say. I do hope we get to catch up with everyone in another tale, just 'cause I wanna know. Child pulls you in emotionally to these people, and I can't help but care. A sign of a good storyteller. My only negatives were that it was all rather tame. For Reacher, that is. And I never did understand that loose thread about the jewelry.
I do feel as if Child is starting the set-up for Reacher making some changes in his lifestyle. Nor are the implications solely about Reacher, as Child makes noises about the twins' judge father and his "arrangements". Sounds like the girls grew up well in spite of their dad.
The Story
It's a trip of regrets, as Reacher and Chang leave in different directions. Perhaps it's the looking back, assessing that causes Reacher to break the rules when he sees that West Point 2005 class ring. No one gives up a ring that took that much to earn.
There's a story there, and Reacher wants to know.
The Characters
Jack Reacher, former major and former CO of the 110th, military MPs. And Reacher…? He does like a good fight. Former special agent Michelle Chang was pivotal in Make Me, 21.
Terrence Bramall, former FBI, is on his second career as a well-paid private investigator out of Chicago. Tiffany Jane Mackenzie is Rose's identical twin sister and lives in Lake Forest, Illinois.
Rapid City, South Dakota
Detective Gloria Nakamura operates out of the Rapid City PD's Crimes Against Property unit and has to manipulate her jerk of a boss.
The clever Arthur Scorpio operates out of a laundromat.
Mule Crossing, Wyoming, admits…
…to five or six citizens. Seymour "Sy" Porterfield is a retired Marine due to a wound he took. Serena Rose Sanderson is a junkie and a former army major. Billy drives a snowplow; Mason is his younger brother. John Ryan Headley runs a flea market in town. Stackley will become the new Billy.
Laramie, Wyoming…
…County Sheriff Connelly doesn't buy the bear story.
Federal DEA Special Agent Kirk Noble is coming south from Billings, Montana. The Defense Intelligence Agency needs to do some housecleaning. Colonel Bateman was with a medical battalion.
West Point, New York
General Sean Simpson is the supe in charge at West Point.
A small town in Wisconsin
Jimmy Rat rides a Harley.
The Cover and Title
The cover is red, black, and white. The red is in the series information encased between the author's first and last name in white and the red of the small-sized title at the very bottom. More white is in the scudding clouds overhead and the rows of electrical poles marching along either side of the road, narrowing in perspective as the road stretches into the distance. The black is the background, and in the blackest of blacks.
The title is where the truth comes out, The Midnight Line.
Related Posts