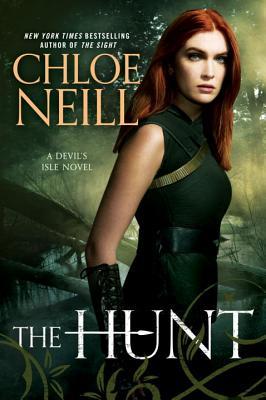 I received this book for free from the library in exchange for an honest review. This does not affect my opinion of the book or the content of my review.
The Hunt
by
Chloe Neill
Genres:
Urban Fantasy
Published by
Berkley Books
on September 26, 2017
Pages:
311
Format:
Paperback
Source:
the library
Buy on Amazon
Goodreads
Also by this author:
Kicking It: These Boots are Made for Stalking
,
Blood Games
,
The Veil
,
The Veil
,
Midnight Marked
,
Dark Debt
,
The Sight
,
Blade Bound
,
Wild Hunger
,
The Beyond
,
The Bright and Breaking Sea
,
"Slaying It"
Third in the Devil's Isle urban fantasy series set in New Orleans for Young Adult readers and revolving around Claire Connolly, a human-turned-Sensitive.
My Take
It's primarily fear and prejudice that feed the conflict in The Hunt. It doesn't help that the cold ignorance of scientists who do it to see if it will work contributes to the major conflict at the end.
Part of that fear shows up in how the government treats the good-guy Paras who keep helping the humans to win battles, and as soon as they've won, they arrest the Paras. WTF? And this is symptomatic within Devil's Isle, carrying over into the characters. Oh, I like the characters well enough, but they're cookie cutter characters. Too typical and expected, although Neill does create an interesting magic protocol that affects them.
One of the big conflicts is Liam's anger over what happened to him. But I think the biggest is what Claire discovers about her mother, the one who died. It's handy that Neill is using first-person protagonist point-of-view from Claire's perspective, so we get the full force of her emotions on this. Unfortunately, Neill told us more than showed us, and reduced the impact of this information.
Part of me really enjoys this series for the different take Neill has on the paranormal. Until The Hunt. I'm a little ticked at how Neill has Claire behaving, especially that scene in which she confronts Blackwell. How incredibly stupid. And then Neill glosses right over it as a "good idea". Uh-huh. Claire's actions only get stupider, especially at the end, at the Battle of Belle Chasse, where she is paying no attention to what's going on around her. WTF? As for the death that results…can you say melodramatic?
Another issue that raises questions with me is how the Delta teammates are able to meet up with Gunnar so easily. And how does the rest of the country react to this invasion? Neill keeps it completely contained within New Orleans, and we have no idea how widespread the war was or how long it lasted. Why is New Orleans still such a dump? Is it supposed to be a parallel with Katrina?
I don't know if I missed something (huge!) or if Neill has been trailing a giant red herring throughout the story, but I do not understand what happened at the end. The destruction sounds completely unlike what Blackwell had intended.
There's plenty of action in The Hunt, even if some of it is pretty lame. I'm hoping Neill gets back to where she started with a good story and characters.
The Story
Already a target for what she revealed during the Battle of Devil's Isle, Claire is twice more a goal for bounty hunters when a Containment agent is murdered, and Liam is put in the frame.
An impossible frame as Liam was nowhere near New Orleans, but his new secrets prevent him from coming out to clear his name, and Claire, Gavin, and Malachi must find him to warn him…and time is running out.
The Characters
Claire Connolly is a Sensitive with telekinesis. She used to run the Royal Mercantile until she was outed. Now she's hiding out in a bunker her father had rehabbed, a former Apollo gas station. The Royal Mercantile, a general goods store these days, is run by Tadji Dupree, Claire's brilliant, best friend. Will Burke, a Sensitive able to disappear, was with PCC Materiel and underground with Delta. He's been reassigned. Ezell is one of Tadji's probationary hires.
Delta is…
…a coalition of Paranormal and humans dedicated to changing the treatment of Paranormals. The team includes the three-foot-tall Moses, their resident tech genius, who always make me think of the devil with those glossy black horns. Malachi is an angel and had been a general in the Consularis army. Erida is a goddess of war who accompanied Eleanor into the bayous. Darby Craig is a human scientist who joined Delta when she was thrown out of her regular job.
Liam Quinn was a bounty hunter until he was hit by magic in The Sight, 2, and now he can manipulate the magic of others. Eleanor Arsenault (of the powerful and wealthy Arsenaults) is Liam's grandmother and has the Sight after she was hit by a weapon of magic. Gavin Quinn is Liam's brother; Beau Q. Lafitte is one of his other identities. Gracie is the sister who had been killed by wraiths. Foster is Eleanor's golden Lab who's now living at the clinic.
Devil's Isle is…
…a Paranormal prison for Paras and anyone who has magic. There are two sides to the Paras: the Consularis who are the caste of Paras who had ruled the Beyond and had been magically forced to fight against humans, and the Court of Dawn, the Seelies, who are enemies of the Consularis and were the ones doing the forcing. Lizzie runs the Devil's Isle clinic, which is getting short shrift on supplies. Solomon is Moses' cousin AND the kingpin of Devil's Isle. Pike is a Para and a friend of Liam's who had helped protect Eleanor. Peskies are tiny Paras with wings.
The Vacherie Plantation is…
…where some Paras got passes to get out of New Orleans and work the fields. Djosa is in charge of the Tengu, the Paras working the fields. He's also Cinda's father.
The Paranormal Commandant Command (PCC) was…
…a federal agency formed 47 years ago, and now they're in charge in New Orleans. Containment is a division which is in charge of the prison and the war zone with its base in the Cabildo. Gunnar Landreau, Claire's friend, is second-in-command. The Landreaus still live in Palm Tree House, their home before the war. Agent Jack Broussard is generally despised; he'd also been Liam's handler before. Rachel Lewis is one of Gunnar's colleagues, the Commandant's operations director, and a former captain in a black ops team.
Reveillon is…
…a cult who believed anyone using magic should be eliminated. Ezekiel had been a Sensitive and their commander until he was killed in The Sight.
ADZ Logistics is…
…a scientific laboratory developing Icarus and run by Laura Blackwell, a cold-hearted scientist. The project, begun as a joint operation of the Senate's Armed Services Committee and the FBI, was supposed to have been shut down but Senator Jute McLellan is the head of the subcommittee that's been continuing to sneak funds to Icarus. George and Chenille are security guards. Javier Caval is a Containment agent running deep and involved with one of ADZ's suppliers, Henderson Scientific. Lorenzo Caval is his "bad" brother and also involved.
Roy Gravois is a bayou neighbor of Eleanor's these days. His family includes Adelaide, Claude, and Iris, all members of the United Houma Nation. Cosette is his wife. A widow, Mrs. McClarty had been one of Claire and her father's neighbors. Blythe is a bounty hunter and an ex-girlfriend of Liam's. Jimmy and Crowley are bounty hunters. Cherie runs the Bayou Black Marina. Lon is a shrimper. Nix was a dryad traitor in The Veil, 1.
Sensitives are humans affected by magic. A magic they must keep in balance lest it destroy their body and mind, and they become wraiths. Talishek is where the Veil was opened.
The Cover and Title
The cover is deep yellow greens in the mist rising up from the bayou in the background to the scrolling swirl at the bottom of the cover. It's a nice complement to the red of Claire's long wavy hair and green eyes, as she stands in that bayou wearing a quite modern-looking skintight black uniform, a brass bandolier of something slung across her chest with a wide black belt at her waist. She's also wearing a black gauntlet. The info blurb is at the top in white, above the author's name in peach. Below that is the series information also in white. And at the very bottom is the title (in white) with a spear going through it.
The title actually refers to several hunts, for not only is The Hunt on for Liam, but for anyone who can be used against him. But then there are the whys behind the murder that also require a hunt.
Related Posts