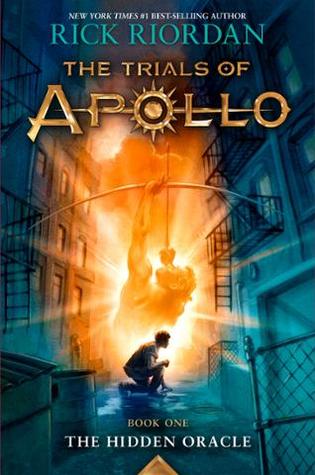 I received this book for free from the library in exchange for an honest review. This does not affect my opinion of the book or the content of my review.
The Hidden Oracle
by
Rick Riordan
Genres:
Urban Fantasy
,
Middle Grade
on May 3, 2016
Pages:
376
Format:
Hardcover
Source:
the library
Buy on Amazon
Goodreads
Also by this author:
The House of Hades
,
The Titan's Curse
,
The Sword of Summer
,
The Hammer of Thor
,
The Ship of the Dead
,
The Battle of the Labyrinth
,
The Last Olympian
,
The Dark Prophecy
First in The Trials of Apollo urban fantasy series for middle-grade readers and revolving around the suddenly human Apollo. This takes place six months after The Last Olympian, 5, from the Percy Jackson and the Olympians series.
My Take
I can't decide if I love it or am annoyed by it. It starts off pretty funny as Apollo's ego whines on about how misunderstood and abused he is. Of course, his ego is also incredibly enormous in his self-centeredness. Unfortunately, he continues whining and expecting the bowing and scraping until, later in the story, he begins to understand what a jerk he is. Not that I'm really noticing it take, and his realizations feel very superficial.
Rhea is pretty annoying as well. Funny, but it wears on you fairly quickly.
"Zeus did not answer. He was probably too busy recording my humiliation to share on Snapchat."
I did enjoy how Riordan pulled in so many contemporary examples into the story. I always think of ancient Greece when thinking of gods, and I cracked up listening to Apollo talk about partying like the Kardashians and singing "Y.M.C.A."; Chiron's unfortunate encounter with those fishnet stockings and red high heels, lol; and, spoofing Pete and Paulie's advertising obsession, well, you can't help but laugh even as Apollo grows more and more annoying.
"It always disappointed me when mortals put themselves first and failed to see the big picture — the importance of putting me first…"
I love it when all the, ahem, myths, Apollo has been spreading around come back to bite him in the butt.
Of course, Apollo does have his own unique take on his children worrying about their own skills now that Apollo is deprived of his powers. It's a good 'un and definitely consistent with Apollo's self-centeredness.
Okayyy, that's one way to explain headaches. I think, maybe, I'll stick with the usual human ones. I can't explain why Chiron would still insist on those three-legged death races, though.
Riordan doesn't do a very good job of setting up and terrifying with the whole schizo thing. Nor does the latter part of Meg's participation in the story ring true. Oh, sure, it's a standard trope, but Riordan needed to work at this one a lot more. Then when the ants jump in…oh, boy… No.
The Story
Oracles can no longer tell the future, all communication is disrupted, Apollo has been cast out of Olympus, and some of the Half-Blood campers are missing.
Wait, Apollo cast out of his godhood!?? How ever will this self-centered god cope without his powers. How can he return to Zeus' grace, to what he deserves… After all…it wasn't his fault!
Then Apollo learns what he must do. It will be impossible. He's never done his own tasks before. He's always ordered some silly human to take care of it. Yet, if Apollo doesn't succeed, the world as we know it will die. …and Apollo will never regain his powers!
The Characters
Apollo used to be a god until he ticked his father off. Again. Lester Papadopoulos is the dorky teen he's been turned into. Zeus is his father. Artemis is his twin sister; Leto is their mother. Delos is Apollo's sacred island.
Meg "Crotchkicker" McCaffrey is the little girl, a loner demigod, who rescues Lester. Peaches is a karpos, a creature, Meg summons.
Percy Jackson (Poseidon is his father) is in New York with his pregnant mother, Sally, whose first novel is to be published in a few months. Paul, a teacher, is his stepfather. Percy has promised to finish high school…and no more quests! Annabeth Chase is his girlfriend. Mrs. O'Leary is Percy's hellhound. Hazel Levesque and Frank Zhang are at Camp Jupiter near Berkeley, California. Jason Grace, Piper McClean, Coach Gleeson Hedge and Mellie with their son, Little Chuck, are spending the year in Los Angeles with Piper's dad. Leo Valdez and Festus are missing. Grover is at the Council of Cloven Elders in California; Juniper, a dryad, is his girlfriend. Clarissa LaRue, the previous Ares head counselor, is now at the University of Arizona.
Camp Half-Blood is…
…a training camp for demigods located on Long Island. Chiron, a centaur, is its head while Mr. D, Dionysus, is its director. Woodrow is a satyr teaching music. Millard and Herbert didn't make it. Peleus is a guardian dragon curled around a tree. Seymour is the stuffed leopard over the fireplace.
The demigods at camp include Connor Stoll; Sherman Yang; Will Solace is head counselor; Nico di Angelo is the son of Hades and dating Will; Julia Feingold and Alice Miyazawa from the Hermes cabin are the new camp tricksters; Cecil Markowitz (Hermes); Ellis Wakefield (Ares); Miranda Gardiner (Demeter, Apollo's aunt) is a senior counselor and dating Sherman; Billy Ng (Demeter) Harley (Hephaestus, god of blacksmithing and inventing) has a nasty edge to him; Nyssa Barrera (Hephaestus) is Harley's sister; Paolo Montes (Hebe, goddess of youth); Malcolm Pace (Athena); Damien White (Nemesis); Valentina Diaz (Aphrodite); Chiara Benvenuti (Tyche); and, Holly and Laurel Victor are sisters (Nike).
Rachel Dare is the resident prophetess. Her father is wealthy and runs Dare Enterprises.
The groves are…
…where the oracles are normally located. The Grove of Dodona is one of the oracles' groves but is beholden to Rhea. Other oracles or groves include the Oracle of Delphi, Sybil of Cumae (Ella the harpy memorized her prophecies), Erythaea, and the Cave of Trophonius.
Apollo's old girlfriends and nemeses include…
…Cyrene who wrestled lions. The two loves of Apollo's life are Daphne and Hyacinthus. Calypso, a powerful, immortal sorceress, had had a dispute with Apollo. Apollo had to serve Laomedon, the king of Troy, for a while; then it was Admetus, the king of Thessaly.
Apollo's children include…
…Octavian from The Heroes of Olympus who had had delusions of grandeur. Will Solace is a son with a gift for healing (Naomi Solace is his mother); Austin (his mother, Latricia Lake, taught music theory); and, Kayla. Asclepius is another son, and he became the god of medicine at fifteen. Apollo is so proud…and sounds like a 1950s mother, lol. Louis XIV.
Triumvirate Holdings is…
…a huge, immensely powerful military-industrial company with its fingers in a lot of pies. Rachel has been following the paper trail.
Monsieur Beast is an alter ego in partnership with Python, a monster who has taken over the Oracle of Delphi. Cade and Mikey are a couple of thugs.
Rhea is the hippie Queen of the Titans, mother of the first generation of Olympian gods, daughter of Gaea (the angry Earth Mother) and Ouranos. Kronos had been her jerky, cannibalistic husband. Daedalus was an ancient craftsman and artist. The DSTOMP is the Demigod Standard Test for Mad Powers, an exam for Roman demigods. The Athena Parthenos is the statue that was rescued in The Mark of Athena, 3.
Emperor Nero was one of the worst of the Roman imperators and was descended from one of Apollo's sons. Vincius, a.k.a., Vince, and Garius, a.k.a., Gary, are Nero's germani, imperial bodyguards and cold-blooded death reapers. The Colussus of Nero was, is, a statue.
Nosoi are plague spirits that cannot be killed. Pete and Paulie are palikoi, geyser gods, with a marketing agency. Myrmekes are huge monster ants who spit acid.
The Cover and Title
The cover is a dark blue alley in which Apollo arises, human, with a golden burst above of himself in his former self, the god Apollo shooting an arrow up…probably at his father, Zeus! The author's name is at the top in embossed turquoise with the series information below it in an embossed gold you can barely see. The title is at the bottom, tiny, embossed, and in white.
The title reflects the first trial, The Hidden Oracle, which Apollo must find.
Related Posts