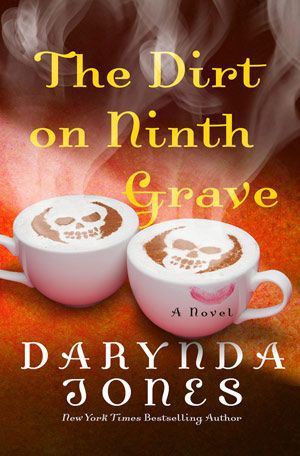 I received this book for free from the library in exchange for an honest review. This does not affect my opinion of the book or the content of my review.
The Dirt on Ninth Grave
by
Darynda Jones
Genres:
Urban Fantasy
on January 12, 2016
Pages:
326
Format:
Hardcover
Source:
the library
Buy on Amazon
Goodreads
Also by this author:
Seventh Grave and No Body
,
Eighth Grave After Dark
,
First Grave on the Right
,
Third Grave Dead Ahead
,
Eleventh Grave in Moonlight
,
The Trouble with Twelfth Grave
,
Summoned to Thirteenth Grave
,
A Bad Day for Sunshine
Ninth in the Charley Davidson urban fantasy series and revolving around a grim reaper who has lost her memory and completely forgotten that she's married to the Son of Satan. This story is set in Sleepy Hollow, New York.
My Take
This was fun, if a bit frustrating. I appreciated Jones slipping Charley's friends into town, but I wish she'd played this a bit more, more interaction between Charley and the others and have her become more confused about who these people are. The bits between Charley and Cookie and Reyes were good, and I do wish we'd had more like that between the others.
That, however, is minor, although her wishy-washyness about breaking up with Ian drove me nuts. Just do it!
I hadn't thought about how Charley would react to seeing ghosts after she'd lost her memory. Jones' take on it was good, but what made it better was Charley's crazy sense of humor. It's there, but…weak — a great bit of show that helped us "get" how lost Charley is. I am not sure about why she had Charley sound so stupid, though. Cookie has told "Janey" that Robert is a detective in New Mexico, and Janey thinks Robert speaks English really well for a detective from a Latin American country *eye roll*.
Okay, the stunt Janey cooked up to bring Lewis to Francie's attention was a trademark Charley, lol.
That crazy stalker who's after Janey…whew… I'm surprised he still has his job! As for the being-held-prisoner scene… Crack. Me. Up. Between Charley complimenting her successive killers and nagging the ghost who wants to save her…you'll break up, too. Well, until Walker reveals what he intends to do to Charley.
Breaking, entering, exorcising, a great T-shirt ("Save a Virgin. Do Me Instead!"), an archangel with a bad deal… It may be a bridge novel, but what a bridge!
The Story
With no memory of her previous life, Jane Doerr is taken aback by the ghosts who show up and the amazing colors and places she can see that no one else can. Yet her own plight doesn't blind her to that of others as she helps a woman cursed to lose her babies, a storekeeper whose family is held hostage, lonely neighbors, a cop who doesn't understand that line he shouldn't cross — and a peeping tom who likes her undies.
Meanwhile, new regulars keep showing up at the diner, especially that gorgeous man Janey is too attracted to. The heat that man gives off… A heat that terrifies her even as it pulls her in.
And perhaps gods can only be killed by other gods, but they can be trapped…
The Characters
Janey Doerr, a.k.a., Charley or Dutch, woke up in Sleepy Hollow, in an alley. Her real name is Elle-Ryn-Ahleethia, a Val-Eth. Artemis is the ghost of a Rottweiler who showed up after Janey woke up.
The gorgeous Reyes Farrow, a.k.a., Rey'aziel, is one of the new regulars, eating at the diner three times a day and later gets hired as a cook. Some of the other "new" regulars include the ripped Garrett and Osh, a very young man who wears a top hat. Angel is a young Hispanic and the first ghost Janey hears. Beep, Elwyn Alexandra, is the baby Charley and Reyes had — the Ravager. Gemma is on vacation in Sleepy Hollow. Aunt Lil is hanging about.
Sleepy Hollow is…
…where Charley ended up. Officer Ian Jeffries feels a proprietary air towards Janey. Mable is Janey's neighbor with the car; Stan is her great-nephew. James is the homeless guy who lives across the street from Janey. Irma is a ghost who was there when Janey rented her apartment.
The Firelight Grill is…
…where Janey works as a waitress. Dixie is the boss. Sumi, Thiago, Reyes, and Frazier are line cooks; Lewis is a busboy (he plays bass in a metal band, Something Like a Dude, and is in love with Francie); Francie, Brenda, Shayla (who loves Lewis), and Erin (she HATES Janey) have been waitresses there for a while; and, Cookie Kowalski-Davidson just started working as a waitress a couple days ago, providing lots of comic relief. (Robert, a.k.a., Bobert, is her new husband.)
One of the regulars, Bernard Pettigrew is a decorated war veteran and a retired NYPD detective. The dead stripper sitting next to him is Helen Bedd, a woman whose life he'd saved a year ago.
A terrific artist, Erin has lost two babies: Hailey and Carrie, and she's worried about baby Hannah. Billy is Erin's worried husband. Great-aunt Novalee Smeets died in the thirties or forties after spending most of her life in a nuthouse. Delbert Smeets, the mayor, had been her husband who had gotten her locked up.
William Vandenberg, a.k.a., Mr. V, runs an antiques shop across the street from the diner. Nathalie is his wife; Joseph and Jasmine are their kids. Ellen is one of his customers. Mrs. Udesky. Jeremiah Kubrick is Dixie's ex-father-in-law and likes to peek into windows with his telescope. Herb Wassermann is the best handyman in town. Doc Emmett has a place in Lake Oscawana. Hershel is a jerk and came to the diner with Mark. Klava Pajari and Ilya Zolnerowich are retired FSB agents who work a drycleaning shop. Kit Carson is an FBI special agent.
Ana Matias died of breast cancer but hasn't yet passed on. Benito Matias is, was, her husband, a famous cavaleiro. Henry had been an actor re-creating a scene from The Legend of Sleepy Hollow. Gale Force has been the horse he was riding. Creepy Decomposing Lady looks like Erin's daughter. Dead Guy tries to help Charley in the warehouse.
Some guy named Rocket is freaking out. Janet was the first. Tamala Dreyer was another. Elaine Oak is a blogger who claims she's married to Reyes Farrow. Michael is an archangel sent by Father Jehovah.
Earl James Walker is still alive. Kuur, an expert assassin and emissary from Lucifer's army, is the demon. God glass is a jewel-like pendant that allows a god to see a dimension only accessible through that glass.
The Cover and Title
The cover has a radial gradient background with a toasty deep brown on top and bottom merging into a brighter orange center. Quite appropriate for a diner, there are two white diner cups of cocoa with white skulls floating on a background of cocoa powder — the cup on the right has a lipstick print. I reckon it's Charley's cup, *grin* The title is in an embossed yellow with the author's name in white.
The title tells us where we are in the series, The Dirt on Ninth Grave.
Related Posts