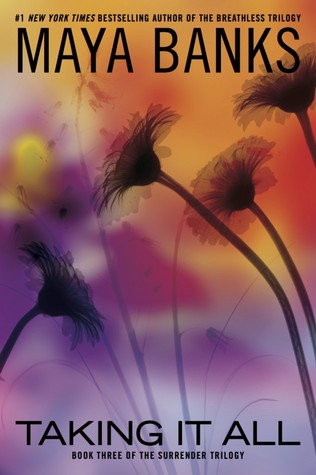 I received this book for free from the library in exchange for an honest review. This does not affect my opinion of the book or the content of my review.
Taking It All
by
Maya Banks
Genres:
Erotica
,
Romance
Published by
Berkley Trade
on August 5, 2014
Pages:
320
Format:
eBook
Source:
the library
This book may be unsuitable for people under 17 years of age due to its use of sexual content, drug and alcohol use, and/or violence.
Goodreads
Chessy and Tate have been married for several years. In the beginning, their relationship was everything she wanted. Passionate. All consuming. She offered her submission freely, and Tate cherished her gift with a tenderness that made her feel safe. Content. Wanted. And loved beyond all measure. But as the years have gone by, Tate has become more immersed in making his business the success it has become, and Chessy has taken a back seat to his business obligations. Growing unhappier with the status of their once blissful marriage, Chessy knows that something has to give. Or they stand to lose it all

Tate loves his wife. Has always loved her. Providing for her has always been his number one priority. He thought.
Also by this author:
Forged in Steele
,
When Day Breaks
,
Keep Me Safe
,
Enticed by His Forgotten Lover
,
Sweet Possession
,
Sweet Addiction
Third in the Surrender Trilogy D/s series and revolving around three ladies who have supported each other through so very much. The couple focus is on Chessy and Tate Morgan and proves that actions are stronger than words. Set in Houston.
My Take
Jesus, this was so bad. What is it with Banks these days? I don't think I've read one of her more recent stories and been thrilled. I enjoy reading erotica, but this was embarrassing, and no, not because of the sex. Taking It All reads more like one of her first efforts at writing.
I was 80% of the way through the book…yes, 80…before it started to get interesting. As it was Banks padded this out thoroughly (and excessively) with Tate and Chessy yammering over and over and over about their marriage, about Tate's obsession with work. Stop, I get it already!
Yeah, I can hear ya now. Why would I bother reading this far when I so desperately wanted to slide it onto the DNF shelf? I've always thought Banks was a good writer… and 'cause I was hoping to get to the erotic bits, of course.
Sad, isn't it? Eighty percent of the story was oh, woe with some nice sidebars when Chessy met up with her friends. Banks was consistent in having her friends yammer on and on about the same issues over and over and over as well. In case you didn't pick up on it, that was sarcasm. I did like the relationships and support she got from her friends and their significant others. It's how friends, best friends, should react.
The idea of the story is sweet, and I like that Tate finally gets it. But the manner in which Banks goes about it is not her usual style. Instead, it felt as if Banks were in a hurry to get through this story and didn't want to take the time to make it realistic. That scene at The House where Tate actually has his phone on, and he answers it is simply not believable. Who the heck takes a phone into a scene like Tate has set up? If he's so into his wife and the surprise he's set up for her, I'd be surprised if he even heard the damn phone. It was too convenient a way for Banks to set up that last conflict. Too easy. And the whole thing was so frickin' melodramatic. Gag.
The way it ended with Chessy's decision was too quick. Heck, that second escape was too much. Sure, I can see leaving him, but she's so determined to end it all. Right now. Yeah, I'd probably have reacted the same way, but I'm not Chessy. It didn't fit her character. And, yeah, I was proud of her for making a decision…hypocrisy, thy name is Kathy…*eye roll*…
The twist on the characters with the man being the one in need of salvation was nice, but I didn't buy Tate's need to be financially able to support Chessy and any future children. He's got enough money to buy a beautiful home right off the bat and buy beautiful jewels for Chessy. That just does not translate into someone needing financial security.
A lot of tell with some show and a sprinkling of info dumps.
You might enjoy this if you like a Dominant/submissive lifestyle with a Dominant deciding everything for you. And if you're not picky about wanting good writing. If this doesn't appeal to you, don't bother. Don't even bother with getting it from the library, as you'll be wasting valuable reading time. I rarely "do not finish", but damn, I was SO tempted. If it hadn't been a Maya Banks story, I probably would have DNFd it.
The Story
Chessy Morgan revels in being the submissive to Tate's Dominant. But she's less than happy with his devotion to his two-year-old business.
It takes a disastrous wedding anniversary dinner to help Chessy decide that she's done taking second place.
The Characters
Chessy Morgan is a bright and once-happy housewife who loves that her husband, Tate, dominates her. If only he still would.
Kylie Breckenridge is with Jensen. Joss Corbin is pregnant and married to Dash, her late husband's best friend. (I'm assuming that he's her late husband's best friend since the husband died, although Banks does mention a couple of sentences later that he's her former husband's best friend, implying that Carson is still alive.) Both ladies are BFFs with Chessy, and their husbands have taken Chessy to their hearts as well.
The House is a club for individuals into a bit of kink. Damon Roche owns and runs it (Sweet Persuasion (Sweet, 2)); there is a mention of Serena and their child. James is the other Dominant Tate picks out. Tabitha Markham is the whiny heiress.
The Cover and Title
The cover is beautiful and well reflects the concept of what Banks was trying to do. It's soft lavenders and oranges with close-ups of daisies in profile, for it's a soft life Chessy has and we're looking beneath its surface.
The title is what Chessy does about her future, she's Taking It All.
Related Posts