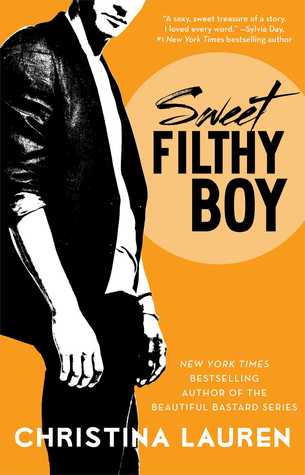 I received this book for free from the library in exchange for an honest review. This does not affect my opinion of the book or the content of my review.
Sweet Filthy Boy
by
Christina Lauren
Genres:
Contemporary Romance
Published by
Gallery Books
on May 13, 2014
Pages:
416
Format:
eBook
Source:
the library
Buy on Amazon
Goodreads
Also by this author:
Beautiful Player
,
Dating You / Hating You
First in the Wild Seasons romance series revolving around two sets of friends. The couple focus in Sweet Filthy Boy is on Mia Holland and Ansel Guillaume.
In 2015, Sweet, Filthy Boy won the DABWAHA Romance Tournament for Young Adult / New Adult, and in 2014, it won the Romantic Times Reviewers' Choice Award for Best Book of the Year and was nominated for the Goodreads Choice Award for Romance.
My Take
The premise of Sweet Filthy Boy is great, but the execution of the story is really irritating. Well, actually, it's Mia's character that is truly irritating. I actually like Ansel. He's a great guy and a lot of fun, even if he does screw up on that one point. And, okay, he is impulsive. But in a good way.
Mia. Sigh. What an idiot. She's willing to embrace an entire career just so she can get Daddy to pay for it. She's determined to think that she has to follow Daddy's footsteps, without taking a step outside that box to realize that she can go ahead and use Daddy (and his money) to get the degree and use it any way she wants once she graduates.
I do like the fun they have in their relationship, including the sex. If only Mia didn't whine so much. She whines back and forth with the I want to / I don't want to routine. It's enough to make me want to smack her upside the head. You'd think she was a virgin. To get into it, she has to pretend she's someone else. *eye roll*
As for running off to Paris? Why not? Why not go have some fun for the summer? It's not like she's expected to start on her master's degree right away. When she's falling in love with Ansel, why doesn't she simply decide to go for it? To embrace it? On the other hand, she is consistent in thinking that the starting path is the one she absolutely must stay on.
Don't get me wrong. I do think she made the best decision for her personal growth at the end (even if the way she went about it was incredibly childish), but I would have thought she'd at least consider thinking WTF?, why not stay married and love the guy she's realized she's in love with. Duhh.
I really don't recommend spending the time on this, if irritating characters with no spine don't appeal to you. And, yes, I do realize it won all sorts of awards. God knows why.
The Story
One-night stands are supposed to be with someone convenient, or wickedly persuasive, or regrettable. They aren't supposed to be with someone like him.
But after a crazy Vegas weekend celebrating her college graduation — and terrified of the future path she knows is a cop-out — Mia Holland makes the wildest decision of her life: follow Ansel Guillaume — her sweet, filthy fling — to France for the summer and just…play.
When feelings begin to develop behind the provocative roles they take on, and their temporary masquerade adventures begin to feel real, Mia will have to decide if she belongs in the life she left because it was all wrong, or in the strange new one that seems worlds away.
The Characters
Mia "Cerise" Holland has just graduated from college. She's aimless now that her greatest dream is an unattainable memory. Her father, David and mother, are standoffish with her father an absolute jerk who bosses everyone around. Her mother is a doormat.
Lorelei (Lola to those in her inner circle) and Harlow are Mia's best friends. Lola's dad is a war vet. Harlow's loving parents are Hollywood; her dad is a big-shot cinematographer.
Ansel Guillaume is a French lawyer working through a career-making case. Charles Guillaume is his jerk of a dad; his mother was Charles' housekeeper with whom Charles had an affair. Madame Allard is Ansel's neighbor in Paris.
His friends include Finn, a Canadian; Oliver is an Aussie; and, Perry. They met several years ago on a charity program involving bicycling across the country and helping to build homes. Christophe and Marie are two of Ansel's oldest friends.
"Minuit" is the girlfriend Ansel dumped. Luke is Mia's two-years-gone ex. Professor Chatterjee is helping Mia get into a program. Tina runs a dance studio. Julianne has an apartment to rent. Simone is the American girl who works at the bakery in Paris.
The Cover and Title
The cover background is a deep yellow with a paler yellow circle to showcase the title which is in black. The rest of the text is in white. The graphic on the page is a partial of Ansel profile in black-and-white in a button-down shirt and suit jacket with the sleeves rolled up.
I can't get excited about the title, as I think it's misleading. The only thing "filthy" about this boy is that Mia keeps calling him a Sweet Filthy Boy. It sounds like she's either calling the sex they have together "filthy" which I find disgusting or Lauren is trying to pull in readers attracted by their hopes of the title.
Related Posts