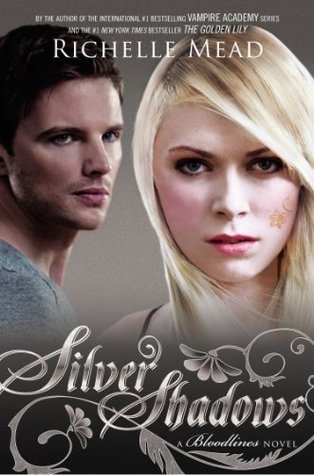 Silver Shadows
by
Richelle Mead
Genres:
Urban Fantasy
,
YA
Published by
Razorbill
on July 29, 2014
Pages:
416
Format:
Hardcover
Source:
the library
Goodreads
Sydney Sage is an Alchemist, one of a group of humans who dabble in magic and serve to bridge the worlds of humans and vampires. They protect vampire secrets—and human lives.

In The Fiery Heart, Sydney risked everything to follow her gut, walking a dangerous line to keep her feelings hidden from the Alchemists.

Now in the aftermath of an event that ripped their world apart, Sydney and Adrian struggle to pick up the pieces and find their way back to each other. But first, they have to survive.

For Sydney, trapped and surrounded by adversaries, life becomes a daily struggle to hold on to her identity and the memories of those she loves. Meanwhile, Adrian clings to hope in the face of those who tell him Sydney is a lost cause, but the battle proves daunting as old demons and new temptations begin to seize hold of him. . . .

Their worst fears now a chilling reality, Sydney and Adrian face their darkest hour in this heart-pounding fifth installment in the New York Times bestselling Bloodlines series, where all bets are off.
Also by this author:
The Immortal Crown
,
The Ruby Circle
Fifth in the Bloodlines urban fantasy series for Young Adults and revolving around a group of dhampir, Moroi, and humans who have become friends. The couple focus is on Adrian and Sydney.
It's three months in from the end of The Fiery Heart, 4.
My Take
The point-of-view switches between Sydney and Adrian, which only makes sense since they're so completely separate in Silver Shadows. I see this as a bridge novel. Yes, there are two important steps achieved, but that's just it. They're steps toward what will happen next.
Jeez, ain't it always the way with a fanatical organization that thinks it's all that? Terrified that someone may step out of line, think for themselves, challenge their obsolete, archaic thinking. Can't have that. Beat it down. Starve it out of them. And that's exactly what they're doing to Sydney.
These people think they're so decent, using their religious terms of communion, reflection, purification, and yet they delight in hurting, abusing, destroying individuals every chance they get. Doesn't sound very Christian to me.
Oh, please. I can't believe these Alchemist nuts actually believe they could be "contaminated" by touch!
Adrian is so confused and frustrated over Sydney that I'm guessing he clung to Nina, a full-blooded Moroi with a Gift for Spirit, as one of the few people who could understand what he was going through, even if she didn't know about Sydney. He's caught between trying to find and rescue Sydney and battling his depression even as he starts to try and fix things for others back at the court.
He's also confused about that whole being supported thing. He rails at his mother for being a hypocrite about his father, and yet he's doing the exact same thing. Even at the end when he returns, he still believes he'll be able to live his life as he's used to it.
It does lead to thoughts on love. A comparison of his parents and what he's experienced with Sydney. It'll be interesting to see how he thinks of it in The Ruby Circle.
The escape is something of a disaster; it does bring it home how impossible their situation is. It also brings out the romantic in Adrian. He was so sweet and thoughtful. A romantic and protective streak that is cracking.
At the very end, why didn't Adrian immediately think of his bond?
The Story
Light and sleep deprivation, less than minimal nutrition. Punishment for the slightest infractions or none at all.
It's a nightmare for both Sydney and Adrian as she tries to survive, to escape, and Adrian struggles to reach her through Dreams.
The Characters
Sydney Sage is an Alchemist who is questioning their core beliefs — and has fallen in love with the enemy, a Moroi. Jared Sage is her fanatical father; Zoe is the sister who turned her in for torture and re-education. Carly is her older sister who stood with her mom during the divorce. Ian was a jerk who claimed he loved Sydney.
Lord Adrian Ivashkov is a Moroi prince with Spirit, a debilitating Gift that sends him seeking oblivion in drink. Hopper is a tiny callistana, who looks like a dragon and is a benign demon. Adrian's dead Aunt Tatiana, the late queen, has latched onto Adrian and her voice snarks away in his head. His mother, Danielle, is out of prison; Dale is the guardian who accompanied her to Palm Springs. His father, Nathan, is so angry with his wife, and worse, they're not being invited anywhere. Horrors!
The Moroi Court in Pennsylvania
Rose Hathaway and Dimitri Belikov are both dhampir and Guardians. Rose is also Queen Lissa's best friend. Christian is still part of Lissa's life. Maria Conta is an advisor. Sonya Karp is also a dhampir and a former Strigoi, like Dimitri, who was brought back by a Spirit user. She's desperately searching for a vaccine.
Vanessa Szelsky is one of the party royals. Wesley Drozdov shows up with his lackeys, Lars Zeklos and Brent Badica, trying to make trouble, and Adrian lets everyone know what they tried to do to Sydney, hee-haw.
Amberwood Preparatory School
Princess Jill Mastrano Dragomir is Lissa's sister and the only reason Lissa is queen of the Moroi. She's been hidden at the school to keep her alive and Lissa on that throne. Eddie Castile is in love with Jill and one of her dhampir bodyguards along with Neil Raymond and Angeline Dawes who has finally become a couple with Trey Juarez, a human student. Jackie Terwilliger is Sydney's magical mentor and history teacher. Maura is Sydney's stiff-faced Alchemist replacement.
Neil is in love with Olive Sinclair, who was a strigoi in The Fiery Heart until her sister, Nina Sinclair, helped bring her back. Meanwhile Nina misinterprets Adrian's interest.
Carlton College
Rowena Clark is a student friend of Adrian's; Cassie is her girlfriend.
The ex-Alchemists
Marcus Finch is number one on the Alchemist Most Wanted list. He's been helping Alchemists who have started to question the party line; Sydney was one of them. Sheila, Grif, and Wayne are part of Marcus' team.
The Alchemists…
…are a secret society of humans fanatical about keeping humans from knowing about Moroi, strigoi, and anything else that goes bump in the night. Grace Sheridan is in charge of the re-education facility, and she's a right bitch who delights in torture. Baxter is the cook. Addison teaches the art class which is designed to encourage conformity. Harrison teaches current affairs according to the Alchemist viewpoint, i.e., propaganda aimed at forcing them to see the Moroi as evil. Kennedy is another teacher. Kendall and Grayson are guards.
Emma will become Sydney's roommate. Elsa, Amelia, Jonah, Renee, Lacey, Hope, and Stuart are more prisoners desperate to keep themselves from the taint of Sydney. Duncan Mortimer is the first to make overtures, but even he is very careful. Mostly because of Chantal, a girl he fell in love with whom they took away when they realized it.
Keith Darnell was the jerk from Bloodlines, 1, and The Golden Lily, 2, who went into re-education. Seems he really did learn his lesson.
The Witching Hour in Las Vegas is a Moroi-run casino and hotel.
Dhampir are half-Moroi, half-human, and they train to protect Moroi. The Warriors of Light are anti-non-humans as well and hunt vampires down. Sydney learned in Indigo Spell, 3, that they're secretly associated with the Alchemists.
The Cover
The cover is soft with Adrian looking out at us over Sydney's shoulder from the greeny gold background while Sydney is staring straight at us, her blonde hair blown to the side, her golden lily visible on her cheek. It's a sad cover for a sad story.
The title is a question, for Sydney's golden tattoo has Silver Shadows.
Related Posts