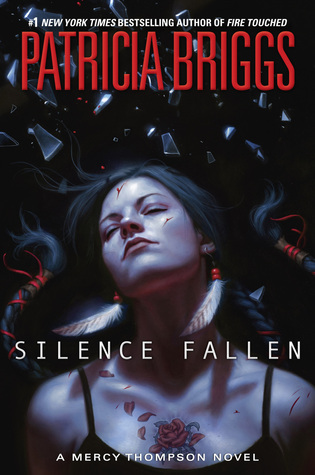 I received this book for free from the library in exchange for an honest review. This does not affect my opinion of the book or the content of my review.
Silence Fallen
by
Patricia Briggs
Series:
,
Genres:
Urban Fantasy
Published by
Ace Books
on March 7, 2017
Pages:
371
Format:
Hardcover
Source:
the library
Buy on Amazon
Goodreads
Also by this author:
Night Broken
,
Dead Heat
,
Bone Crossed
,
River Marked
,
Hunting Ground
,
Iron Kissed
,
Cry Wolf
,
Fire Touched
,
Moon Called
,
Burn Bright
,
Storm Cursed
,
Smoke Bitten
,
Moon Called
,
,
Wild Sign
Tenth in the Mercy Thompson urban fantasy series and revolving around a VW mechanic who shifts into a coyote and is mated to a werewolf in Tri-Cities, Washington. It's been a few months since Fire Touched, 9, when Mercy…and Adam…declared the Tri-Cities a supernatural safe zone.
If you're interested, there is a chronological listing of the Mercyverse books on my website.
My Take
That first line, lol, it certainly caught my attention. Writers, you may want to take note of this narrative hook. You'll also be LYAO as you "hear" the pack immersing themselves in The Dread Pirate's Booty.
After that, it gets downright serious…and twistier the further in you read. Lord, you will NOT, I repeat not, believe how incredibly twisty this is. I'd have to put it down on paper…probably a spreadsheet…just to keep track of it all!
Briggs still uses first-person protagonist point-of-view with the I being Mercy's perspective; it also uses third-person subjective point-of-view. An essential POV when Mercy can have no idea what Adam is experiencing. Plot-wise, Briggs makes use of a plot voucher of sorts that involves Gary and the anagnorisis of Lenka as well as an analepsis of Peter's past, Lenka again, Marsilia, and Zach amongst others. Then there are those macguffins…the ones that are usually the province of the protagonist? Yeah, well, I told you this story was twisty!
Briggs does keep this urban fantasy quite human with her mention of how hard Mercy finds keeping food around, how bad the men are in never putting things back where they found it(!), and the enjoyment they all get, lol, from playing an online game.
Oh, man, oh man…it took going over my notes before I realized who that submissive pilot wolf was. ROFLMAO. On the other end of the spectrum, I'm wondering where Briggs is intending to go with Elizaveta!
Silence Fallen really does deserve a "5". The reason I gave it a "4" is strictly personal. As fascinating as it was to learn so much more about the Lord of Night and all the background bits on some members of the Columbia Basin pack, it wasn't as much fun as earlier stories.
And yes, it is good, and I'll be buying the Kindle version as soon as it comes down in price.
The Story
Not only did Mercy die, but she finds herself far too alone when her bond with Adam is broken. A prisoner of the most powerful vampire in the world, it's a tricky game of the minds as Mercy combats the Lord of Night's plots.
It's a matter of preventing war. War between vampires and werewolves, and between werewolves and werewolves, even as ancient powers stir and old ghosts rise…
The Characters
Mercedes "Mercy" Thompson, a Blackfeet walker who is also a coyote shapeshifter whose father is Coyote, has an affinity for ghosts and is a VW mechanic with her own garage and is mated to Adam. Gary Laughingdog is her half-brother and also a coyote shifter.
The Columbia River Basin Pack is…
…based in the Tri-Cities in Washington state and led by Adam Hauptman, a.k.a., Captain Larson. Jesse is his human daughter, a.k.a., Barbary Belle. The fire-touched Aiden only looks to be ten years old and has now been sort of adopted in since events in Fire Touched.
Darryl Zao is Adam's second-in-command; Auriele is his mate. Warren Smith is a gay private detective and Adam's third; his life partner is Kyle Brooks, a very good divorce lawyer. Ben Shaw is the computer IT wolf from England; his game name is "Sodding Bart". Zack Drummond is the lone submissive wolf (Night Broken, 8) who now rooms with Warren and Kyle. Mary Jo is a firefighter who doesn't like Mercy. Honey Jorgenson (Peter had been her mate until Frost Burned, 7). Sherwood Post was the latest werewolf sent to join the pack.
Elizaveta Arkadyevna Vyshnevetskaya is a very powerful Russian witch who has contracted with the Pack. Tony Montenegro is a detective with the Richland PD and the unofficial liaison between the cops and the pack.
The Montana Pack is…
…in Aspen Creek and led by the Marrok, the Welsh Bran Cornick who inspired the tale of Beowulf, and the pack is a haven for problem wolves. Bran considers Mercy family. Leah is his bitchy, insecure wife. Asil the Moor was one of his broken wolves. Samuel (married to Ariana; Shifting Shadows: "Silver", 0.0001, and Silver Borne, 7) and Charles (mated to Anna; Cry Wolf, 2) are his sons. Bryan had been Mercy's foster father.
The seethe of vampires in the Tri-Cities are…
…led by Marsilia, the Bright Blade, exiled by the Lord of Night. Wulfe, the Wizard, is her second, a broken — in so many ways — magic-using vampire.
Stefan Uccello, a.k.a., Soldier, is the vampire who holds Mercy's bond; he is no longer a part of the seethe after Marsilia's actions.
Austin Harris, a goblin, owns a charter airline and is a good pilot. Larry Sethaway is the goblin leader of Tri-Cities. The co-pilot is a submissive wolf, Matthew Smith.
The seethe of vampires in Italy are…
…led by Iacopo, call me "Jacob" Bonarata, former boyfriend, the Lord of Night, the Master of Milan, a.k.a., Thug Vampire. He was a Renaissance prince whose entire family died in the Black Plague. "Pretty Vampire" is actually Guccio de' Medici (from a cadet branch), one of Iacopo's lieutenants who is responsible for the night-to-night running of the seethe. Lenka is a broken werewolf who almost married Peter, but chose Zanobi, the alpha. Ignatio was one of the kidnappers. Annabelle. Stacia is a mute part-fae healer who has issues and is a refugee rescued during World War I. Niki is her caretaker.
Prague (Praha), Czechoslovakia
The Golem of Prague is but a ghost of himself, but still roaming the city. He was created from a manitou by Rabbi Judah Loew ben Bezalel to protect the Jews of Prague.
The Vltava Pack is…
…based in Prague. A baker, Libor, is the alpha who's been around since the Middle Ages and has a grudge against Bran. Radim is his son. Martin Zajíc is Libor's second. Jitka is third after defeating Pavel.
The Kocourek seethe
Koucourek is the Master of Praha. Strand had been the master before he killed himself. Lars, Dagmar, and Vanje are actually kindhearted vampires; Ivan Novák is another of his.
Mary's seethe is…
…a relative newcomer to Prague and is led by the cunning, yet stupid Mary, a magic-using vampire. Her vampires are young and don't care about being circumspect. It's suspected that they run drugs as well. Weis is one of the vampire experiments.
The ghosts
Danek worked for the Resistance. Unfortunately for him, he also worked for the Nazis. Galina.
The Fae
Siebold "Zee" Adelbertsmither is also known as the Dark Smith of Drotheim. Uncle Mike runs a tavern.
Char had been Mercy's roommate in college. James "the Monster" Blackwood had been a nightmare in Bone Crossed, 4. David Christiansen is a werewolf and had been in Adam's company in Vietnam where they were both turned. He's still one of Adam's oldest friends and currently works as a mercenary (Shifting Shadows: "Star of David", 1.5).
The Cover and Title
The cover is dark with light focusing on Mercy's bleeding face and shoulders as glass flies, her feather earrings sway, and her black braids fly from the impact of the crash. The author's name is at the top in an embossed metallic red — a red that's repeated in Mercy's blood, the beads on her earrings, and the ribbons binding her braids — while the title is much thinner in white and across Mercy's neck. The series information, in white, is just below the rose tattoo centered below her collar bone.
The only Silence Fallen I can imagine is the Lord of Night revealing his plans.
Related Posts