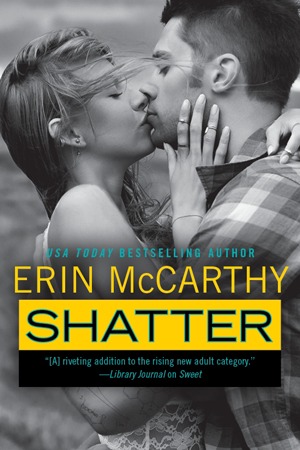 Shatter
by
Erin McCarthy
Genres:
New Adult
,
Romance
Published by
Intermix
on September 1, 2014
Pages:
304
Format:
eARC
Source:
Netgalley
Goodreads
Kylie Warner prides herself on being optimistic, but after finding her best friend in bed with her boyfriend and flunking chemistry, her upbeat attitude has taken a dive. Even an impromptu hook-up with her sexy new chemistry tutor only brightens her mood slightly. After all, it's not like she'll ever see the tattooed scholar again…

While he's a whiz at complex equations, Jonathon Kadisch has trouble when it comes to figuring out women. So when Kylie tells him that she's pregnant after their night of passion, he's at a complete loss. He's prepared to be a good father—unlike his own deadbeat dad—but he's less prepared to fall for the genuine and alluring blonde bearing his child.

With emotions running high, Kylie wonders if Jonathon's devotion is out of growing love or looming obligation. And when heartbreak threatens to tear them apart, Jonathon will have to fight for the only girl who's ever made him feel whole…
Also by this author:
Believe
,
Burn
,
Gone with the Ghost
Fourth in the True Believers New Adult romance series and revolving around four best women friends.. The couple focus is on Kylie and Darwin/Jonathan.
Thanks to Erin McCarthy, Intermix, and NetGalley for providing this ARC for my enjoyment.
My Take
It's a story that switches between Kylie's and Darwin's points-of-view, and it's easy to tell when the switch happens. It's beautiful to read their emotions, their growth, their fears and worries… And Kylie is so right in the end. She has to give him that space.
McCarthy manages to place a lot in this story: truth, realization, growth, and the fears about the past, the future, their today. As for this story's immediate conflict, it's a terrifying challenge and an opportunity for Kylie and Darwin to learn about each other. To come to value the other, although it's a pretty rocky start. There are very realistic reactions from all concerned, and it sets a good example for teens. In a roundabout way, lol.
In so many ways this is a good "handbook" for teens. What to be aware of with boyfriends who are no good. Because, oh boy, Nathan is such a lowlife, sleazy jerk. He was always after Kylie to do things because they would titillate him, not because they would make Kylie happy. Instead, reading Shatter could help teens learn how to recognize the good ones. Read a great example on why you want to pay attention to contraception.
The emotions will tug you back and forth what with Darwin fascinated and enthralled by Kylie but not prepared for a long term relationship and Kylie, well, she's under hormonal attacks in addition to expecting and yet not expecting support from him. Although hormones can't explain Kylie's weird reaction to Darwin being concerned about being "naked and parts … touching without protection". What he's saying does make sense. Why does she have such a problem with it?
"We have different people in our lives for different reasons."
This surprise is life-changing for both of them. And it does help Darwin make a decision that has been weighing on his mind. He's also determined to not be his father.
"I don't want to have any hope. … I can't have hope. I need to have strength and independence and realism, not hope."
I do like the sleeve Darwin wears. Info that has meaning to him. He's caring, considerate, and fantasizing about Kylie. She's sweet, funny.
I am so with Kylie. If Nathan truly loved her, he would never had done what he did in the first place, and he sure wouldn't have continued to pursue it! What a jerk!! Darwin is such a complete contrast. He researches the situation and steps up, and he considers Kylie's practical needs and fulfills them just as Kylie's friends do. It's a beautiful example of support from truly decent people. And people who won't let Kylie get away with her judgmental anger.
"Any man can be a father,
not every man can be a dad."
What an absolute jerk! I can't believe Nathan would keep after her like this?!! Of course, it does take all kinds in this world…I just wish we didn't have to have his kind. Then her professor's suggestion! WTF? I am so glad Kylie decided to gather up evidence, although I think she should have told more people what she was doing.
I feel bad for Kylie, unable to celebrate a birthday she's been planning for, for ages. But, ohhh, I do love Darwin's thoughtfulness and his efforts.
You will laugh, cry, and rage throughout the story and alternate between wishing you were them and glad you are not and happy for both of them. Even if there was a time I wanted to slap them both silly…
And my glass is full…
The Story
After Nathan's little disclosure and her knowledge of his actions afterwards, Kylie can't live with the others any longer. It doesn't matter than she hates being alone, she cannot be in their old apartment any longer.
None of this helps with the fact that she's failing chemistry. She needs help. And she gets it, along with a loving night. One Darwin can't believe he succumbed to…!
It's over the Christmas vacation that Kylie learns about her unexpected gift, and it won't be a welcome surprise. It was just a one-night stand.
The Characters
Kylie Warner knows she's not bright, she hates being alone, and she loves with all her heart. Her mom and dad are an absolute dream. Matt, Jake, and Ainsley are her siblings.
Jonathan "Darwin" Kadisch is the grad student tutor her chemistry professor assigns to Kylie; he's cute, has a great sense of humor, and is a kinetics genius. Darwin's mom, Debbie Fagenbaum, is an absolute treasure while his father is an excellent example of what not to be. Although, it gets so MUCH worse. His Uncle Mike is his mother's brother and has kids. Devon is his roommate. Miranda is his gay best friend.
Robin is with Phoenix (see Believe, 3), and they're moving to New Orleans. Jessica is with Riley (see Sweet, 2) and they live with Riley's younger brothers: Jayden, a sweetheart who has Down Syndrome and is so funny, and Easton, who is the youngest. Rory is with Tyler (see True, 1).
Nathan is a stupid, selfish tool who raped Robin, one of Kylie's friends. Now he's her ex-boyfriend. Professor Ben Kadisch is Kylie's chemistry professor, head of the undergrad chemistry program, and a total tool with a shameful past. Lydia is the girl Darwin is dating — and what a cold-hearted bitch she is!
The Cover
It's hard to get past the block of yellow holding the title with the author's name above it in yellow. Behind all that is a photographic image in black-and-white of a young couple, feverishly embracing.
The title is Kylie and Darwins' lives when they Shatter into pieces.
Related Posts