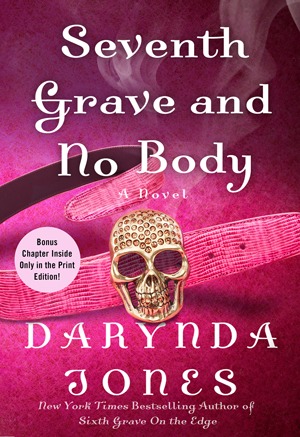 I received this book for free from the library in exchange for an honest review. This does not affect my opinion of the book or the content of my review.
Seventh Grave and No Body
by
Darynda Jones
Series:
Charley Davidson #7
Genres:
Urban Fantasy
Published by
St. Martin's Press
on October 21, 2014
Pages:
336
Format:
Hardcover
Source:
the library
Goodreads
Also in this series:
The Graveside Bar and Grill
Twelve. Twelve of the deadliest beasts ever forged in the fires of hell have escaped onto our plane, and they want nothing more than to rip out the jugular of Charley Davidson and serve her lifeless, mangled body to Satan for dinner. So there's that. But Charley has more on her plate than a mob of testy hellhounds. For one thing, her father has disappeared, and the more she retraces his last steps, the more she learns he was conducting an investigation of his own, one that has Charley questioning everything she's ever known about him. Add to that an ex-BFF who is haunting her night and day, a rash of suicides that has authorities baffled, and a drop-dead sexy fiancé who has attracted the attentions of a local celebrity, and Charley is not having the best week of her life.
Also by this author:
Eighth Grave After Dark
,
First Grave on the Right
,
The Dirt on Ninth Grave
,
Third Grave Dead Ahead
,
Eleventh Grave in Moonlight
,
The Trouble with Twelfth Grave
,
Summoned to Thirteenth Grave
,
A Bad Day for Sunshine
,
A Good Day for Chardonnay
,
The Graveside Bar and Grill
Seventh in the Charley Davidson comic urban fantasy series and revolving around Charley, a very cheerful grim reaper.
My Take
It's weird. I like this series and most of the characters. I especially like the twist Jones has put on the grim reaper. Charley? I'm six of one and half a dozen of the other about her. She is funny. She's also incredibly annoying, and I hate that Jones pulls out the worst of the tropes with her.
Charley is pregnant, the baby is incredibly important in the fate of the world, and the hounds of Hell are after her. So, does she accept that she could use, NEED, extra protection? Nah. Where's the fun in that????? Okay, it seems there are some moments when it's safer if Reyes isn't with her. Not so great for Charlie, though. Then there's the I-gotta-be-there-to-fight-the-demons-and-put-everyone-in-danger-because-they-have-to-protect-me trope.
Yeah, it would just kill Charley if Satan would win", but don't let that stop me from putting myself — or Beep — in danger. Oy. Ooh, poor baby, Charley thinks that Reyes thinks she's inept. Well, duh.
The text messages are fun. The idea of practicing keeping a goldfish alive so Charley will be ready for the baby is…scary.
Eeek, I didn't know there were three types of possession: infiltration, oppression, and possession.
If you've been following the series, this is a can't miss. There is simply too much happening in this one.
All that Thirteenth stuff can be confusing to follow, since Reyes is also the Thirteenth Beast while Charley is the Thirteenth Warrior. And everyone is willing to die to save everyone else. Hopefully, someone will live to benefit from all this dying.
I'm hoping that the refuge Charley and Reyes are heading to will work. That Charley won't decide she's bored after a couple hours, and just has to step outside the safe zone. I am curious to know what she'll name everything there *eye roll*.
The Story
Hell is after Charley, and Reyes is determined to keep her safe. If that means plastering himself to her side, it's all to the good.
Of course, said plastering does not endear Charley to Reyes' legions of fans at the bar.
The Characters
The now-pregnant Charley "Dutch" Davidson runs a private detective agency, is the grim reaper, and is engaged to the Son of Satan. She's also the Val-Eeth, the thirteenth one since before the creation of our sun. Beep, a.k.a., the Daughter of Light, is the nickname she's given the baby. Misery is her Jeep Wrangler. Belvedere is her new goldfish. Zeus is the demon-killing dagger. Artemis is her ghostly Rotteweiler protector. Gemma is her psychologist sister. Denise is the wicked stepmother. Leland is her suddenly secretive dad.
Cookie Kowalski is her best friend and secretary, her best researcher, her neighbor, and totally in love with Uncle Bob. Amber is Cookie's daughter. Quentin is a young deaf man whom Charley took under her wing, and Amber is crushing on.
Reyes Alexander Farrow, a.k.a., Rey'aziel, is the Son of Satan, and he wants Charley. He's done quite a lot to be close to her. Bought her father's bar, Calamity's. Bought her apartment building — and removed the bedroom wall that separated her room from his. Charley named his shower "George". Teri is the manager he hired for the bar so Reyes can bodyguard Charley.
Special Agent Kit Carson is with the FBI and a friend of Charley's. She's also made use of Charley's special (unknown to Carson) abilities. Angel is a thirteen-year-old gangbanger who works as Charley's assistant. He'd died in the '90s. Mrs. Garza is his "mother", and she loves that. Rocket Man, a savant who died in the '50s, now writes the names of those who died on the old asylum walls. Well, he used to write the names of the dead. Blue Bell is his five-year-old dead sister who lives with him at the asylum (yep, Reyes bought this too to ensure Rocket would be safe). Strawberry Shortcake lives with them too; she's Officer David Taft's sister.
Albuquerque PD
Robert Davidson, Uncle Bob, a.k.a., Ubie, is a detective with Albuquerque PD (his new nickname is "Traitor Joe"). Captain Eckert is Bob's boss, and he blackmailed Charley in Sixth Grave on the Edge, 6.
Judge "Iron Fist" Quimby has banned Charley from her courtroom. The case Ubie is listening to is about a woman, Vikki, poisoning her husband, Steve. ADA Nick Parker is the prosecutor.
Garrett Swopes is a skiptracer who's been to Hell and got revived. Marika is the woman Garrett thinks had his baby, Zaire. Bondye is God. Dr. von Holstein was translating the book, Cleosarius' prophecies, Garrett brought back from Hell.
Mrs. Allen is one of Charley's neighbors. Mr. Wong is the departed soul who came with Charley's apartment; he stands sentry in a corner of the living room, his back facing out. Charley has recently learned that he's an ungodly powerful being.
The Dealer, a.k.a., Osh'ekiel "Osh" Villione, is a demon who deals in souls. Hey, it's his sustenance. He's a Daeva demon, a slave renowned for his prowess as a gladiator.
Deputy Warden Neil Gossett works at the state pen in Santa Fe where Reyes was jailed, and he spilled the beans. Dollar sicced Zeke Schneider on Reyes and Charley. Bruno Navarra, a.k.a., Bumpy, was in prison with Reyes and knew Zeke Schneider, Sr.
The Twelve are Hellhounds after Charley. Prophecy says the Thirteenth Warrior will be the undoing of the Daughter of Light.
Charley's ex-BFF, Jessica Guinn, is dead after events in Sixth Grave on the Edge. Her sister Willa's only son, Dustin, is dying.
Victims
The young victims include Vanessa, Jessica, and Lydia Weeks who explains that the Hellhounds were summoned. The suicide victims include Fabiana Marie Luna, Anna Michelle Gallegos, Theodore James Chandler, Phoebe Durant, and Mr. Trujillo. Mrs. Chandler is the one who draws attention to the common thread all the "suicides" share. Sandra Rhammar was the only holdout on the jury until they coerced her into changing her mind. Lacey Banks has a missing body.
Ramona was Charley's very best friend when she was young. Wynona Jakes is a fake psychic Uncle Bob fake hired to get a rise out of Charley. Father Glenn is a new client. From the Vatican. Seems they have an extensive file on Charley. Sylvia Starr is a reporter with the hots for Reyes.
The Cover and Title
The cover is very adult pinks in the gradated background of purple flowing into a deep pink and flowing into a darker pink to lilac. Just below center is a pink alligator belt turning on itself with a rhinestone skull of a buckle. The title and author's name is in an embossed white.
The title is where we are in the series, the Seventh Grave and No Body.
Related Posts