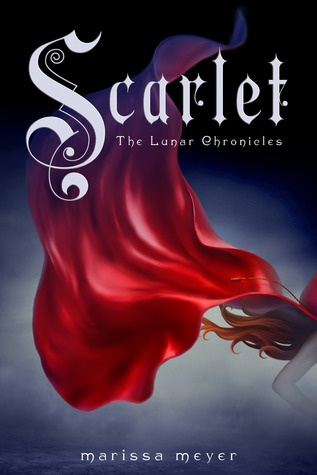 I received this book for free from the library in exchange for an honest review. This does not affect my opinion of the book or the content of my review.
Scarlet
by
Marissa Meyer
Genres:
Steampunk
Published by
Feiwel and Friends
on February 5, 2013
Pages:
452
Format:
Hardcover
Source:
the library
Buy on Amazon
Goodreads
Also by this author:
Cinder
,
Cress
,
Winter
,
Heartless
Second in The Lunar Chronicles steampunk science fiction series with the focus on Scarlet Benoit, a young Frenchwoman.
In 2013, Scarlet was nominated for the Goodreads Choice Award for Best Young Adult Fantasy & Science Fiction.
My Take
Meyer very nicely gave us a recap on events in Cinder, 1. She also provided background information that helps inform us of this world's past history. That bit about the Louvre being too unstable to go inside, the condition of the opera house. All without turning it into an info dump!
I don't understand why earth hasn't done everything it could to figure out how to destroy Queen Levana or the Lunars. She's such a vicious, selfish, bitch of a woman. Traits that she engrains in her troops. That pack in Paris…oh, brother. The betrayals abound within this gang, in both directions. As for that stepmother…jesus…what a piece of work.
I wish I knew which incidents with Wolf were true. As for Kai's sacrifice… If he truly wanted Cinder's sacrifice to mean anything, he wouldn't pursue the engagement.
I did love Scarlet's rant at Cinder, and she's absolutely right.
After Kai's horrible statement to Cinder at the end of the ball, I'm very surprised at his thoughts in Scarlet. Cinder does find a photo of herself before she was healed. There are no words awful enough for what was left of this poor girl. As for why Scarlet didn't inherit her grand-mère's resistance, well, Meyer slipped that one in under the radar, and it ties into what we learned of Linh's inventiveness in Cinder.
And I still want to know why Dr. Tanner would commit suicide. Especially after what we learn in Scarlet!
It's tense. It's dramatic. And it entices you to read faster and faster with characters who fascinate and events which make you tremble.
The Story
Both Cinder and Scarlet must escape those chasing them down. Only Cinder is heading away while Scarlet is heading straight into them. Someone has to rescue her grandmother, and it certainly won't be her feckless father.
Cinder has her own problems with her fellow escapee. The brash, self-centered Thorne who brushes aside the realities of life.
The Characters
The red-haired Scarlet Benoit moved in with her farmer grand-mère, Michelle Benoit, who had been a pilot in the military years ago. Dad, Luc Benoit, is a weasel of a man. He'll sell out anybody. Dr. Logan Tanner killed himself in an Eastern Commonwealth insane asylum earlier this year. He had been helping Michelle with the princess.
Wolf is a street fighter, LSOP962, who doesn't appear to know much about human society or culture.
Rieux, France, is…
…where Scarlet lives. Émilie is Scarlet's friend and a waitress at Gilles' bar, the Rieux Tavern. Roland is a tavern regular. The Morels' farm has been deserted for seven years.
The Eastern Commonwealth is…
…ruled by the new Emperor Kaito "Kai" who had fallen in love with the Cinder he thought he knew and from whom Cinder fled. Nainsi is the tutor android Cinder repaired in Cinder that held the clue. Now she's Kai's personal assistant. Konn Torin had been an advisor to Kai's father and is now Kai's advisor. Huy Deshal is chairman of national security.
Carswell Thorne is a prisoner in solitary; he's been quite the naughty AWOL boy.
Linh Cinder is a cyborg with parts of her body replaced by mechanical parts after an assassination attempt left her almost dead. In Cinder, she learned she is a Lunar and the Princess Selene, heir to the throne. Iko was a droid disassembled in Cinder; Cinder grabbed up her chip and plans to find her another body. Linh Peony is the young sister who died of plague. Linh Adri-jiĕ is her hateful stepmother; Linh Pearl-mèi, is the horrible stepsister.
Dr. Dmitri Erland is a Lunar who had headed up the research lab searching for a cure for letumosis, a Lunar-generated plague.
Lunar is…
…ruled by Queen Levana, a psychopathic bitch intent on eliminating any family who could inherit the Lunar throne, including Princess Selene. Sybil Mira is her vicious head thaumaturge. Aimery is the nasty male thaumaturge. Lunars were originally humans whose genetic traits evolved to allow them to control and manipulate the bioelectricity of other living creatures.
The Order of the Wolf is…
…a gang in Paris led by Master Jael, a Lunar thaumaturge. Omega Ran Kelsey (LSOP 1126) and Ze'ev Kelsey, an alpha entrusted with an important mission, are brothers. Beta Wynn, Rafe, and Troya are more of the wolves.
Hunter is one of the street fighters. Ran is an encounter on the mag-lev.
The Cover and Title
The cover has a gray-purple-black gradient smoke of a background. The title is in a Gothic font using embossed silver with the series information much smaller beneath it. The author's name is small, white, and at the bottom. The graphic is a contemporary play on both the protagonist's name and the fairy tale Meyer is channeling.
The title is the focus protagonist, Scarlet.
Related Posts