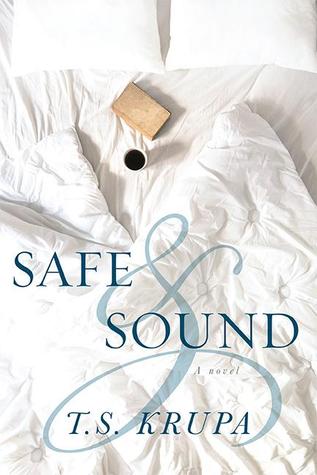 Safe & Sound
by
T.S. Krupa
Published by
Advantage Media Group
on January 1, 2014
Pages:
312
Format:
ARC
Source:
Author
Goodreads
When Jill met Jay Greenfield she knew she had found her forever love. She was a kindergarten teacher, he was a high-powered attorney and their lives were perfect. But when a tragic accident takes Jay's life, this young bride is left to pick up the pieces.

Jill finds herself a young widow facing multiple decisions she thought she had a lifetime to decide. With support from her childhood best friends, Lanie and Stella, Jill attempts to piece her life back together. With nightmares plaguing her dreams and the struggles of constant grief over Jay's passing, Stella and Lanie keep near constant vigilance over her.

In the process of settling the estate, Jill learns that her husband was not quite the man she thought he was. She finds herself transported to the small beach town of Oak Island, North Carolina. But the fairy tale ending she envisioned no longer exists. She must face the reality that Jay is gone as she finds herself having a chance at love one more time.

Safe and Sound follows a yearlong journey of love, loss, friendship, and conquering the unexpected.
A romance from the heart that begins with Jay and Jill Greenfield, that starts in Greensboro and ends in Oak Island, North Carolina.
A special thanks to T.S. Krupa and Advantage Media Group for sending this story to me to read.
My Take
I blubbered my way through most of this story. It starts out so sad, then progresses to angry — although I don't understand how she doesn't get how very much Jay loved her — before it slides through scary until Jill slowly finds herself and her love. It's just beautiful.
It's got to be the nightmare every parent, every spouse, every significant other hates. That missed phone call. That perhaps if you'd only answered that phone, it wouldn't have happened. No, I'm not saying it makes sense . . . sigh . . .
How can you not adore this sentiment?

It was a honeymoon with the flu, and yet Jill thought it was the "most magical trip I had ever been on. You know why? I was with you."
There's something so awful about the paperwork following a death. It's an interruption of the mourning; a feeling of business-as-usual that just eats at you because nothing will ever again be the same; that rush, rush, rush, pushing at you to make decisions when you've barely comprehended the loss. And even as I complain about this, I'm a hypocrite because I also get angry with Jill for avoiding life. Avoiding making decisions, avoiding going forward in any way. She slumps along practically forcing her friends to deal with her life. How selfish of her too! Expecting her friends to abandon their lives to cater to her. And they are great friends. They're there for her through everything.
What was with Jill putting the lawyer off? She has no idea about their finances, wants to quit her job, and she avoids the lawyer for seven months!?? She finally goes in to meet the guy, he hands her one bit of info — admittedly, it is a pretty astounding bit of information — and she wants to run off again?? What kind of rude, stupid idiot is she? On the plus side, she is consistent with her dumb moves. We're led to believe that Jill is an intelligent woman, but these actions of hers make her look just the opposite. I mean, hullo? She gets this new information and doesn't want to stick around to learn more about it? She wants to run off and then ask the questions??? I gotta say, this was off-putting.
So, it's a dream that Jay made come true, albeit post-mortem, and she wants to avoid the whole idea? I'm just lost.
It's seeing the tragedy of loss and how it affects another that makes you realize what is truly important in life, and I'm so glad that Lanie reconsiders her relationship with Mary Elizabeth.
Oh, that Ross, he is such a sweetheart, so sensitive. He has such empathy for Jill, and I feel so sad for him, the horrible experiences that gave it to him, the dream he had to give up. I absolutely love how Krupa builds this new love.
Then there are the niggles:
The biggest niggle is Harry's character. All these years of friendship and he's never manifested like this before? One minute he's saying that Jill is so incredible and the next she's the worst thing since the napalm bomb. No. It could well be the grief causing this extreme, and I mean extreme volte-face, but no, I don't buy it. Too much tell, no show, no buildup. Subtle would have worked better here as it did for Jill's second time around with love. It would have been more terrifying.
"It's not about mourning his life; it's about celebrating it, remembering him in the little things you do as you move forward."
As for Lanie and Stella. I love 'em, they're wonderful. They're also too accomomdating. It's not a realistic scenario that people can take this kind of time off from their work. They don't have the type of jobs that would allow this expenditure of time.
Okay, I don't buy the utilities being cut off. Jay's been dead a couple weeks and suddenly the water is cut off? For a bill of $24.87? Nuh-uh. It would take a few months and a much higher bill before a utility took this drastic of a step. And Harry's reaction to this cancellation . . . WTF?
Why would you put food in the microwave to keep it warm? I can see putting it in to warm it up . . .
Truer words were never spoken and all women should take these to heart . . .
". . . if I have learned anything over this last year it's that you have to live your own life too so that if something we hoped for doesn't work out, you still have two legs to stand on, you still have your own path."
The Story
It's a normal morning as Jay heads out for his early run, and Jill is looking forward to his return. It won't be the return she had thought.
It's what happens afterwards that throws Jill off. All those decisions, having to say goodbye forever, Harry's horrifying behavior. It all sends Jill running on "a yearlong journey of love, loss, friendship, and conquering the unexpected".
The Characters
Jay is the husband Jill Greenfield adores. Officer Harry Conner is Jay's best friend from childhood. Peter is Jay's dad. Stella Conner (nope, no relation), a lawyer, and Lanie Alexander, a child psychologist, are Jill's best friends from kindergarten. Mary Elizabeth is Lanie's girlfriend and a cardiologist.
Officer Patrick Thomas with the Greensboro PD has the patience of Job with those phone calls. Officer Sarah Steely comes to the door. Dr. Shippling has news. Dr. Matthews performed the surgery. Jennifer Bentley is the principal at the school where Jill teaches. Paul Wellon is the lawyer who set up Jay's will. Gary Swanford is the undertaker.
Roger is Stella's boss, lover, and a managing partner at the firm. Abbey is Stella's assistant. Laura. David and Scott are both senior associates in the finance department. Andrew Conklin is a third party consultant.
Oak Island
Ross Powers is Jeff's nephew, and he's working on the construction crew. He also plays a little guitar. Jeff Powers owns the construction company Jay had engaged. Mrs. Kendrich runs a B&B Jay and Jill had always wanted to stay at. Dr. Baker treats Jill. Jamie Prescott is the captain of the Lady Grace. Mandy, B, April, and Zach are some of Ross' friends.
J. King is a huge deal in the music industry and worked with Ross in the past. Jane handles fans for King.
The Cover
The cover is white on white with a down comforter rumpled on top of white sheets. A white cup of black coffee is on the comforter with an old, old book just above it.
The title is what Jay conspired for and Ross completed for Jill. She's Safe & Sound.
Related Posts