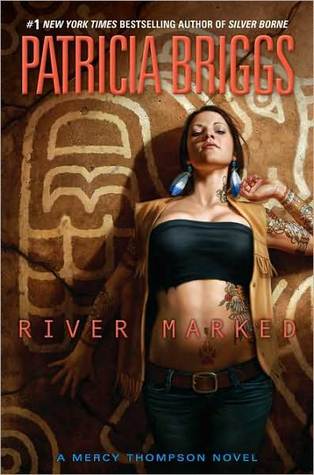 I received this book for free from the library in exchange for an honest review. This does not affect my opinion of the book or the content of my review.
River Marked
by
Patricia Briggs
Genres:
Urban Fantasy
Published by
Ace
on March 1, 2011
Pages:
336
Format:
Hardcover
Source:
the library
Buy on Amazon
Goodreads
Coyote shifter Mercy Thompson knows that life with her mate, the Alpha werewolf Adam, will never be boring, but even their wedding doesn't go as planned. Nevertheless, a ten-day honeymoon camping on the banks of the Columbia River, alone, just the two of them, should make up for it. But the trip - and the pimped-out trailer they're using - is courtesy of the fae. And nothing from the fae comes without strings attached...

Being a different breed of shapeshifter - a walker - Mercy can see ghosts, but the spirit of her long-gone father has never visited her. Until now. An evil is stirring in the depths of the Columbia River - and innocent people are dying. As other walkers make their presence know to Mercy, she must reconnect with her heritage to exorcise the world of the legend known as the river devil...
Also by this author:
Night Broken
,
Dead Heat
,
Bone Crossed
,
Hunting Ground
,
Iron Kissed
,
Cry Wolf
,
Fire Touched
,
Moon Called
,
Silence Fallen
,
Burn Bright
,
Storm Cursed
,
Smoke Bitten
,
Moon Called
,
,
Wild Sign
Sixth in the Mercy Thompson urban fantasy and revolving around a VW mechanic who turns into a coyote and her survival amongst a werewolf pack. If you're interested, there is a chronological listing of the Mercy Thompson and Alpha & Omega books on my website.
Werewolves have been out for the past year-and-a-half. You can buy silver bullets at K-Mart these days. The fae came out in the 1980s. What in the Sam Hill the world will do when, if, the vampires come out, I don't know.
My Take
On this re-read of River Marked, I remain disappointed with this installment, although I did enjoy the insight provided on Indian lore…I do like Coyote, as confusing as he was about the identity of Mercy's father!
I do appreciate Briggs pointing out that many of the Indian supernatural stories can't be relied upon. Between a love for tall tales and government interference, too much was lost.
Briggs includes bits and pieces of fae history and slips in pack concerns. It just lacked that tension It's not the tension that's missing, it's that interaction with the pack and Mercy's friends in the Tri-Cities that I miss. Unfair, I know. I like to think that I'm open to change, but I guess when it comes to my expectations in a series, I'm not so open. So do keep that in mind in reading my review *grin*.
"Change is not bad. Change is just change."

"Things change whether you want them to, or not — unless you are dead. … Don't hold so hard to the past that you die with it."
In spite of my whining, River Marked is a well-written story, as are all of Briggs' books. Yep, she's a buy in my book, and I'm collecting them as my budget allows.
"Only an evil man needs to fear a good man."
I adore Mercy. She'll argue until her face is blue, and she'll admit when she's wrong. That takes a strong person. I also like that Briggs has given her flaws, weaknesses, a need to belong. (This honeymoon is an opportunity for Mercy to open up to Adam. It's that sense of security he gives her.)
Then there's Adam. Talk about an Alpha male! Briggs portrays him well as he lives up to all our conceptions of a strong Alpha werewolf who fiercely protects — with his own life if necessary — but she also has created a man who appreciates a strong, independent woman. As difficult as it is for Adam, he will step back when Mercy puts herself in danger. He does hover to make sure she'll be okay, but he knows he has to give Mercy that freedom. He does have his flaws as well, lol.
"Nothing says you're sorry like a dead bunny."
A great example of an anti-trope. Well, I couldn't think of what to call it. I've whined in the past about tropes I hate, including the one in which the protagonist (usually female) can't, won't, eat or sleep so as to be ready for the upcoming challenge. How dumb is that? In this one, yay!, Mercedes eats because "it wouldn't do to fail because I hadn't eaten". See, it is possible to have a not-hungry heroine…and still get the point across that she's nervous.
Briggs balances fun, drama with its attendant tension, and character interaction creating a real world with characters who hate, like, or love…fear and adore. They just happen to be supernatural. I loved it when Mercy threatened Coyote with telling her mom on him. Coyote's sisters also have a bit of fun with finding Mercy an Indian name.
Wait until you read about the wedding. It is a crack-up and a very sensitive response that will leave you laughing.
The Story
It's the big one — Adam and Mercy get married — but nothing like Mercy had been dreading! The honeymoon is nothing like she had been expecting either, as she and Adam are maneuvered into supernatural battle.
The Characters
Mercy Thompson is a VW mechanic with her own garage. She's also a walker thanks to her Native American blood — Blackfeet tribe — and shifts into a coyote whenever she wants. Marji is her mother and wants doves for Mercy's wedding. Nan (Todd is her husband) and Ruthie are Mercy's half-sisters; Curt is her stepfather. Joe Old Coyote was a bull rider, a walker, and Mercy's father.
Adam Hauptman, a former Army ranger, is Mercy's mate, the Alpha of the Columbia Basin Pack, and the CEO of a security firm that used to deal mainly with government contractors. Not any more. Jesse is his human daughter. Christy is his ex-wife.
His pack includes Darryl, his second, who is mated to Auriele; Warren, his third and Mercy's best friend, who is mated to Kyle, a human lawyer; Peter, a plumber, is the pack's lone submissive and mated to Honey; and, Ben is a foul-mouthed computer programmer.
Samuel Cornick used to be Mercy's roommate until Silver Borne, 5, and a former boyfriend. The Marrok's oldest son, he's with Ari now (Shifting Shadows: "Silver", 0.0001). Bran Cornick is the Marrok, the head of all North American werewolves, and Samuel and Charles' father. Anna is Charles' mate. Bryan and Evelyn had been her foster parents. Jem Goodnight should have known better than to challenge Mercy.
The Native American avatars include…
…Coyote, the trickster god; Raven; Wolf; Otter; Hawk; Bear; Beaver; Salmon; Thunderbird (I think he's Gordon Seeker!); Snake; Bobcat; and, four women in white doeskin dresses who are Coyote's sisters.
Columbia River people
Ben and his sister, Faith, Jamison were out fishing on the river. Julie is Benny's wife. Hank and Fred Owens (both brothers are retired Marines) are walkers who shift into red-tailed hawks. They are all of the Yakama Nation. Jim Alvin is a medicine man (and a retired psychology professor), and Calvin Seeker is his apprentice and nephew. Both are half Yakama, half Wish-ram. Gordon Seeker is Calvin's grandfather, a shaman, and shifts into a thunderbird. Gordon explains to Mercy that avatar is more accurate to describe her than walker.
Janice and Lee Morrison and their two sons and MacKenzie Hepner and her brother are among the twenty-six people who have died.
The fae include…
…Zee Adelbertsmiter is a fae, a gremlin, and he sold the garage to Mercy when the Gray Lords forced him to come out to the public. He still comes in and helps out when Mercy needs a hand. Uncle Mike runs a bar for supernaturals in town. Yo-yo Girl (I think she's a Gray Lord) scares the pants off Mercy. Edythe is the fae who owns the campground.
The otters, otterkin, are fae brought over from Europe in hopes of saving them. River Devil is Hunger and lives half in our world and half in the supernatural.
Gabriel, a human, is Mercy's right hand at the garage. And living in Mercy's insurance-replaced trailer, I mean, manufactured home. Tony Montenegro works undercover at the Kennewick PD.
Stefan "Soldier" Ucello is a lone vampire (since Bone Crossed, 4) and a friend of Mercy's. This boy has got a sense of humor: he drives a Scooby van. Stefan's sheep have been reduced to Rachel, Ford, and Naomi.
Marsilia is the Mistress of the Tri-Cities' seethe. She screwed up big time in Bone Crossed. Seems that Max Schreck really was a vampire, eek. Absolutely EVERY vampire feared him. The Master of Milan, Lord of the Night, was Marsilia's lover who banished her from Italy.
Pastor Arnez married Adam and Mercy. Robert is a young boy with Down's syndrome who twists his ankle.
The Cover and Title
The cover is fabulous with its creamy petroglyphs on a brown rock wall. It's a jean-clad Mercy tattooed and bared against it in her fringed leather vest over her black bandeau.
The title is certainly appropriate to the story, as the victims are River Marked.
Related Posts