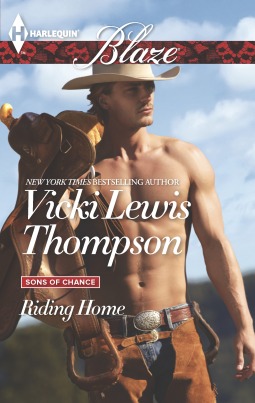 Riding Home
by
Vicki Lewis Thompson
Series:
Sons of Chance #16
Genres:
Western Romance
Published by
Harlequin
on July 15, 2014
Pages:
224
Format:
eARC
Source:
Netgalley
Goodreads
Also in this series:
Rolling Like Thunder
Perfect is good. 

Imperfect is even better… 

City-slicker lawyer Jeannette Trenton is about as welcome at the Last Chance Ranch as a rattlesnake at a square dance. She's there to atone for one major mistake. But Jeannette's pretty sure righting her big wrong does not include thinking lustful thoughts about the ranch's new cowhand…. 

Zach Powell knows Jeannette's type—a wound-up-tight perfectionist with one eye on her email at all times. Heck, that used to be him. She needs to shake it loose, face her imperfections and allow herself to make mistakes. There's definitely no mistake about the wickedly sexy vibe between them. This gal is gonna have to "cowboy up"…or miss the ride of her life!
Also by this author:
Riding High
,
A Last Chance Christmas
,
Rolling Like Thunder
,
Sweet-Talking Cowboy
Sixteenth in the Sons of Chance western romance series and revolving around the Chance family. The couple focus is on Jeannette Trenton and Zach Powell.
My thanks to NetGalley and Harlequin for providing this ARC for my enjoyment.
My Take
This was sweet and very thoughtful. I love all the inward-looking thoughts going on in this one. That's not to say there weren't some rough patches, but on the whole, it's a great story that shows us the path Jeannette has followed to understand where she went wrong and where she needs to go for a more fulfilling life.
It's an opportunity for both of them to look back over their lives, see what outside influences nudged them in those wrong directions. A weekend in which each forces the other to re-think their choices, re-think why they made those choices, what influenced them. Parents, an overwhelming lifestyle, immaturity, and fear can all play havoc with our decisionmaking.
I really like her determination to let Zach decide what is best for him. I understand the desire to push him into what Jeannette wants him to do, but she's smart. She draws her line in the sand. As much as she loves him, she's looking down the road at how his choices and her own will affect her attitude. Very smart. I do like how she got Zach thinking.
"Any man who'd take the time to listen to a woman's troubles and offer to help her solve them would likely also be committed to giving his sexual partner pleasure."
As for Zach, I do love how thoughtful he is. How he acknowledges the wrong choices he made and what he's doing to learn what will make him happy. No one can tell you what to do. Well, that's not true. Everyone tells anyone else what they should be doing, what they ought to be doing, lol. Doesn't mean you have to do it. It's more important that you examine your own mind, the ideas of what makes you truly happy. What will make you stretch and improve yourself as a person. Just as Zach and Jeannette do in Riding Home.
Some word choices are a bit of a hiccup, but on the whole, the sex scenes are sweet and slightly erotic. I did enjoy Jeannette's strip tease…it was very encouraging.
And this sums up a good chunk of what I like about Thompson's Sons of Chance series:

"…the guys at the Last Chance lived up to the image of what a cowboy should be — brave, honest, protective."

There's also that bit about Jack only hiring a cowboy who can dance!
These two are good for each other. They challenge, support, care, and oh mama, do they have the things in common! That bit of insight on friendship is an excellent one. And it's true. It's better to become friends with someone whether it's while you're in bed, after, or before. Just take the time to get to know each other as well.
Ah, man, and again. Some people should not have children. It's not really a bad set of parents. They didn't churn out a sociopath, but they didn't give Jeannette the support and confidence any parent should provide their child. I have to laugh…if people could only have kids if they were prepared to be there for their child and not use or ignore the child, we'd solve overpopulation.
The Story
Jeannette has a lot of guilt to shed, and she's starting with Regan's engagement party to Lily. It's hard for her, because she was so-definitely in the wrong, but she's determined.
Zach Powell just happens to be in the barn at her lowest point with a heap of understanding.
The Characters
Jeannette Trenton, a lawyer in Virginia, was the bad girl in Riding High). He works with Nick Chance in his veterinary practice. Regan's sisters include Cassidy, the Chance's housekeeper; Morgan, a real estate agent; and, Regan's twin sister, Tyler.
Drake Brewster was Regan's partner and best friend back in Virginia until he got caught in bed with Jeannette. He came back in Riding High to make amends and found his own new love, Tracy Gibbons, in Riding Hard, 15; they're moving to Virginia to establish an equine rescue facility for Thoroughbred racehorses.
The Last Chance ranch
"The Last Chance was established as a place where people and animals could have one last chance to set things right." Jack Chance is the oldest son and married to Josie, who runs the Spirits and Spurs bar. Sarah is still alive although Jonathan died some years back, and she married Peter Beckett. Mary Lou is the Chance cook.
Pam Mulholland owns the B&B, the Bunk & Grub, in town; she's Nick Chance's aunt, and she's married to Emmett Sterling, the Chance foreman. Watkins is a long-term ranch hand and a great guitar player. Trey Wheeler, he's good on guitar too and is engaged to Elle, and Shorty are more ranch hands. Barnaby Hanks is Jack's lawyer, the one who's retiring. Ben is commissioned to custom build a saddle.
Some of the horses include Ink Spot, Spilled Milk, and Bertha Mae who is Sarah's favorite mount.
Back in 1990
Eleanor Chance writes how grateful she and her husband are that their son Jonathan married Sarah Gillespie and how wonderful Judy and Bill Gillespie are. How lucky the Chances and Shoshone are to have had Judy blow into their lives.
The Cover
Dang, I'd be drooling too if I saw this be-hatted, bare-chested hottie in jeans and leather chaps, a saddle hoisted over his shoulder, staring off into the distance.
The title is for Zach and Jeannette, for in many ways, they're both Riding Home.
Related Posts