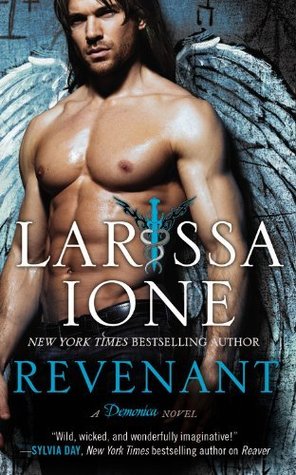 I received this book for free from my own shelves in exchange for an honest review. This does not affect my opinion of the book or the content of my review.
Revenant
by
Larissa Ione
Series:
Lords of Deliverance #6
,
Demonica #11
Published by
Grand Central Publishing
on December 16, 2014
Pages:
368
Format:
eBook
Source:
my own shelves
Buy on Amazon
Goodreads
Also in this series:
Reaver
,
"Bond of Destiny"
,
"Revenant's Epilogue"
Also by this author:
Bound by Night
,
Reaver
,
Snowbound
,
"Bond of Destiny"
,
"Z"
,
"Azagoth"
,
"Revenant's Epilogue"
,
"Hades"
,
"Razr"
,
"Hawkyn"
,
"Cipher"
Sixth in the Lords of Deliverance subseries and eleventh in the Demonica overall series. The subseries revolves around the Four Horsemen and their families, including their finally revealed father and his, ahem, encumbrances. The Demonica series revolves around Underground General Hospital for demons and Eidolon's immediate family, their friends and families, and employees. The couple focus in Revenant is on Revenant and Blaspheme.
This does end the "current Demonica/Lords of Deliverance arc" … "but that doesn't mean there won't be new stories to come". Ione plans on starting up the Demonica concept about 20 to 25 years in the future when the kids have grown up enough to be trouble. Whew, I'd hate to think this was the absolute end…!
My Take
Oh, yeah, Ione cracked me up from the start.
"Take her twice and call me in the morning."
Turns out Revenant didn't learn much about social niceties, not too surprising considering where he was raised, and boy, is he ever in for a surprise with Blaspheme, lol.
It's soap opera antics at its finest with great drama, romance, betrayals, dysfunctional families, and all. It's off the charts in terms of Rev's reactions to Blas. As horrible as his entire life has been, he sure did learn to believe he could have anything he wanted. As long as those wants didn't include not being tortured. Ione then takes it down several notches as she does a superlative job of grossing me out out when it comes to demons and their eating habits. That Gethel is one piece of work.
Wow, there's a lot of back history that finally explains how Revenant was left in Sheoul. Part of that deal included that whatever happened to one twin was done to the other. Naturally, we get the background on why and what Deva got up to in Heaven that got her kicked out and how it has affected Blas' life.
I sure can't blame Revenant for being so angry, and Heaven has one Hell of a lot to make up for.
I do love how Ione makes demons lovable. Yeah, sure never thought I could think something like that. But Eidolon and his brothers have built a good thing, and they take care of each other. And that includes the people who work for and with them.
So unlike Sheoul. I know, I know, it's what Hell is all about.
The Epilogue
Ione wrote an epilogue that got cut from Revenant. Luckily, the "Epilogue" is free on her website. Her reasons for not including it don't make sense to me, but…it's not my book. It's only a few paragraphs long and finds us at the birth of Lore and Idess' baby.
It all comes down to wanting to belong, to be loved.
The Story
His memories returned, Revenant is angrier than ever, and he thinks a little time spent with Blaspheme will temper that anger. Only she's not interested, which only fires up Rev's desires even more.
But even sex isn't enough as Revenant is torn between the demands of both Heaven and Hell, between revenge and desire. Salvation. Or destruction.
As for Blaspheme…Revenant is trouble with a capital T. Her kind is hunted and killed, and Revenant has made no secret of his preferences. With Rev's interest in who he thinks she is, there's no place she can hide in Heaven or Hell where he won't find her. And he may well lead the Eradicators straight to her.
The Characters
Newly promoted to Shadow Angel, Revenant, a.k.a., the Destroyer, is a fallen angel who had been born and raised in Sheoul. His newly discovered twin brother, Reaver (his Heavenly name is Yenrieth, and he's been promoted to Radiant), is his direct opposite. Sandalphon was their real father, an angel. Their mother, Mariel, had been a battle angel.
Blaspheme, a.k.a., Bonnie to the humans, is a fake False Angel doctor, too quickly losing her False Angel abilities and has been promoted to head up the London UG. Devastation "Deva" is Blas' mom and a fallen angel. Rifion was her angel father. SexySweetXOXO is a False Angel being lured into a trap. Sally is a moving company contact.
The Four Horsemen of the Apocalypse were…
…fathered by Reaver. Thanatos is Death; Regan is his mate, and they have a son, Logan. Cujo is Logan's pet hellhound. Ewan is the vampire servant Gethel's demons kidnapped. Satan's daughter, Harvester, is their Heavenly Watcher; Uncle Revenant is his Sheoulic Watcher. Reseph, Pestilence, is another of the Horsemen (Conquest is his horse) and mated to Jillian. Tracker, formerly known as "Whine", is Jillian's ex-slave now. Ariya is Reseph's dead, tortured sister. Ares is War. The pregnant Limos, Famine, is missing one of her shapeshifter servants. Arik is her mate.
Underworld General is…
…a demon hospital hidden in New York City. Eidolon, a Seminus demon and a former Justice Dealer, is its founder and chief of staff. Tayla (she's with DART) is his mate and Sabre is their daughter. Mickey is Tayla's pet ferret; Mange is Eidolon's dog. His siblings include his sister, Sin, and brothers Wraith, a vampire with a knack for locating unfindables (Serena is Wraith's vampire mate); the sterile Lore who is mated to the now-pregnant Idess; and Shade. Dr. Gemella "Gem" Morgan is Eidolon's sister-in-law, a co-director of the hospital, and married to Kynan; Dawn is their daughter.
Luc is a werewolf paramedic. Doctors Raz, Bane, and Slash (he and Bane are brothers) are Seminus demons. Dr. Soduchi is a werewolf and a noted cardiac surgeon. Doctor Shakvhan is a succubus. Mbali is a lion-shifter nurse. Liz and Judie (she's a Sora demon) split working the front desk. Bridgette is a vampire nurse. Chu-hua is a boar-like Guai nurse. Dr. Yuri is a total sadist with a love for sexual torture. Con is a dhampire paramedic.
DART is…
…the Demon Activity Response Team, a growing organization as defectors from The Aegis make their way to them. Decker and Kynan are part of the team.
Azagoth is the Grim Reaper mated to Lilliana; he rules Sheoul-gras. Stamtiel is on Heaven's most-wanted list.
Heaven
Metatron is the highest-ranking archangel; his mate is Caila. Raphael, Gabriel, Michael, Uriel, Khamael, and Haniel are more archangels. Ba'addon was Raphael's father. Eradicators (extermination specialists) and Enforcers are specialty angels who use nasty weapons like grimlight and haloshivs.
Sheoul is…
…the demon realm. Satan is boss and Lucifer is Satan's former right-hand man now being reincarnated as Satan's son who is currently gestating in the psychotic Gethel, a now-fallen angel. Caim is another fallen angel. Laylach is a succubus. Gormesh, The Orphmage, is a Neethul demon and Satan's personal mage.
"Halos" in Sheoul are cut from the skulls of angels. Sanguinalia is Sheoul's most important holiday. Ick, I don't even want to know! Destroyers are the Sheoulic equivalent of Eradicators. False Angels are the weakest of the demons and are known for their flirting, seducing people for fun, tricking humans. Pruosi demons, a species of necromancer succubi, are born female and sisters who stay together for life, mating the same male. The Temple of Gog is the closest to Sheoul one can get if you're a live angel.
Vyrm is the forbidden offspring of an angel and a fallen angel with a good chance of not being evil. They're still killed because of what they might do. An emim is the offspring of two fallen angels and possess some fallen angel powers but are wingless. Solarum is a substance that is supposed to be able to wipe out evil on a massive scale.
The Cover and Title
The dark cover is filled with the well-muscled chest of a conflicted angel, Revenant, his delineated wings partially open behind him. I can certainly see why one could be tempted by a fallen angel. You only have to look at that gorgeous face, dark hair falling around it, the five o'clock shadow clinging to his jaw…*drool*…
The title is the main character, Revenant.
Related Posts