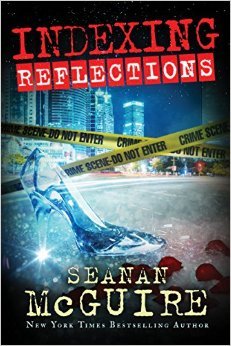 Reflections
by
Seanan McGuire
Genres:
Urban Fantasy
Published by
47North
on January 12, 2016
Pages:
325
Format:
eBook
Source:
my own shelves
Buy on Amazon
Goodreads
Also by this author:
Chimes at Midnight
,
Indexing
,
The Winter Long
,
The InCryptid Prequels
,
Pocket Apocalypse
,
A Red Rose Chain
,
Once Broken Faith
,
"Dreams and Slumbers"
,
Chaos Choreography
,
Magic For Nothing
,
Indigo
,
Every Heart a Doorway
,
The Brightest Fell
,
"Of Things Unknown"
,
Beneath the Sugar Sky
,
Night and Silence
,
"Suffer a Sea-change"
,
The Girl in the Green Silk Gown
,
"The Recitation of the Most Holy and Harrowing Pilgrimage of Mindy and Also Mork"
,
Tricks for Free
,
That Ain't Witchcraft
,
"The Measure of a Monster"
,
The Unkindest Tide
,
"Hope is Swift"
,
Come Tumbling Down
,
Imaginary Numbers
,
"Follow the Lady"
,
"The Fixed Stars"
,
"Forbid the Sea"
,
"No Sooner Met"
,
Across the Green Grass Fields
Second in the Indexing urban fantasy series and revolving around fairy tales. The focus is on Henry Marchen and her team of government operatives.
My Take
This series is a blend of Jasper Fforde's Thursday Next and Mercedes Lackey's Five Hundred Kingdoms, a "literary" government organization that polices fairy tales combined with fairy tales that insist on having their own way.
Reflections does revolve around Henry and splits its focus between the evolution of the Snow White monomyth and Sloane and her extremely sad past. It will definitely make you think and is a fun read, especially when combined with typical office activities — like the betting pool and employee reviews — and makes you take a second look at fairy tales. Who knew that pyramid schemes were actually "The House That Jack Built", a 2035 type?
There's some confusion (definitely on MY part) about Gerry. I get the impression he was originally a she, who chose to be a he and the fairy tale allowed him to change his physical appearance??
I agree, a hero is someone who knows who he or she is and doesn't take it out on anyone, lol. McGuire does a lovely twist on how to look at being the good guy, and I particularly liked Demi's take on what happened to her in Indexing. She knows who she wants to be and intends to be that person. Not what a story (or others) may want her to be.
It's a curious point McGuire makes about writing things down. That it cements that story as the only "real" version. Kind of sounds like English grammar and spelling, doesn't it? It does provide another possible arc for the series, right along with Henry's concerns about Childe, Mary's disappearance, and what the original Snow White monomyth will want from Henry.
On the negative side, I was confused at the start that this was a collection of short stories?? until I realized that McGuire meant these short blips to be an official report on memetic incursions — different crimes that relate to the main conflict — happening in different parts of the story. More confusions revolved around the lack of clarity in many of the incursions. I'm guessing that McGuire knew what she meant when she wrote it, and to be fair, she has created a complex and convoluted world.
Nor did I understand how "rotting corpses pretending to be his friends" related to Agent Névé's "ability". I do have to wonder about Piotr's retort about how HR was torturing Névé.
I'm not sure if Adrianna was a sociopath or a psychopath. Hmm, I wonder if a government agency can be psychopathic? 'Cause I sure don't like the threat that "the man" in the nineteenth century Aarne Management Bureau shoves onto Sloane!
"'The stories will be what we say they are,' said the man. 'That's the point of this exercise. We'll remake them in the image that suits us best.'"

Sound like any agency we know??
I do like McGuire's perspective on fairy tales. It makes me think, and the way she writes it confuses the heck out of me. I had to let making sense of it go and just go with the flow, letting it reveal itself as I read.
The Story
Fairy tales are deadly, constantly rewriting reality to get their own way, and even more so when a twisted, vicious Cinderella breaks out of prison and wreaks havoc, with life going from disenchanted to deadly, as Henry Marchen and her team race to take Ellie and her fellow escapees down before they destroy the world.
It'll require Henry to bite into her own deadly narrative as a Snow White, continuing her story and threatening everyone she holds dear.
The Characters
Henrietta "Henry" Marchen is a Snow White princess who has resisted the pull of her narrative and is in love with Jeff Davis, one of the Shoemaker's Elves, who is also…
…part of the ATI Management Bureau, which is…
…an organization dedicated to keeping stories from eating the world. Henry leads an ATI team which includes Sloane Winters who is an Evil Stepsister constantly fighting the desire to poison, behead, or slit throats and functions as a story detector; Andy Robinson (Andy is married to Mike Dawson, and they're planning to adopt); and, Demi Santos is a Pied Piper and the newest member of the team.
Gerald Marchen is Henry's twin brother, sister?, brother?…I'm not sure, really (and Sloane's ex-boyfriend). He's an English teacher at a high school and has pulled away from his Rose Red narrative, wanting nothing to do with it. Suzie is one of his Creative Writing students. Principal Hanson. Natalie Barrick is the subversive school secretary. Andrew Briggs had been Henry and Gerry's adoptive father.
Dr. Ciara Bloomfield is a Bluebeard's Wife married to her Bluebeard and must never unlock the door to the garage (she has an affinity for doors and keys); she's normally attached to Human Resources. Deputy Director Tom Brewer is their boss without a narrative and who lost his happy ever after, Mary, an agent lost to the mirrors. Agents Piotr Remus (yep, he's a Wolf) and Carlos Névé (he can tell truth from lies and can see all your worst secrets in their reflection) are added to Henry's team when she shows up in a new body.
The Council of Librarians is…
…the precursor of ATI and based in London. Electa, a Rose Red; Jack, a Wolf; and, Hiram Rogers, who died in 1740, found the runaway Amity. In Colonial America, Amity Green wasn't meant to become an Evil Stepsister. Gabrielle is a Cinderella, and Amity and Isabelle's stepsister. The Aarne Management Bureau broke away from the Council (Henry thinks it was in the 1800s) and is the precursor to ATI.
The whiteout wood is…
…where the Snow Whites live. Tanya is the one teaching Henry how to cope with her narrative. Ayane is curious about television and the San Diego Comic Con. The deaf Judie prefers to learn about current events.
Marcus Troy is a cop.
Childe Prison is…
…where fairy tale types are held, and it doesn't matter if they're evil or simply active. Some of the inmates include Birdie Hubbard, a Storyteller, their former dispatcher who turned against them and Elise Walton, a self-made Cinderella (and Sloane's original stepsister!).
Adrianna is Henry's aunt and a murderous Snow White trapped in the whiteout wood, twin to Henry's mother, Angele, a Snow White who became a Sleeping Beauty and left Adrianna on her own. Dr. Mortimer Pierson makes the wrong choice in his narrative when he sees Godfather Death behind Ms. Thomas. The Marquis de Carabas could explain those sickos who kidnap and rape.
The Aarne-Thompson Index to Motifs in Folk Literature actually…
…exists and is used by scholars all over the world as a resource on folklore and fairy tales. Types include the Shoemaker's Elves who are a 503 type working their fingers to the bone to teach employers to respect the help; a Snow White is a 709; a Storyteller is one who can write the tale; the Evil Stepsister is easily angered with a bad attitude and trust issues; Pied Pipers can accomplish anything with the right music; The Treacherous Sister is a 315; Hansel and Gretel is a 327; a Rapunzel is a 310; Little Red Riding Hoods stray from the path; Sweet Polly Oliver; Anne the Pirate Queen; the Miller's Daughter; Sleeping Beauty; Little Mermaid; the Wolf; Godfather Death is a 332; Dorothys can summon poppy fields; Snow Queens; Puss in Boots is a 545B; and, the Cheshire Cat.
Memetics is the study of memes, and fairy tales are the ultimate meme. The Archives contain every variation on every fairy tale in the world. The Index tracks every aspect of every story, enabling ATI agents to identify problems. The negative side of the Index is that it codifies the legends, making them even more dangerous. A monomyth is a template of the hero's journey, as s/he takes on the adventure and wins the victory, coming home changed or transformed. Magic mirrors are Snow Whites gone bad.
The Cover and Title
The cover is a dark and bright crime scene with yellow tape crisscrossing a wide street behind which are lit-up skyscrapers against a night sky. A sparkling glass slipper is in the forefront with blood-red petals scattered before it. The font is distressed with, from top to bottom, the series name at the top in red against a black background, the title below it in white with each letter on a red rectangular background, and the author's name at the bottom in a pale yellow.
The title is how Henry saves the world, through Reflections.
Related Posts