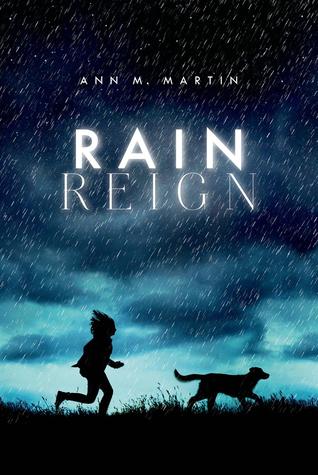 Rain Reign
by
Ann M. Martin
Genres:
Fiction
Published by
Feiwel and Friends
on October 7, 2014
Pages:
240
Source:
Netgalley
Goodreads
Rose Howard has OCD, Asperger's syndrome, and an obsession with homonyms (even her name is a homonym). She gave her dog Rain a name with two homonyms (Reign, Rein), which, according to Rose's rules of homonyms, is very special. Rain was a lost dog Rose's father brought home. Rose and Rain are practically inseparable. And they are often home alone, as Rose's father spends most evenings at a bar, and doesn't have much patience for his special-needs daughter.
Just as a storm hits town, Rain goes missing. Rose's father shouldn't have let Rain out. Now Rose has to find her dog, even if it means leaving her routines and safe places to search. Rose will find Rain, but so will Rain's original owners.

Hearts will break and spirits will soar for this powerful story, brilliantly told from Rose's point of view.
If I could give this a "6", I would.
A fictional view of Rose Howard, an autistic child with OCD, and her dog, Rain. Set in Hatford, Massachusetts.
This ARC was provided by NetGalley and publisher in exchange for an honest review.
My Take
This was beautiful, irritating, sweet, frustrating, and made me cry and smile…sometimes at the same time. I loved how Martin leapt right in with Rose's telling us how to start writing a book, letting us know we would learn more in other chapters (with the appropriate headings) of course.
In several respects, Rose is a girl after my own heart with her fascination with homophones and my Word Confusions, lol. Then there's her dog. I can so appreciate how Rose feels about Rain, especially when you read about her father's actions toward her.
Martin used everyone's frustrations and reactions well to convey an idea of what life is like for and with an autistic child. No, I don't know much beyond the few fictional stories I've read and the character from the TV show Ally McBeal who suffered from Asperger's Syndrome, yet Martin's story rings true and shows her father's reactions as well as Rose's behavior too well in how it affects their lives and interactions.
It was so cute when she explained how well she was doing in finding conversation starters that were not about homophones or prime numbers, lol. Then those breaking moments when she begins to make a connection with the other kids in school.
"Henderson comes out to 102, which is clearly not a prime number. Olivia is not a prime number name either.I don't know if this means anything."
The Lunchroom Buddies is a good idea as are Mrs. Leibler's conversation starters.
Wesley has had a hard life all his life, and I can't really blame him for his actions, but neither can anyone blame Rose. Her father wants to do well, but I suspect the grief has upset him in so many ways including being left with a young difficult child to raise — and Rose's behavior has sent him over the edge. He was young when they married, and young when he was left with Rose, and it's hard enough to raise a "normal" child as a single parent. It was so sweet how careful Rose and her uncle had to be. So well done by Martin in giving us a peek behind her father's thoughts. It's a sad situation all around, and I'm so grateful that Rose has her Uncle Weldon.
Rain Reign is easy enough to read, but it's difficult to absorb, and my heart goes out to those families coping with (and blessed with) autistic members.
The Story
It's "a day in the life" of our Rose and Rain, giving us a glimpse into her routine and her family. Enough of a look that her loss after the hurricane hits that much harder. But not as hard as the truth Rose discovers even later.
The Characters
Rose (Rows) Howard is a high-functioning autistic child with an obsession for homophones, numbers (especially prime ones!), following the rules, and keeping to her routine. Rain (Reign) is the dog her father found and brought home to her. Wesley Howard is her frustrated father who works at the J&R Garage. Uncle Weldon is her father's brother and works a computer at Gene's Construction, Inc. Elizabeth Parsons was her mother but left when Rose was two.
Mrs. Kushel is Rose's fifth-grade teacher. Mrs. Leibler is Rose's aide. Miss Croon was Rose's kindergarten teacher, and I loved her father's response to her suggestion! Ms. Vinsel was her first grade teacher. Shirley Ringwood is the bus driver who really did need to get Rose off the bus. Summertime Academy is a day program for kids with high-functioning autism.
Josh Bartel is a fellow student with a suggestion to make it easier for Rose to keep her list current, although he and Lenora Tedesco have some weird ideas about Rose's aide. Monty Soderman, Marnie Mayhew, and Wilson Antonelli are bullies. Flo hasn't got a pet. Parvani's mom is an artist. Morgan, Anders, Martin, and Susan are more students in Rose's class.
Julie Caporale is the shelter manager at Happy Tails. Olivia is a lost dog whose owners are Jason and Carol Henderson and their kids, Jean and Toby. Sheila Perlman is a friend of Mrs. Kushel's and she's a writer.
Hannah Pederson was Rose's father's favorite foster mother. Sam Diamond is a friend of her father's who also drinks at The Luck of the Irish. Jerry is one of the owners of the garage.
The Cover
The cover is too perfect in its blues and blacks as Rose and Rain are running through a field in the rain, for it is rain that brings it all to the peak.
The title is perfect since it's all about Rain Reign, Rose's dog.
Related Posts