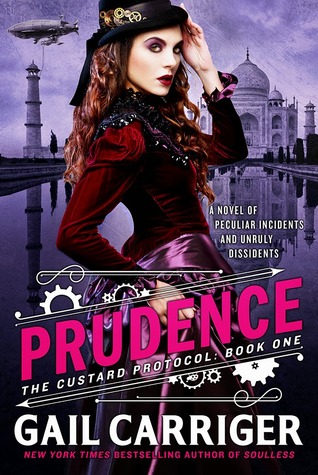 I received this book for free from the library in exchange for an honest review. This does not affect my opinion of the book or the content of my review.
Prudence
by
Gail Carriger
Series:
,
Genres:
Steampunk
Published by
Orbit
on March 17, 2015
Pages:
359
Format:
Hardcover
Source:
the library
Buy on Amazon
Goodreads
Also by this author:
Curtsies & Conspiracies
,
Etiquette and Espionage
,
Waistcoats & Weaponry
,
Manners & Mutiny
,
Soulless
,
Changeless
,
Blameless
,
Imprudence
,
Competence
,
Reticence
,
Changeless
,
Blameless
,
Heartless
,
Timeless
First in The Custard Protocol steampunk series for young adults and revolving around Prudence, Alexia's daughter (this is a sequel series from The Parasol Protectorate).
My Take
Prudence is definitely a rebel, somewhat like her mother, but mixing more easily in society in company with her friend, mostly because she can be counted on to liven up any party. Where she is totally unlike her mother is in her not caring what society thinks, as she changes from one form to another.
Carriger's characters are a hoot. The adversarial relationship between the flirtatious Quesnel and the assertive Rue is too funny. Prim uses her own flirtatious manner to manipulate and organize anything. Lord Akeldama I've always adored; he's brilliant, sneaky, and loyal with the most outrageous fashion sense. I also agree with the annoying assessment on Percy. And I suspect that this is merely the first of the diplomatic forays that Rue and her crew will take on. They all have such useful qualities and connections.
Carriger does so enjoy poking fun at society. In this, Prim is most helpful as she gets upset over wearing the wrong outfit for events. Heavens, a visiting dress when it should have been a traveling dress! I do wish her proofreaders were as concerned about word usage: pallet? confidents??
Why on earth would the Indian government think that appointing Rakshasas as tax collectors would endear them to the public??
Kidnappings, tracking, chases, battle, shapeshifters run amuck, and rescue by dirigible create a fun yet confusing adventure in India what with Dama's instructions and the truth of Mrs. Featherstonehaugh's kidnapping. Oh, not confusing for the reader, but for Rue and the brigadier. It'll require an amendment to the treaty and how everyone thinks.
"Dama had taught her … that the outrageous was often one's best disguise."
The Story
It's an urgent and secretive mission Dama sends his girl off on: investigating a tea plantation in India. It's not until Rue and Prim get to India that the truth begins to slip out, as they learn the type of trouble the Kingair Pack is in.
The Characters
The twenty-year-old Lady Prudence "Rue" Alessandra Maccon Akeldama, Lord and Lady Maccon's blood daughter raised by Lord Akeldama (Heartless, 4) is a metanatural, a skin-stalker. The Honourable Primrose Tunstell is Rue's best friend and accomplice (Ivy Hisselpenny Tunstell is her mother).
Lord "Dama" Akeldama is Rue's legal "father", a rove vampire, the potentate on the Shadow Council, and the arbiter of style and fashion. He has a group of drones living with him — Winkle is his current favorite. Madame Pudgemuffin is Dama's cat.
The Spotted Custard is…
…Dama's latest personal dirigible; he still has Dandelion Fluff Upon a Spoon. The senior greaser is the grumpy Aggie Phinkerlington. The sooties include Puff, Spoo (she quickly becomes head deckling), Kip, Wute, Ribbin, and Jikes. Professor Percy Tunstell, Prim's annoying brother and former Oxford don, will be the navigator. He'll be bringing his cat, Footnote, and valet, Virgil, his former boot-black boy. Rue is horrified that the brilliant and flirtatiously French Quesnel Lefoux will be the chief engineer; he did do some of the work on the Spotted Custard after all.
The London pack is…
…led by Lord Conall Maccon, Rue's Alpha werewolf father, who is married to Rue's battle-axe of a mother, Lady Alexia Maccon, the preternatural muhjah on the Shadow Council. They live next door to Lord Akeldama. Mr. Sandalio "Biffy" de Rabiffano is a werewolf, turned in Blameless, 3, who happens to have an Anubis form. He's Lord Maccon's Beta now that Professor Lyall is gone. Biffy is also the proprietor of Lefoux's shop, Chapeau de Poupe, while Madame Lefoux fulfills her punishment as a drone. Uncle Channing Channing is mentioned.
The Wimbledon Hive are…
…the London vampires, and Aunt Ivy, a.k.a., Queen Mums and Baroness Tunstell, is its vampire queen who arrived from Egypt with four very old vampires and six drones. She has a nom de plume, Honeysuckle Isinglass, and wrote the hideous Sand Shadows on a Sapphire Sea: My Adventures Abroad. Gahiji is an Egyptian vampire forced to attend balls.
The Woolsey Hive is…
…served by the Express Whistler (it stops at the Countess' Crouch) and led by Countess Nadasdy. It's where the inventive Drone Lefoux is serving out her sentence. Quesnel is her equally brilliant son.
The Shadow Council is…
…a supernatural advisory council to Queen Victoria.
Aunt Evelyn is one of Alexia's nasty half-sisters. The Fenchurches are giving a ball. Miss Prospigot is only one of the many society ladies attracted to the aloof Percy. Jean-Phillipe Worth designs all of Rue's gowns.
The Maltese Tower is…
…one of the Eight Wonders of the British Empire and looks like a pile of cooking equipment. It also serves as a waystation for dirigibles. Gresham Stukely is the Senior Tower Jerquer. Sekhmet knows who Rue is. Anitra is one of Rue's contacts.
Bombay, India
Lieutenant Broadwattle and Major Dwillrumple are under Brigadier Featherstonehaugh whose wife has been kidnapped.
The Kingair Pack of…
…Scotland is based in Bombay as a special werewolf attachment to the British army. Sidheag Maccon, Lady Kingair, Conall's great-great-great-granddaughter, commands (Changeless, 2). Professor Randolph Lyall is with the Kingair Pack now as their Beta.
Tasherit is a lionshifter. Vampires are not liked in India and are referred to as Rakshasas. They mostly work as tax collectors. Mrs. Godwit holds a party. Bhoots are an Indian term for ghosts. Vanaras are local dissidents and shapeshifters, weremonkeys. They refer to the werewolves as Bhairava's mount.
A sundowner can be both a weapon and a person. As a person, they are a legally sanctioned killer. The Supernatural Acceptance Decree (SAD) is a treaty between the East India Company (a.k.a., Bloody John and mostly backed by vampire hives) and foreign vampires.
The Cover and Title
The cover is a Gothic-looking Prudence with attitude, wearing a black velvet homburg with a black satin ribbon and adorned with a collage of brass gears atop those burgundy red tresses cascading down her back. She's inherited her mother's love of taffeta — in a vivid purple, but with a red velvet fitted bodice and a sequined yoke. A hand cocking her hat, looking out at us with kohl-rimmed eyes, Prudence is standing in front of a purplish gray background of a collage of events in Prudence with a dirigible moored to a tower on the left and the Taj Mahal with its reflecting pool.
The title is the protagonist, Prudence.
Related Posts