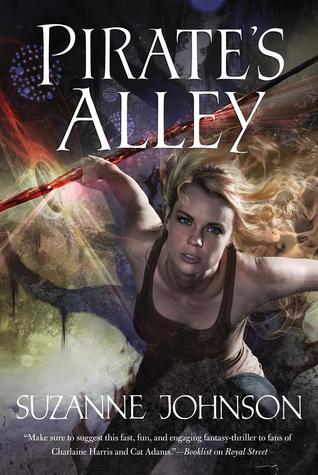 I received this book for free from the library in exchange for an honest review. This does not affect my opinion of the book or the content of my review.
Pirate's Alley
by
Suzanne Johnson
Genres:
Urban Fantasy
Published by
Tor
on April 21, 2015
Pages:
352
Format:
Hardcover
Source:
the library
Buy on Amazon
Goodreads
Caught in the middle of a rising struggle between the major powers in the supernatural world—the Wizards, Elves, Vampires and the Fae—DJ finds her loyalties torn and her mettle tested in matters both professional and personal.

Her relationship with enforcer Alex Warin is shaky, her non-husband, Quince Randolph, is growing more powerful, and her best friend, Eugenie, has a bombshell that could blow everything to Elfheim and back. And that's before the French pirate, Jean Lafitte, newly revived from his latest "death," returns to New Orleans with vengeance on his mind. DJ's assignment? Keep the sexy leader of the historical undead out of trouble. Good luck with that.

Duty clashes with love, loyalty with deception, and friendship with responsibility as DJ navigates passion and politics in the murky waters of a New Orleans caught in the grips of a brutal winter that might have nothing to do with Mother Nature.

War could be brewing, and DJ will be forced to take a stand. But choosing sides won't be that easy.
Also by this author:
River Road
,
Belle Chasse
Fourth in the Sentinels of New Orleans urban fantasy series, set in New Orleans, and revolving around DJ Jaco, the sentinel, and her friends.
My Take
I had been looking forward to reading more about DJ and Jean Lafitte — he's much more interesting than her boyfriend, Alex, and this one was a pip. Yeah, it included a pregnancy trope, but I did enjoy Johnson's use of the wrong pregnancy to create the conflict. And I got lots more than I bargained for. This twist is Pirate Alley specific.
The series twist is what Johnson does to the elf-werewolf-ghost-wizard trope. She goes all around the block with it, starting the series off with Hurricane Katrina with the stories following fairly closely one after the other (not publishing-wise, but story-wise *grin*), and there has been no shortage of action throughout the series. Hoo, boy.
Pirate's Alley will infuriate women. How dare these men think they have any right to choose where, when, how, or if Eugenie's baby gets to live? I am so glad that DJ is so stubborn! These men make me want to find a baseball bat. It's the only way DJ would be able to bash some sense into them. Mere talking is NOT working! It certainly isn't when Rand ramrods his own preferences, oh let's be honest, his demands home. He's so infuriatingly arrogant and callous. Unfortunately, he's not the only male to act this way either.
I agree with DJ, Alex is being much too controlling. He knows the kind of work she does. It's a touch less dangerous that what he does. Hypocrite much? I want to smack that boy six ways 'til Saturday. Where is that bat? Eugenie has just discovered she's pregnant and that jerk of an elf is the father. Can't he give her a COUPLE days to absorb this hit?
DJ also raises some interesting questions about love. Enough that I'm wavering back and forth between Alex and Jean. It's all settled by one small act.
No fair. They get to use transporters in this. I want one. No parking problems. Fuel costs a thing of the past…sigh…
Where the story falls down is how obvious Geoffrey Hoffman was as a judge for the so-called trial. I think he should have recused himself since his own son is one of the defendants. He is so very obvious in his questioning of DJ. I'd'a been screaming mistrial!
There is an assortment of betrayals in this one. I get the impression that betrayal is a prerequisite for writing a story… One of the worse betrayals to my mind is when a friend turns on you. I couldn't help it, I know it was wrong…and I did laugh at all the fun Lafitte has in making his former friend, um, irritated, lol.
That Zrakovi starts out sounding like a nice guy and quickly shows his true colors. I gotta wonder if all these wizards are like that? You will love that last trial, though. DJ turns Zrakovi's questions right back on him and shafts him good. Nor does she lie. You have gotta make sure you read that bit about how she and Rand were "headed toward being bonded anyway" — watch for those quotation marks to track when she's speaking and when she's thinking, lol. Yep, this girl is not lying, LMAO.
The Story
It's a disaster! Rand tells Eugenie (his girlfriend!) that he's married to DJ, in every sense of the word, and DJ is spitting mad. It's bad enough being bound to him, let alone having to be anywhere near him!
Worse? Eugenie is pregnant, and the elves are hopping mad.
The Characters
Drusilla Jane "DJ" Jaco is the Sentinel for New Orleans and a Green Congress wizard, and she is Jolie to Jean. She ostensibly works for Crescent City Risk Management selling risk insurance. Just not your usual risk insurance. Charlie is the elven staff which has adopted DJ. Sebastian is her grumpy cat, who prefers living with a "dog" rather than DJ. Gerry St. Simon was a wizard whom she had just learned was her father when Royal Street, 1, opened. (I can't remember if he died before or just after she found out he was her biological father.) DJ still considers her real father to be Peter Jaco. The ambitious Lennox St. Simon, a Red Congress wizard, is Gerry's hitherto unknown younger brother. He has a daughter, Audrey, who is DJ's cousin.
Eugenie Dupre is a regular human who owns a beauty salon, Shear Luck, and she's DJ's best friend. She's also been dating an elf, who is simply using her.
The 230-year-old Captain Jean Lafitte is undead with a place in the Beyond, Old Barataria, as well as a regular suite, the Eudora Welty, at the Hotel Monteleone. And. He. Is. Furious. On the plus side, he has a thing for DJ and I do enjoy their flirting. He gave Jake Warin, Alex's cousin and a loup-garou in danger of going nutso, a home (River Road, 2). Collette is loup-garou and engaged to Jake. Rene Delachaise is a merman and has been a friend to Jean for quite some time. He's also a friend of DJ's. Truman Capote is another undead.
Quince "Rand" Randolph owns Plantasy Island, a nursery, across the street from Eugenie. He's an elf who has targeted DJ and forced her into a lifelong bond with him in Elysian Fields, 3. Vervain's death (his mother) has elevated him to leader of the Tân and a member of the Elven Synod.
Alex Warin is a loup-garou stuck with investigative duties in the Division of Domestic Terror; he'd rather be playing enforcer. Gandalf is his pony-sized other self.
The Congress of Elders rule…
…the wizards and the rest of the supernatural community. Green Congress wizards are "the geeks of the magical world", using potions and ritual magic. Red Congress wizards do physical magic — the flashy stuff. Yellow Congress specializes in mental magic. While artistic and creative, the Blue Congress is usually in charge of reconstructing crime scenes if it turns out the crime is not supernatural. Sentinels are wizards in charge of cities or regions and keep an eye on the boundary between the Beyond and our world, the Now.
Members of the Congress of Elders include Willem Zrakovi, the local Elder (he'll become the First Elder); Sato from Tokyo; Geoffrey Hoffman is the First Elder and represents the UK and European Union. It's Hoffman's son, Adrian, who will be on trial as well. Turns out it was daddy who plotted this whole thing and set his own son up to be turned.
The Interspecies Council is…
…a new construct and will set magical policy for all supernatural beings. Members include Toussaint Delachaise, a merman and Rene's father; Garrett Melnick is Vice-Regent for the Vampyre; Etienne Boulard will be the other vampire council member; Sabine, the faery queen; Jean Lafitte; and, the elves are represented by the scheming Mace Banyan and duplicitous Rand.
The fae live…
…under a monarchy. Anyone of pure faery blood can change their appearance at will. Florian, the Prince of Summer, is one of the heirs to the Faery throne, and he's an idiot. His twin brother, Christof, the Faery Prince of Winter, is the other heir to their aunt, Queen Sabine.
The elves are divided…
…into four clans: Air is led by Mace; Betony Stoneman rules Earth; Lily's daughter has taken over the Water elves; and, Rand leads the Tân, the Fire elves.
L'Amour Savage is a vampire nightclub owned by Etienne. Marcus is the assistant manager. Terri is the vampire with whom Adrian fell in love. Kirk looks a lot like Etienne.
The prisoners up for…
…trial include Adrian Hoffman, the First Elder's son; Jonas Adamson, a necromancer and Green Congress wizard; the Axeman, an undead serial killer; and, Lily Aleese, an elf.
Arnie is a cab driver who has become DJ's best friend. Reveillon is a two-week food festival in a city that celebrates food. The historic undead exist as long as living people remember them. Elfheim is the elven world.
The Cover and Title
The cover has a black background and what appears to be blue fireworks scattered over it. There also appear to be parchment-looking "beasties" floating closer in. Leaping out at us is a jean-clad, brown tank-top-wearing DJ, her long blonde hair waving with the force of her leap toward us, her elven staff in hand.
I suspect the title is more metaphor than literal. While Jean plays an important part in the story, most of the characters are playing their own hidden games, walking a Pirate's Alley, if you will.
Related Posts