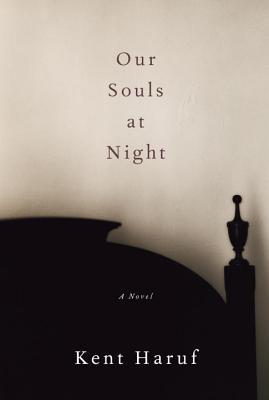 I received this book for free from Library in exchange for an honest review. This does not affect my opinion of the book or the content of my review.
Our Souls at Night
by
Kent Haruf
Genres:
Fiction
Published by
Knopf
on May 26, 2015
Pages:
179
Format:
Hardcover
Source:
Library
Buy on Amazon
Goodreads
A standalone novel about life in a small town amongst the elderly in Holt, Colorado.
In 2015, Our Souls at Night was nominated for the GoodReads Choice Award for Fiction.
My Take
It's a sweet and very sad story about normal — old — people who want companionship.
On the whole, their lives were normal including those few blips, those tragedies that can hit anyone — Connie's death and Carl's reaction to it and Louis' affair.
"…we didn't know anything in our twenties when we were first married. It was all just instinct and the patterns we'd grown up with."
I can't stand Addie's son. He's such a judgmental creep, shoving his issues onto his mother. And who is he to talk, anyway? He's dumping his kid on his mother because he's got his own problems with his wife and his business. Then to come out with this attitude?? I should think he'd be happy that his mother was happy! That she is willing to help him with his son and his life.
I hope Addie doesn't help Gene. I hope she leaves all her money to Jamie! Jerk.
It's sad about Louis wanting to write his poetry, having purpose, and his wife being so closed-off. Oh, that's not really fair to say. She simply had no purpose other than being a housewife and taking care of their daughter. And then to want to close him off as well…
Ooh, it made me furious when Ruth told Jamie the story behind the picture. Of what the town council did. Their reasons. How incredibly lame!!
I do have to agree with Addie about church!
I suspect that "last book about Holt County" and the play is a reference to one of Haruf's books. Benediction (Plainsong, 3)?? It's even cuter with the follow-up on the next page when Addie poses a question about some author writing a book about them.
It's real life with ordinary people in empty houses with lonely nights. And it's so sad with Gene's attitude. I'm not sure I'd've read it, if I'd known how it would end.
The Story
Addie Moore pays an unexpected visit to a neighbor, Louis Waters. They're both in the same situation: widowed and lonely. And Addie has plans to change that.
Plans that open both their lives up. That bring them joy until family steps in.
The Characters
The seventy-year-old Addie Moore had retired from her job as a clerk for the town. Carl is her deceased (estranged) husband; he'd sold all kinds of insurance when he was alive. Connie was their first child. Gene is her closed-off son with an unfinished furniture store. Jamie is Addie's six-year-old grandson. Beverly, a hairdresser, is Gene's unhappy wife. Bonny is the older dog.
Louis Waters loved to write poetry and had taught high school English. Holly is his daughter. Diane is his deceased wife.
Ruth Joyce is an eighty-two-year-old neighbor who lives in between Addie and Louis. Dorlan Becker used to own the men's store. Mr. Gorland had sold his insurance office and clients to Carl. The Coxes are small-minded gossips. Linda Rogers and Julie Newcomb are some of Holly's tattling friends. Dee Roberts, a former student, plays on the softball team. Rudy works at the old hardware store. Stanley Thompkins is a farmer. Bill Martin owns a picnic-ky sort of property with a creek. Tamara was the other woman. Pamela was her daughter.
The Cover and Title
The cover is so very soft with its greige wall and the haziness between it and Addie's solid, dark, old-fashioned headboard.
The title is so appropriate, as it all starts with Our Souls at Night when life seems loneliest.
Related Posts