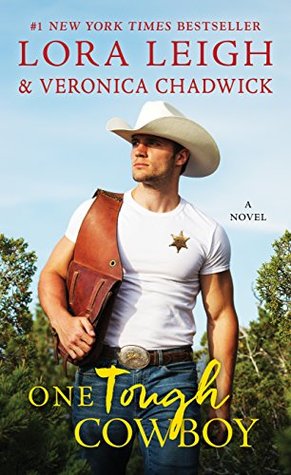 I received this book for free from Netgalley in exchange for an honest review. This does not affect my opinion of the book or the content of my review.
One Tough Cowboy
by
Lora Leigh
Series:
,
Genres:
Romantic Suspense
Published by
St. Martin's Paperbacks
on January 29, 2019
Pages:
304
Format:
eARC
Source:
Netgalley
Buy on Amazon
Goodreads
Also by this author:
Twin Passions
,
Shattered Legacy
,
Intense Pleasure
,
Knight Stalker
,
Enthralled
,
Secret Pleasure
,
Rule Breaker
,
"The One"
,
Nauti Angel
,
Nauti Seductress
,
Wake a Sleeping Tiger
,
Collision Point
,
Cross Breed
,
Hot for the Holidays
,
Dawn's Awakening
,
Strong, Silent Cowboy
,
"Night Hawk"
First in the Moving Violations romantic suspense series (and second in the Law and Disorder series) in Deerhaven, California. The couple focus is on Samantha Ryder and Sheriff Hunter Steele.
This eARC was sent to me by NetGalley and St. Martin's Paperbacks for an honest review.
My Take
I liked the premise of the story…phew, talk about rock and hard place in this overly melodramatic romantic suspense where Hunter is stuck with corrupt deputies and a mayor, leading to some tense drama for Hunter and Sami Jo.
It's the third person dual point-of-view from Hunter's and Sam's perspectives that keeps the reader informed of their thoughts and emotions, however, the interactions between Hunter and Sami Jo were annoying…and too insta-love for their hooking up. Yes, Leigh/Chadwick had set up their past history, but there was something fake about it that bugged me. Nor did the can-I-trust-him meme help. I mean, oy…
There's plenty of action in bed and out, and Leigh/Chadwick kept it somewhat balanced between story and all the sex. There wasn't much time spent on characters other than Hunter, Sam, and Shane although enough was spent on the bad guys to ensure we knew they were truly bad.
What was very annoying, however, were all the screwed-up sentences, the missing articles, the confused words, the too-obvious bad guys, and a lot of missing character info. I still don't know if Samantha was a detective or an officer back in Detroit…I'm guessing street cop. It read as if Leigh/Chadwick were overdue on their deadline and no one was particularly concerned with proofreading.
The Story
Dottie was found dead. And Sheriff Steele doesn't buy it. Just like he doesn't believe those previous "accidents". The clues are all there, and Steele has a good idea who the guilty suspects are. It's the why and what that's in question.
Then Sami Jo comes back for Aunt Dottie's funeral, and Hunter is determined she'll be staying.
The Characters
Samantha Jolene "Sami Jo" Ryder is/was Dottie's niece and a wild child, now living in Detroit, working as a cop. Her father died three years ago of a heart attack; her mother remarried and is living in Florida. Dorthea "Dottie" Coulter is her middle-aged aunt and close friends with Lillian and Zachariah.
Sheriff Hunter Steele, former Special Forces, has been on the job for eight months now and lives on the Steele Spur Ranch, the family spread. He still rides and has a couple of mustangs, Buck and Shiloh. Myrtle is a pregnant cow. His uncle Zachariah Steele, the previous sheriff (and ex-Marine who'd raised Hunter), died in a "hunting accident". Aunt Madeline is the governor of the state.
Deerhaven PD
Deputies Ray Decker and the abrasive Joe Rodgers are questionable…and had been hired by the mayor over the sheriff's head. Deputy Shane Warren is a watcher. Bill Markham is the useless coroner. Carol is dispatch?
Deerhaven, California
Hunter's sister, Hannah, is married to Mark Ferguson, an officer with the California State Police Force. Gracie Ann, Mark's sister, is married to Clyde and they have three sons and a daughter: Shane, Levi and Ethan who are younger twin brothers who work on Uncle Hunter's ranch, and Brandy. (Levi is seeing the newly divorced Jenny Talbert.)
William Henderson is the strutting mayor; his wife, Lillian died, "accidental drowning". She'd also once been Zachariah's girl. Margie Reynolds is the mayor's secretary. John and Clara Abernathy still run the mom-and-pop pharmacy where they still make ice cream. Ms Bell. Irene Holt is a sobber. Sadie works at the Night Hawk Saloon. Jacob Donovan, a fellow Marine and ex-cop who now works as a private mercenary, has a cabin in the mountains. George and Drusilla Golding sold their family farm. Eldon and Vanetta Miller have a rep for domestic violence. Sid Carter runs a camping area. Mrs Hickman is a local candle crafter. Doc Mosley is the veterinarian. The Lafollette boy has a lead foot. Miss Eunice is an elderly spinster with a regular habit which Charlie Beckett, a widower enjoys watching. Tommy Austin will never drink again after he discovered his wife's past skills.
Back in the day…
…when Sami Jo used to live in Deerhaven, Jesse had been Sam's friend. Donnie and Robbie Collins had been bullies. And Hunter had been her champion, nicknaming her "Pixie Pest". Chelsey Horton is probably still ticked off about that frog and Amanda about the sand and duck poo combo. Kelly is Hunter's ex-wife.
California Highway Patrol
Gabriel Sloan and Logan Grant are troopers with a grudge.
Jasper Michaels is a small-time illegals dealer. Wago Darney is a flesh peddler.
Detroit is…
…where Sami Jo works at the police department where Captain Bradshaw is her supervisor. Tom Novak is Sam's ex and works with the chief information officer for Detroit city government.
The Cover and Title
The cover has a beautiful summer sky with a background of forest in front of which stands Hunter Steele in white cowboy hat, white, short-sleeved T-shirt with a gold star, and jeans. Over one shoulder, he's carrying a saddlebag…just to make sure you know that Sheriff Hunter Steele is One Tough Cowboy.
There's an info blurb at the top in orange with the primary author's name in red beneath it. Beneath that is the secondary author's name in orange. To the right of Steele's shoulder is the info that this is a novel while the title is at the very bottom in a combination of serif and a "tough" script in yellow. I do wish they'd included the series information…my pet peeve.
Related Posts