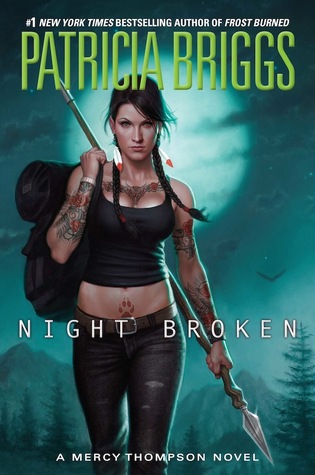 Night Broken
by
Patricia Briggs
Genres:
Urban Fantasy
Published by
Ace
on March 11, 2014
Pages:
341
Format:
Hardcover
Source:
the library
Goodreads
An unexpected phone call heralds a new challenge for Mercy. Her mate Adam's ex-wife is in trouble, on the run from her new boyfriend. Adam isn't the kind of man to turn away a person in need—and Mercy knows it. But with Christy holed up in Adam's house, Mercy can't shake the feeling that something about the situation isn't right.

Soon, her suspicions are confirmed when she learns that Christy has the farthest thing from good intentions. She wants Adam back and she's willing to do whatever it takes to make it happen, including turning Adam's pack against Mercy.

Mercy isn't about to step down without a fight, but there's a more dangerous threat circling. Christy's ex is more than a bad man—in fact, he may not be human at all. As the bodies start piling up, Mercy must put her personal troubles aside to face a creature with the power to tear her whole world apart.
Also by this author:
Dead Heat
,
Bone Crossed
,
River Marked
,
Hunting Ground
,
Iron Kissed
,
Cry Wolf
,
Fire Touched
,
Moon Called
,
Silence Fallen
,
Burn Bright
,
Storm Cursed
,
Smoke Bitten
,
Moon Called
,
,
Wild Sign
Eighth in the Mercy Thompson urban fantasy series based in Washington state.
My Take
Oh, boy, it's a whole 'nother set of folktales in this one, and thank god Briggs is getting back in form with this series!I like the contrast in the series background with Adam and Mercy in love and him supporting her against his pack even as he works to promote a sense of family amongst them all. This story is really good for easing some of the animosity of the Pack towards Mercy. And we get a deal more background on what life was like with Christy around. Ick. Major ick!!I absolutely adore Jesse. I mean, I liked her before, but I just love how realistic she is, how she acknowledges both that she loves her mother but doesn't ignore how she behaves. I adore Adam for sticking up for Mercy, and of course, I adore Mercy for her tolerance. I couldn't have done it.I am praying — literally — that Christy does not move to the Tri-Cities area. I cannot believe what a nasty bitch she is! She's more concerned with her own appearance and happiness than her daughter's or anyone else's safety. Jesus, this woman. She's the one who left, who can't handle what Adam is, and yet she's moving her makeup kit into Adam and Mercy's private bathroom! Wait'll you read about the shampoo trick, lol, and it's so consistent too. Hmmm, how does Christy know that isn't how Mercy usually washes her hair…after all, it's in her bathroom.Jesus, this Guayota is…wow, really nasty…*she saws with awe in her voice*. Personally though, I'd go ahead and toss Christy to him. She could probably shred him in minutes. Mmmm, can we send the CNTRP agents into battle with him too??I think Coyote had a premonition and set this all up with Gary Laughingdog. And I can't believe how long it took Mercy to make that connection between the dogs and Guayota.
Oopsie, Stefan has a big secret, and I'm shocked (as well as relieved) that Mercy doesn't hold it against him.
Definitely one of the fun ones in this series with Mercy battling the nasty remarks and sidelong looks from the Pack even as some begin to acknowledge her. It's all the good parts with love and battles, Mercy doing repairs in the garage, fae encounters, family moments, and beatin' down the bad guys. All the bad guys. Yep, it's a buy.
The Story
Christy's in big trouble, and god forbid she actually tell the truth about it. She's so awful that the Gray Lord demanding the immediate return of Lugh's walking stick is almost a relief.
It does mean that Mercy will have to find Coyote fast, and in the process, she finds more family.
The Characters
Mercy Thompson is a car mechanic specializing in German automobiles. She's also a skinwalker who shifts into a coyote form. Not the most welcome change in a pack of wolves led by her husband, Adam Hauptman, the Alpha. Jesse is Mercy's stepdaughter, Adam and Christy's daughter. Christy is Adam's nasty, manipulative bitch of an ex-wife. Medea is the Hauptmans' cat.
The Columbia Basin Pack
Darryl Zao is Adam's second while Auriele is his gullible wife. Mary Jo is another of Christy's clueless supporters. Warren is Adam's third and a private detective; his partner is Kyle Brooks, a human and a lawyer. Honey was widowed, but is shadowed by Peter's ghost. Zack Drummond is a lone wolf drifting through; as a submissive he'd be very welcome in the pack. Luke is a prison guard. Ben and George are two of the four night guards in this story. Jenny Trevellyan is the Pack lawyer, a good one. Andrea is her assistant. Dr. Larry Torbett was Jenny's law professor, now he's the editor of the Watchdog Times.
Bran is the Marrok, the Alpha of the Alphas, and lives in Montana. Charles is Bran's son and enforcer. Dr. Samuel Cornick is another son and has medical training. Decades of it.
The Fae
Zee, a.k.a., Siebold Adelbertsmiter, a.k.a., the Dark Smith of Drontheim, is a gremlin and Mercy's former boss at the VW repair shop. Tad is Zee's son, and he's been hiding his power. Ariana is Samuel's mate. Alistair Beauclaire was a lawyer and is a Gray Lord, a.k.a., Gwyn ap Lugh, son of Lugh, who declared the independence of all fae from the United States at the end of Fair Game (Alpha & Omega, 3).
Coyote, the trickster god, is Mercy's father, and he has the walking stick. Mercy, however, prefers to think of Old Joe Coyote as her real father. Hank is another walker like Mercy. Gordon Seeker is a Thunderbird, much like Coyote is, well, Coyote. Gary Laughingdog turns out to be Mercy's half-brother and a coyote walker as well. He's definitely got a lot of Coyote in him…lol…
Joel Arocha has been restoring Thing for years now with Mercy's help. He also raises dogs. Lucia is his wife and partner in rearing the dogs. Gabriel is the son of the woman Tony wants to marry and used to work for Mercy at her garage.
Law enforcement
Detective Clay Willis is in charge of the mass murder investigation. Tony is a cop in the Tri-Cities and a friend of Mercy's. Agents Dan Orton and Cary Kent are both CNTRP. Supervisory Agent Donald Kerrigan is their boss.
The Vampires
Marsilia is the mistress of the local seethe and Wulfe, the jerk, is her right-hand vampire. Stefan had been a loyal follower until Marsilia broke the ties between them. Rachel is one of Stefan's sheep.
Juan Flores, a.k.a., Guayota, is Christy's stalker and a manitou. He and his two big, mean dogs, tibicenas. Troy is Christy's boyfriend. Was, I mean.
The Cover
The cover has a green background fading in and out against a mountainous background with a full moon behind Mercy's head. Mercy herself is striding forward, determined in her cropped black tank top and low-cut black jeans, red and white feather earrings standing out along with her elaborate tattoos. And she's carrying the walking stick. Yeah, it's, um, morphed since the Gray Lord last saw it.
The title is Night Broken or what will happen to the night when Guayota's dogs howl into it.
Reviewed by Kathy Davie, who is fast gaining followers in Goodreads and Amazon for her honest book reviews. Passionate about reading, writing, and editing, she searches the Internet for tips, tricks, and warnings with a keen interest in ideas that will foster reading in children as well as adults while aiding writers in their craft. Kathy blogs daily at
KD Did It Takes on Books
.
Related Posts