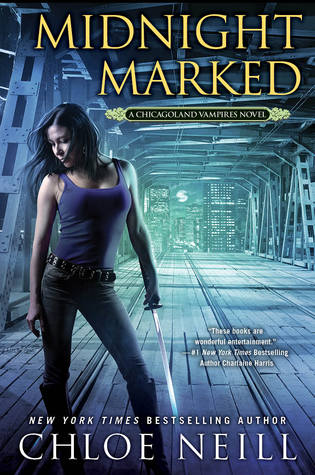 I received this book for free from the library in exchange for an honest review. This does not affect my opinion of the book or the content of my review.
Midnight Marked
by
Chloe Neill
Genres:
Urban Fantasy
Published by
NAL
on March 1, 2016
Pages:
361
Format:
Paperback
Source:
the library
Buy on Amazon
Goodreads
Also by this author:
Kicking It: These Boots are Made for Stalking
,
Blood Games
,
The Veil
,
The Veil
,
Dark Debt
,
The Sight
,
Blade Bound
,
The Hunt
,
Wild Hunger
,
The Beyond
,
The Bright and Breaking Sea
,
"Slaying It"
Twelfth in the Chicagoland Vampires urban fantasy series based in Chicago with a strong Young Adult flavor and revolving around Merit, the House Sentinel.
My Take
It's a good read with action and some minor betrayals. The story conflict certainly had my brain goin' tryin' to figure out what was happening. Gabe's prophecy about Merit and Ethan having a child pops up now and again. Of course, the ending does make this even more likely *grin*
Now this could make me consider turning vampire, lol: "if I wasn't pumping my body with trans fats, I wasn't fully utilizing my immortality".
I can understand Gabe's position about protecting his Pack, but I do not understand how telling Ethan what he learned about the Circle would threaten the Pack. Yet more stupid was Ethan and Merit not guessing who Reed's accomplice was. Mallory's snark at the end was well justified, lol.
Ethan doesn't ring true in this, partly because Neill doesn't do enough to show us that he's panicking over Merit and the attention on her from Reed. As for that encounter in Botanic Park, I would say it's a case of entrapment with Reed so prepared. And if the cops were surrounding them, they must have seen the truth…??
Ooh, baby, Merit rips the Red Guard a new one for picking and choosing their battles. For avoiding anything messy.
The Story
Merit is one of Chicago's most skilled vampire warriors; these days, she doesn't scare easily. But she and Master vampire Ethan have made a new and powerful enemy, and he won't give up until he owns the Windy City.
With his last plan thwarted, he's more determined than ever to watch Cadogan burn. Ethan has put the House's vampires on high alert, but their enemy will stop at nothing, including pitting vampire against vampire…
In this deadly game of cat-and-mouse, the stakes are life or death—and winning might mean sacrificing everything…
The Characters
Merit (Gabe calls her "Kitten") has been a vampire for over a year now and is the Cadogan House Sentinel. She's also an ardent Cubs fan. She's no longer immune to glamour since faux Balthasar. Ethan Sullivan is the 400-year-old Master and Sire of Cadogan House, Merit's lover, and a member of the Assembly of American Masters. Sophia is the name Ethan has given his Audi — Merit calls it "Iron Man's car".
Cadogan House is…
…one of four vampire houses in Chicago. Malik is Ethan's second-in-command; Aaliyah is his wife. Luc is the House guard captain who had known Calamity Jane. Other guards include Lindsey, Luc's girlfriend and Merit's friend; Juliet who's lookin' to increase her butt-kicking abilities; Kelley; and, Brody. Helen is the Initiate Liaison and social secretary. Paige is a sorcerer, the Order's archivist, and girlfriend to the Cadogan Librarian, Arthur. Delia is the House doctor. Margot is the House chef; she was a therapist in her live life. Ramón is another of the House vampires. Sean and Colin are vampire brothers who manage Temple Bar, Cadogan's official pub.
The other Houses in Chicago include Grey House with Scott Grey its Master. Morgan Greer is Master of Navarre House. The Assembly of American Masters (AAM) is the vampire organization that rose up after events in Wild Things, 9. Nicole Heart, Master of Heart House in Atlanta, is the leader. A Rogue is a vampire who lives outside the House system. Noah Beck is their unofficial leader. The Canon are the laws that govern vampires.
The Red Guard is…
…a secret vampire corps that oversees the vampire Masters. And they're ticked off at Merit. Jonah, Guard captain of Grey House, is also a Red Guard and Merit's partner…and in love with Merit. Horace had been in the Civil War.
The Office of the Ombudsman is…
…a department within the Chicago PD and acts as the liaison between the police and the supernatural community. Chuck Merit is Merit's grandfather and the ombudsman. Jeff Christopher is a tiger shifter and the techno brains in the office. Catcher Bell also works for Chuck and is married to fellow sorcerer, Mallory Carmichael Bell, Merit's best friend for years. Detective Arthur Jacobs is also against Reed. Jennifer Jacobs is a lawyer and Arthur's unhappy daughter. Her brother, Brett, had been targeted by a serial killer.
Joshua Merit is Merit's father, a powerful real estate developer who owns Merit Properties, with an issue with Reed. Meredith is her passive-aggressive mother. Robert, Merit's brother, is being groomed to take over the family business and quite the stuffed shirt. He despises Merit. Charlotte is Merit's other sibling. The twins, Elisa and Annika, and Berit had been Ethan's sisters back in the day in Sweden.
The North American Central Pack are…
…shifters with a base in Chicago. They are also allied with Cadogan House. Gabriel Keene is the Apex, the Alpha, of the Pack. Tanya is his wife. Connor is their son. Fallon Keene is Gabriel's sister and Jeff's girlfriend; Eli. Caleb Franklin is/was a soldier who defected and Gabe's half-brother. Damien Garza. Little Red is the official bar in Ukrainian Village and is run by Berna, one of Gabe's relatives. Kyle Farr was beaten up by a Rogue. Seventeen shifters including Kane, Twitch, and Rick are in huge trouble with Gabe.
The Order is…
…the official and incompetent union of American sorcerers. Keys are the building blocks of magic. Alchemy is a different approach to magic and believes matter can be manipulated to get closer to its true essence. Sorcerers Without Borders (SWOB) is an organization set up by Mallory to help newbie sorcerers in the Midwest.
Annabelle Shaw is a necromancer pregnant with "Peanut". Marley is her first child. Cliff is her husband. Mr. Leeds is the unhappy ghost to whom she's singing. Rosa de Santos is a jewelry designer.
The Circle is…
…the organization led by Adrien Reed, a powerful financial and political mogul and an enemy to Cadogan House. He's also the leader of the criminal underground. Sorcha is Reed's oblivious wife. La Douleur is a supernatural BDSM bordello in Hellriver managed by Cyrius Lore. Leona is a snotty vampire guard. Logan Hill is the vampire who's gone Rogue from McDonald House in Boston for not being a team player and insubordination. Will McDonald is their House Master.
Hailey Elizabeth Stanton is three-and-a-half. Nick Breckenridge is a Pulitzer-prize winning journalist and Merit family friend.
The Cover and Title
The cover is a soft range of blues and greens with Merit dressed in jeans and knee-high boots and a deep purple tank top, her katana in hand. She stands with a hip cocked and head down, appearing to look over the side of the old, wood-planked bridge she's on, the lit city of Chicago in the background.
The title is when the trap is set, for it's Midnight Marked that all sups must fear.
Related Posts