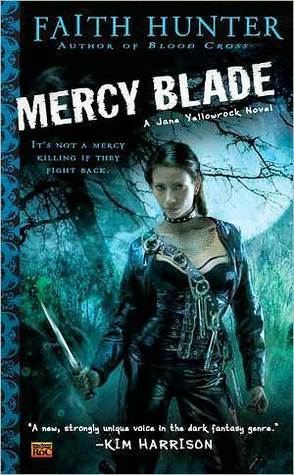 I received this book for free from the library in exchange for an honest review. This does not affect my opinion of the book or the content of my review.
Mercy Blade
by
Faith Hunter
Series:
Jane Yellowrock #3
Genres:
Urban Fantasy
Published by
Roc
on January 4, 2011
Pages:
324
Format:
eBook
Source:
the library
Buy on Amazon
Goodreads
Also in this series:
Blood Trade
,
"Easy Pickings"
,
True Dead
Also by this author:
Blood Trade
,
Kicking It: These Boots are Made for Stalking
,
Blood in Her Veins
,
Shadow Rites
,
Bloodring
,
Seraphs
,
Dark Queen
,
Shattered Bonds
,
Black Arts
,
Broken Soul
,
Dark Heir
,
Cold Reign
,
Blood of the Earth
,
Curse on the Land
,
Flame in the Dark
,
"Water Witch"
,
"Explosion On King's Street"
,
Skinwalker
,
Dirty Deeds
,
"Shiloh and the Brick"
,
"Black Friday Shopping with Nell and Occam"
,
Circle of the Moon
,
Blood Cross
,
Spells for the Dead
,
"Easy Pickings"
,
True Dead
Third in the Jane Yellowrock urban fantasy series set in New Orleans after Hurricane Katrina and revolving around a skinwalking vampire slayer. If you're interested, there is a chronological listing of the Jane Yellowrock books on my website.
My Take
I love the Jane Yellowrock series. Jane is so kick-ass and yet vulnerable with her very lonely past. Here in New Orleans, she has a chance to set down some roots, enjoy the friends she's making…if Rick is going to be a part of her life. Bruiser certainly has a very, very warm eye on her…
I am rather surprised that Jane hasn't done more research on the vamps — their history in New Orleans since she knows how long they can hold a grudge…after all, what else have they got to do with their time. Then there're the holes in her security set-up. She puts Bruiser down for his not staying up-to-date…okay, wait, that's not fair as Jane doesn't know there's a fly in the ointment.
Wow, there are setups and betrayals galore in Mercy Blade. I almost don't know where to start. Serious betrayals and sorrows in the past. Evangeline's nasty digging and spellcasting on Jane and Bruiser, while she's in negotiations with the vampires! Bruiser's betrayals of Jane. It seems rather fair when Leo betrays Bruiser! There are the multiple betrayals of were-law, of vampires against each other, of werewolves against vampires, of humans against humans…yep, it goes on and on.
Hunter also provides a lot of back history: how Storyville came to be, Bruiser's mother and how she died, Jane remembering the murders of her parents, the origin of werewolves and why they can't bring over women, and how the vampire war back in the early 1900s bears on all that happens in Mercy Blade. Everything that happens.
I love it! A sequin-studded leather holster as formal wear for parties. Then there's Beast's annoyance when Jane shifts into a bloodhound, lol.
Oh man, I had hoped to get some answers in Mercy Blade. Instead, there are two major questions at the end, and now I gotta wait til the next installment comes out!
The Story
It's exciting news in the human word as the IAW and PAW have outed themselves and are in negotiations with Mithrans, including Leo in New Orleans, even as Evangelina is in negotiations with the council of New Orleans witches with the vampire council.
Suddenly, there are a lot of suspicions — what Leo isn't telling her, what Bruiser is hiding from her, unknown supernaturals in town, werewolves and werecats coming out to the public. And Rick seems to know a heckuva lot more than he should until he stops contacting her and photos of him kissing other women start showing up.
Everywhere Jane goes, there's werewolf trouble, and Jane suspects they're part of the cold shoulder she's getting from Rick. The werecats are, naturally, not particularly friendly with the "dogs" and now Leo, the Master of the City, is planning a very public reception with the 'cats…with the news media present. Jane's security rep is at risk, particularly with the vamps keeping vital secrets, and the werewolves threatening Leo with an old murder charge.
In the meantime, Molly's sister, Evangeline, is staying with Jane and not as very pleasant company what with the tricks she's pulling on Jane and Bruiser.
It's setup after setup. And it looks like either Bruiser is killing or someone is framing him even as Jane is being framed.
The Characters
The tea-loving Jane Yellowrock is a Cherokee skinwalker and rogue vampire hunter currently under contract as an Enforcer for the Master of New Orleans. Beast is the other soul, a mountain lion, sharing her body, a soul she captured through black magic when she was five and trying to survive. Bitsa is her beloved Harley. Edoda means father, Jane's father, another skinwalker.
Professor Evangelina Everheart, Molly's sister, is a witch and three-star chef currently being Jane's guest in New Orleans. Molly Trueblood is an earth witch and Jane's best friend. Angelina "Angie Baby" is Molly's daughter whose witch powers arrived too early; she's also Jane's godchild. Aggie One Feather is a Cherokee elder, shaman, and Jane's therapist.
Rick LaFleur is Jane's boyfriend and an undercover cop with NOPD. He's also stepping out on Jane. Derek Lee, a.k.a., V. Lee's Surrender, is an ex-marine with mad skills who leads a group of mercenaries who help keep their neighborhood safe, do security backup for Jane, and occasional work for Leo. He brings in six guys to help: V. Martini, V. Lime Rickey, V. Chi Chi, V. Hi-Fi, V. Angel's Tit, and V. Sunrise.
The vampires of New Orleans
Leo Pellissier is the Master of the City (MOC) of New Orleans. Leo's uncle, Amaury Pellisier, had been the previous MOC. George "Bruiser" Dumas is his prime blood servant, head of security, and interested in Jane. Tyler Sullivan is Leo's second-in-command, and he does not like Jane. Alejandro, Estevan, Hildebert, and Koun are some of Leo's masters.
Jane has a habit of giving Leo's people nicknames including Tex and Wrassler. At Leo's clan home, Grayson is the butler and Nettie is the maid who is so helpful to Jane. Horace is the gardener and also helpful. Patrick Sprouse is one of his lawyers.
Katie's Ladies is a whore house for vampires and is run by a vampire, Katie, who is recovering in her grave. Troll is Katie's blood-servant and Rick's uncle. Deon is her three-star chef and "gayer than a San Francisco stripper". Madame Melisende is couturier to the vampires and has the task of dressing Jane for special events.
Girrard DiMercy is the Mercy Blade and Leo's enemy. Once he had been Leo's misericorde, a supernatural who kills the young vampires who don't make it through the change.
There are four vampire clans left after events in Skinwalker, 1: Pellissier, Laurent, Bouvier, and Arceneau. The last three are subservient to Leo. Clan Laurent is led by Bettina. Shaun Mac Lochlainn is her heir. Clan Arceneau is led by Grégoire; Dominique is his heir. Kabisa and Karimu are African masters in the clan. Clan Bouvier has co-masters: Innara and Jena, mind-joined Anamchara. Roland is their clan heir.
Sabina Delgado y Aguilar, a vampire priestess, and Bethany Salazar y Medina are Outclan, unaffiliated with any Clan, and the keepers of the histories and artifacts of power. Amitee Marchand (the ex-fiancée of Leo's son) and her brother, Fernand, are of Clan Rochefort in France.
The NOPD
Jodi Richoux is Rick's boss, and she's in charge of all paranormal investigations in the city. Sloan Rosen is her second-in-command. Peter Richoux, Jodi's cousin, is the police assistant coroner and a witch.
The Bureau of Diplomatic Security is…
…the law enforcement and security arm of the US Department of State.
Rinaldo is the taxi driver who is always picking Jane up. Alan Adcock is Jane's favorite waiter at the Royal Street Café. Daniel, Jane's new sensei, has an hapkido black belt, second dan, with a black belt in tae kwon do and combat tai chi. Reach is a scary-good researcher with a database to die for and expensive as heck. He runs independent websites for PIs and other security professionals. Royal Mojo Blues Company is a restaurant and dance hall where Rick has played sax. Bascomb is one of the bartenders.
Booger's Scoot is…
…a werewolf-run bar outside of New Orleans loyal to the Lupus Clan of the Cursed of Artemis, which is led by Roul, the alpha. Henri Molyneux was Roul's grandfather, killed by Leo. "Fire Truck" and a crazy were-bitch are part of the pack.
The International Association of Weres (IAW) and the Party of African Weres (PAW) is…
…led by Raymond Micheika, an African were-lion. Kemnebi, an African were-leopard, was interviewed by Donald Cooper, a BBC investigator. Safia is another were-leopard and Kemnebi's assistant. They have brought a grindylow, an enforcer of were-law, with them.
Senator Jones of Texas is having "problems" with supernatural creatures in our midst. He's not keen on witches either.
The early 1900s in New Orleans
The then mayor found out about vampires, primarily because there was war between the vampire factions. Roland Iveries had been the mayor's assistant who worked as a liaison between the factions. The Lady Beatrice had been Bruiser's mother, one of Katie's Ladies at the time. Jacqueline had been Bruiser's sister who was kidnapped and raped. The werewolves acted as security for the parley. Magnolia Sweets was Leo's prime blood-servant, and he was very much in love with her. Her young son, Terrance, was being groomed as Leo's secundo.
Mithrans is the term the vampires prefer. Devoveo is a state of insanity for newly made vampires, for which they have to be chained until they recover. If they do. Mercy is mercy killing for the vampires who don't recover. Back around 1915, the vampires chose to abandon mercy, a mistake because it brings emotional balance for their souls. Being in the presence of vampires allows the Mercy Blades to open a passageway from our world to theirs and brings them joy. Sons of Darkness were the first vampires, scary strong. Lolandes (who was renamed Artemis) was a powerful long-lived mortal who cursed a wolf.
The Cover and Title
It's a great rendition of Jane in all her ass-kicking glory but the setting seems generically murky, foggy Louisiana.
The title introduces us to Leo's Mercy Blade.
Related Posts