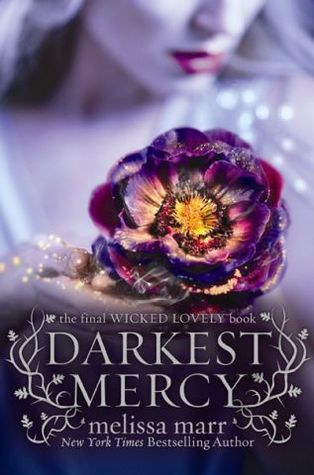 Darkest Mercy
by
Melissa Marr
Series:
Wicked Lovely #5
Genres:
Paranormal
,
Romance
,
YA
Published by
Harper Collins
on February 22, 2011
Pages:
327
Format:
Hardcover
Source:
the library
Goodreads
Also in this series:
Faery Tales & Nightmares
The Summer King is missing; the Dark Court is bleeding; and a stranger walks the streets of Huntsdale, his presence signifying the deaths of powerful fey.

Aislinn tends to the Summer Court, searching for her absent king and yearning for Seth. Torn between his new queen and his old love, Keenan works from afar to strengthen his court against the coming war. Donia longs for fiery passion even as she coolly readies the Winter Court for battle. And Seth, sworn brother of the Dark King and heir to the High Queen, is about to make a mistake that could cost his life.

Love, despair, and betrayal ignite the Faery Courts, and in the final conflict, some will win...and some will lose everything.
Also by this author:
Faery Tales & Nightmares
,
Fragile Eternity
,
Ink Exchange
,
Radiant Shadows
Fifth and last full-length story in the main Wicked Lovely paranormal romance fantasy series for young adults set in Huntsdale. This one is the big battle — at last — and ties up a number of loose ends, although from the short stories I've read, the series story continues on and there is the Desert Tales graphic series.
It's been two years since Aislinn became the Summer Queen.
There's a short story, "Merely Mortal", in Marr's Faery Tales & Nightmares (you can also find it in Enthralled: Paranormal Diversions), that occurs just before the Epilogue in Darkest Mercy.
My Take
This is where it all takes place and ends, and it's both satisfying and terrible. Yep, I cried. The war with Bananach against Winter, Summer, and Dark when Bananch declares herself the new Dark Queen. Seems Sorcha had been planning in advance as well when she made Seth her son back in Fragile Eternity, 3. And it's all a disaster at the start. Discord is winning on so many levels.
We finally find out where Keenan went, *eye roll*. It makes sense, where he's gone, but I don't see why Marr couldn't have worked the "mystery" more in Radiant Shadows, 4. This journey Keenan is on takes advantages of his strengths, even as he continues to work for the good of his court, for all the courts really.
Sorcha's obsession with Seth is almost funny, considering how cold and logical she was in the very beginning, when Seth confirms what she had intended for him. Gabriel has to know he can't win this, so why does he continue with this? Nor do I understand what Irial did. No matter how often I re-read this, I am not getting it.
And Keenan finally makes a purely selfish choice that can only benefit him.
The Story
Irial is dying from the poison Bananach delivered with her knife in Radiant Shadows. and Niall has gone mad, viciously so. The Summer Court is weak with an unloving King and Queen. Sorcha is still having emotional problems about Seth, and Bananach is winning…
Worse? Neither Sorcha nor Bananach can be killed without destroying all the fae.
The Characters
Niall is the Dark King and going mad as Irial lies dying. He's also a former Summer advisor. The Gabriel is the Hound, their leader and Niall's left hand. Chela is a Hound and Gabriel's sometime mate and his second-in-command. Gabriel's surviving children, Rabbit and Ani, are brought to Faerie. Leslie is the mortal girl beloved of Niall and Irial. Elaina is one of the Hounds.
Seth Morgan has become Sorcha's fae son and her heir with a gift for seeing the future, a seer. He has insisted that Aislinn, the Summer Queen, make a choice between him and Keenan, the Summer King. Tavish and Quinn are two of Aislinn's advisors. The Summer Girls are formerly mortal girls desired by Keenan, but who chose not to take the test. Siobhan is one of the Summer Girls and is promoted to advisor; Eliza wishes to join the Guard.
Donia is the Winter Queen, beloved of Keenan, and the former Winter Girl. Evan is the rowan-man who chose to relinquish Summer for Winter, and he's her chief advisor and guard. Sasha is her immortal wolf. Cwenhild is one of the Scrimshaw Sisters, who, along with the lupine are some of the fey in Don's court.
Devlin has a brief appearance as king of the Shadow Court, primarily for his closing Faerie off from the mortal world. Innis seems to lead the water fae, who take delight in drowning others.
Far Dorcha, the Dark Man, is death-fey. They have no court for all fear them. Ankou is his sister, collecting the dead as she wears her winding sheet.
Bananach, the raven-faery, the bestia, is Discord, the opposite to the High Queen of Faery's, Sorcha's, Logic. Many of the disaffected faeries are flocking to Bananach's new Court including Cath Paluc.
The Cover
The cover is gorgeous in its purples and looks jeweled, and I can't tell if the flower is a rose or a pansy. The background is a haze of lilac with a woman in the background — it's softly beautiful. The series information, the title, and the author's name is in a paler grayed lilac and surrounded by Marr's leafy, scrolling border.
The title is a good summation of both this story and the series, for it is a Darkest Mercy that affects them all.
Related Posts