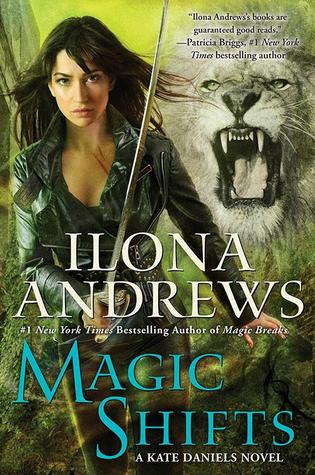 I received this book for free from the library in exchange for an honest review. This does not affect my opinion of the book or the content of my review.
Magic Shifts
Genres:
Urban Fantasy
Published by
Ace Books
on August 4, 2015
Pages:
342
Format:
Hardcover
Source:
the library
Buy on Amazon
Goodreads
After breaking from life with the Pack, mercenary Kate Daniels and her mate—former Beast Lord Curran Lennart—are adjusting to a very different pace. While they're thrilled to escape all the infighting, Curran misses the constant challenges of leading the shapeshifters.

So when the Pack offers him its stake in the Mercenary Guild, Curran seizes the opportunity—too bad the Guild wants nothing to do with him and Kate. Luckily, as a veteran merc, Kate can take over any of the Guild's unfinished jobs in order to bring in money and build their reputation. But what Kate and Curran don't realize is that the odd jobs they've been working are all connected.

An ancient enemy has arisen, and Kate and Curran are the only ones who can stop it—before it takes their city apart piece by piece…
Eighth in the Kate Daniels urban fantasy series and revolving around Kate and her Beast Lord, er, her former Beast Lord in the partially destroyed (and dystopian) Atlanta, Georgia.
My Take
Oh, lordy, Kate cracked me up right away with that smart remark to Ghastek about their…romantic rendezvous…I think I read and re-read it four or five times, just to thoroughly enjoy it, lol.
It's a transition novel as Andrews sets up Curran and Kate's new life. Gets them settled in their neighborhood, introduces us to their neighbors (a mixed bag, lol), explores the mechanics of separating their lives from that of the Pack, and investigates what Curran will do now.
Seems that while Curran misses the challenge of leading the Pack, he does NOT miss the committee meetings. I hear that! He is having a ball partnering up with Kate on her jobs. I loved the scene with Camo Pants and his partner as Curran keeps asking Kate if he can have fun yet. No! It's illegal becomes a popular refrain, lol.
It is funny when Kate and Curran get together with Jim and Dali. Dali gets how awful being Consort is while Jim would love for Curran to come back, although…then again, he is loving the power to choose the Pack's course. If only he didn't have those committee meetings and people to deal with…
More laughter as Kate explains how Doolittle's talent is for putting patients at ease while Jim's is menace. It's almost funnier when Curran goes about with Kate on jobs, and everyone comments on how nasty that Beast Lord is. Didn't everyone know that Kate is with Curran?
Interesting about Curran's buyout from the Pack and his and Kate's need for money. I do however think that the Five Hundred Acre Wood is well worth it, lol.
Yep, there are days when I, too, am a "special snowflake"… I already adore Eduardo. He's such a romantic. Poor Ghastek really does have to familiarize his people with the Sharrim. He is so conflicted about dealing with his god's daughter. And then there's that first meet with Luther…
"You! The unclean one! Tell me everything."
Don't believe that Magic Shifts is all fun and games, however. When Kate's power word backfires, Andrews writes a chapter that will make you weep in fear. Saiman does an about-face in this one. Never did I think to see the day when he turned away from Kate. Julie discovers a side effect from the blood transfusion in Magic Slays, 5, and Kate is terrified what the future will bring for Julie. Worse is that family dinner…at Applebee's. When's the wedding? Living near the children? Checking on your eating habits… I'm going to steal your child and destroy you…
There's a convoluted bit of reasoning on how ghouls came about, and it does make sense in the end. You just need to read c-a-r-e-f-u-l-l-y.
Omigod, Robert's happy about that flame-spewing bull. It gives Curran a chance to work off some steam…ROFL…again. It's a battle out where the neighbors can see, and…oops… Oh, boy, then there's the Mahon-George, um, battle on the lawn. George gives her dad what-for when he brings up what she owes him for feeding, raising, and clothing her. And she's darned right! Mahon lets us all know what a hypocrite he is.
Whoa…Kate undergoes an epiphany after that scare. She's decided she has to fight smarter. Who knew Kate could learn such a radical lesson, lol?
The Story
Two months ago, Kate accidentally claimed the city of Atlanta when she went up against Roland. And two months ago, she and Curran stepped down as Consort and Beast Lord of the Pack.
Now Eduardo is missing, and his Alpha, Mahon, is secretly thrilled while the Mercenary Guild is hurtling over a cliff into bankruptcy.
It's the "reception" Kate and Curran get at the Guild headquarters that fuels Curran's decision. It should be a bumpy ride, lol.
The Characters
Kate Daniels (Roland's people call her Sharrim, of the king) and Curran Lennart are on their own at last. Cuddles is Kate's humongous mule. Sarrat is the sword made from the bones of Kate's grandmother (Magic Breaks, 7). Julie is Kate's daughter who can see magic (Magic Burns, 2). Dali taught Julie how to drive! Grendel is Kate's giganto poodle who turns into a black hound. Brutus was a black Friesian belonging to Hugh. Seems Brutus really isn't suitable as a horse for Julie to ride. Kalina was Kate's mother before Roland killed her.
Cutting Edge Investigations is…
…Kate and Andrea's detective agency that specializes in magic problems. Ascanio Ferara, a fifteen-year-old bouda intern, and Derek Gaunt, a wolf shifter devoted to Curran, work there.
The Pack is…
…over a thousand shifters-strong. Georgetta "George" is Mahon's one-armed daughter (Magic Rises, 6) and the Pack's clerk of court. She's also in love with Eduardo Ortego, a.k.a., Eduardo Bassam Amir-Moez, a werebuffalo and a member of Clan Heavy. Max is Eduardo's pug. Rima is his mother, a werebison. Mr. Bahir Amir-Moez is Julie's ancient history and Islamic studies teacher. He's also Eduardo's real father. Amal is the winged black Arabian.
Clan Heavy are the really, really big shapeshifters: bears, buffalo, etc. Mahon, the Pack executioner, is their alpha. Martha is his mate. Patrick is Mahon's nephew and his enforcer. Jim Shrapshire, a werejaguar and the cat alpha, is the former head of Pack security, and now he's the Beast Lord. Dali is his mate, a vegetarian tiger shifter who works spells via calligraphy, and she's the Beast Lady. Rodney is one of her personal guards. Barabas Gilliam is a weremongoose and the Pack lawyer; Jezebel is another lawyer and in a relationship with Louis, a widower with a daughter. Christopher was rescued in Magic Rises…a very worthwhile cause as he's the one with the panacea recipe. Unfortunately, he's not all there after Hugh's, um, attentions. Desandra is the Alpha for Clan Wolf.
Dr. Doolittle, a were-honeybadger, is the Pack medmage who has spent a lot of time patching Kate up. Nasrin is another medmage. Sam is one of the nurses. Ariela is having a baby. Raphael Medrano owns Medrano Reclamations and is the alpha for Clan Bouda. He's mated to the pregnant Andrea Nash, Kate's business partner. Robert Lonesco is one of the alpha Rats and has taken over as chief of security; Thomas is his husband. Artie and Jardin, a wererat, are part of the security team. Trisha will become the new Pack lawyer.
The Mercenary Guild is…
…the largest for-profit magic cleanup agency in town. Kate's been a member for nine years. Their founder, Red, died. The Clerk worked as the dispatcher and recordkeeper for the Guild; now he's working at the Steel Horse, a border bar (Magic Bleeds, 4). Lori is the Clerk's standby. Lori's parents, Karen and Brenda, run Sweet Cheeks Bakery. Lago Vista is one of the mercs and a glory hound. Too bad he didn't take Kate's advice. Bob Carver, the chief personnel officer and the merc leader, is one of the "Four Horsemen" along with Rigan, Ken (mage), and Ivera (a firebug good with blades). Bob wants to raid his pension fund. Mark Meadows is the operations manager. Christian Heyward is a merc who quit. Alice Golansky has a grudge against Kate. Mac and Leroy are a couple of nasty jerks too interested in helping themselves. Crystal; Charlie used to be a regular; Chug is a drunk; Juke; Alex Simos is mourning his Lexus; Cruz's cowardly actions get him killed; Sonia; Paula reckons she ain't a janitor; and, Rose are all mercenaries.
Pamela Oswald on Chamblee Dunwoody Road is having a tick problem. Sherlock and Watson are their beleaguered cats. Mr. Oswald is most grateful and has some information. Arnie and Justin Thomas Rogers are/were the Oswalds' neighbors; Rogers was the cranky one.
Biohazard Division is…
…actually called The Center for Magical Containment and Disease Prevention. Luther quit working for PAD and now works for Biohazard. Mitchell was one of their scientists until an experiment went too far. Adib is a new djinn. Patrice Lean is the head of Infectious Diseases. Margo.
The Order of Merciful Aid are…
…the knights, and you have to hand all autonomy over to them. Their word becomes law and you can't fight their decisions. Nick Feldman is a knight of the order, promoted from crusader to knight-protector, and a major jerk. He's taken Ted's place as the leader of the Atlanta chapter. Samantha Binek is a knight-archivarius with a sterling reputation, specially trained to deal with dangerous magical artifacts.
The Paranormal Activity Police Division (PAD) is part of the police department, a magical SWAT team, but they're undermanned. The Military Supernatural Defense Units (MSDU) are part of the army.
Volhves are Russian druids, really powerful pagan priests who worship Chernobog. A trio of witches are the ruling witches: Sienna is the Maiden who sees into the future, and she has some concerns. Saiman is a frost giant and a polymorph, part Aesir and part Loki. The grandson of two Viking gods, he specializes in information. Arnav, with his son, Nitish, and his daughter, Neha, have grown Kadam Arms, a smithy, over the years. Prema is his wife. Seven Star Academy is where Julie is supposed to be attending school.
The People are…
…a combination corporation and research facility who combine manipulating the undead and making money with the Casino, their Atlanta headquarters. Ghastek is the new leader of the Atlanta-based People. Rowena is the Casino's PR person and the third strongest Master of the Dead. She's also distantly related to Kate and is bound to help her. The navigators who race after Rowena include Evgenia, Toakase Kakau, and Ryan Kelly.
Kate's father, Roland, a.k.a., Nimrod, the Builder of Towers, is their god with nearly godlike powers. He's currently building up his Midwest empire. Hugh d'Ambray is Roland's Warlord, the Preceptor. Seems he's been exiled for failing. Now Roland can't be held responsible for any mischief Hugh gets up to.
The Immortus pathogen is a disease responsible for creating vampires whose minds are blank. They're controlled by navigators, a necromancer, who directs the vampire like a remote-controlled car. A 128 is an incident in which a vampire consumes too much blood at once.
Heather Savell is one of Kate and Curran's neighbors. Not one of the welcoming ones. She'd love to control everything about their street. Ain't she gonna be surprised when she finds out what Curran's done, ROFL. Voron was Kate's adoptive father and had been Roland's Warlord; he had been enchanted by Kate's mother to take care of her. Anna Feldman is a clairvoyant and Greg's ex-wife.
Ghouls are smart, fast, and vicious with a hunger for people; they're also the fallen djinn, djinn who have lost their magic. An ifrit is a very powerful djinn. Shakush the Hammer was cursed by a holy man to go insane.
Lazarus Builders thought they had invented a sure-fire way to protect buildings against magic waves.
The Cover and Title
The cover is a range of yellow greens with a scratched-up Kate in her black leather jacket and a low-cut black tanktop and jeans, holding her new sword, Sarrat, upright in front of her as she faces us, her gaze intent on the reader. Curran is in his lion form, sporting a wide-mouthed snarl as he faces us.
The title is how the enemy grows stronger, as his Magic Shifts and his magic reservoir fills with each move.
Related Posts