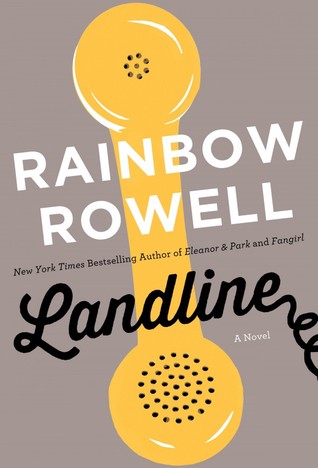 Landline
by
Rainbow Rowell
Genres:
Fiction
Published by
St. Martin's Press
on July 8, 2014
Pages:
310
Format:
Hardcover
Source:
the library
Goodreads
Georgie McCool knows her marriage is in trouble. That it's been in trouble for a long time. She still loves her husband, Neal, and Neal still loves her, deeply — but that almost seems beside the point now.

Maybe that was always beside the point.

Two days before they're supposed to visit Neal's family in Omaha for Christmas, Georgie tells Neal that she can't go. She's a TV writer, and something's come up on her show; she has to stay in Los Angeles. She knows that Neal will be upset with her — Neal is always a little upset with Georgie — but she doesn't expect to him to pack up the kids and go home without her.

When her husband and the kids leave for the airport, Georgie wonders if she's finally done it. If she's ruined everything.

That night, Georgie discovers a way to communicate with Neal in the past. It's not time travel, not exactly, but she feels like she's been given an opportunity to fix her marriage before it starts . . .

Is that what she's supposed to do?

Or would Georgie and Neal be better off if their marriage never happened?
Also by this author:
Fangirl
A fictional bit of literature that explores relationships with a bit of "time travel".
My Take
Wow. Wow. Wow. It took a few pages, but Rowell pulled me in and kept me on tenterhooks. I couldn't read fast enough. And I didn't want to read too fast. Partly because I was dreading the outcome, one I was desperate to know.
And that contradiction is so typical of this story as Georgie is at war with herself. … And I can feel you waiting to find out with whom she's at war, lol.
It's love. It's truth. It's a chance to look back and move forward, to discover what's wrong and fix it. To understand what's truly important.
It's only Rowell's second book that I've read, and I am falling in love with her writing. I'm understanding why her books are so well received. She's fast becoming one of the authors on my must-buy list.
"He kissed her like he was drawing a perfectly straight line.

He kissed her in India ink."

I love how she takes ordinary life and makes it more. In this case, it's a switching of the expected role of parents with Mom being the breadwinner and Dad the househusband. A woman who laughs and needs to make people laugh loving a man who doesn't laugh.
It's a great switch, if only because Georgie is the perfect characterization of a "husband": too absorbed in her work, careless of her "wife", an absentee parent whose children love her. Meanwhile, Neal decorates the house, paints murals, cares for their children, cooks, and is relatively patient with Georgie. And Seth is the irritant between them.
"…I want to ruin you for everyone."
Georgie herself is a mess. She never takes time out for what's important. She wants that contact with her family, with Neal, but won't take the time to change out her battery. I think she has one bra, and it's dying. She ignores everything in her life that's not work. And it's symptomatic of her marriage. Still, she is willing to be realistic. To love Neal enough to want him to be happy.
Neal, of course, has his issues. He also has the most beautiful, if unorthodox, way of expressing his love for Georgie.
It's that phone that's so confusing to read about, and it's a well-done bit of writing that reflects how Georgie's feeling about it. Rowell makes us feel what Georgie's feeling. Although I still don't understand the bit about "we'll make our own enough". I'm just not making that connection.
It's comedic, it's tragic, it makes me cry and laugh. I adored it. Me, the queen of wanting it all to be fixed and happily ever after…Landline is so real.
The Story
Georgie is a screenwriter who's always known exactly what she wants: a career as a comedy writer and Neal. Only she only pays attention to her career and her writing partner and best friend: Seth. A man of whom Neal is jealous but accepts because Georgie says he has nothing to worry about.
Now it's been fourteen years in…and it's fourteen years back. She and Seth have the chance to make a nineteen-year dream come true, but it's at the expense of Christmas with her family. Yet another sacrifice…
The Characters
Georgie McCool has wanted to make people laugh forever and loves being a screenwriter. She's also an absentee mom married to Neal Grafton, the cartoonist of the college days Stop the Sun comic strip, an artist studying oceanology who wants nothing to do with a real ocean. A man who doesn't know what he wants. Other than Georgie. Alice and Naomi "Noomi", the best green kitty in the world, are their daughters.
The always-turned-out, womanizing Seth is Georgie's other half, her writing partner. They've been best friends for years. Dawn is Neal's ex-fiancée back in Nebraska.
Scotty is their jokester third. Jeff'd Up is the show for which the three of them currently write. Jeff German is the jerky star of the show while Trev is its break-out star. Pamela is the screenwriters' PA.
Georgie's family
Mom, Liz Lyons, is a serial marrier, each husband getting younger. The current one is Kendrick, three years older than Georgie. Heather Wisner is Georgie's eighteen-year-old sister, "the dog with the least ribbons". Petunia is the pregnant prize-winning pug; I think Porky is the daddy. Alison is the pizza girl. Ludy was Georgie's best friend in high school.
Neal's family
It's actually just Margaret, Neal's mother, as his father, Paul, passed away a few years ago.
Maher Jafari is a network guy who wants a meeting directly after Christmas about Passing Time, the show Georgie and Seth have been batting back and forth since college. Rahul will become a character on the show.
The Spoon was the college The Harvard Lampoon where George meets Seth and Neal. Whit is a fellow student and on The Spoon staff as well.
The Cover and Title
The cover is basic, a greige background with an iconic yellow handset for an old-fashioned rotary telephone. I do love how its black twisted cord unravels to become the title, that chance, that connection, that Landline to Georgie's future.
Related Posts