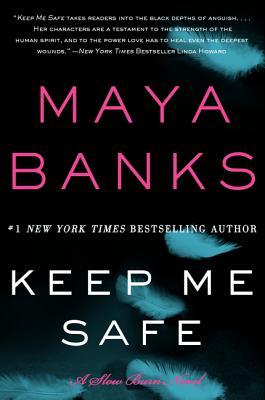 I received this book for free from the library in exchange for an honest review. This does not affect my opinion of the book or the content of my review.
Keep Me Safe
by
Maya Banks
Genres:
Romance
,
Romantic Suspense
Published by
William Morrow
on October 7, 2014
Pages:
256
Source:
the library
Goodreads
Also by this author:
Forged in Steele
,
When Day Breaks
,
Taking It All
,
Enticed by His Forgotten Lover
,
Sweet Possession
,
Sweet Addiction
First in the Slow Burn romantic suspense series and set in Houston. The couple focus is on Ramie St. Claire and Caleb Devereaux.
If I could give this a negative star, I'd do it in a heartbeat.
My Take
Can you say M. E. L. O. D. R. A. M. A. T. I. C.??
Terrible. Absolutely terrible. I don't know what's going on in Banks' life, but she is not there for her writing. Of course, it's always possible that I disliked Keep Me Safe so intensely because absolute terror does NOT turn me on, and the insta-love was so instant that it almost occurred before they met. Naw. It definitely contributed, but Keep Me Safe is absolutely swimming in overly dramatic melodrama.
I ain't buyin' it. If the Deverauxs' security is so hot, then how was Tori allowed out without it? It didn't have to be overt security. It could have been covert. "Extremely high level of security", my Aunt Fannie.
Banks does do an excellent job of making us feel the melodrama of how her gift affects Ramie, the desperation that Caleb is experiencing, the speed of the torment all three are suffering in their own ways. What she doesn't make us feel is Caleb's guilt. Oh, Banks tells us that he feels guilty, but I ain't feelin' it.
If he were truly this remorseful about what he'd done, why does he run off and abandon Ramie? How much time would it take to ensure she gets some care? Heck, he can bring her along on his private plane. Yeah, yeah, Ramie tells him to go. And he actually listens. It's okay to ignore her pleas when he wants something badly enough, but he feels the need to heed her when he has what he wants? Jesus, at least drop a wad of cash on her!
Ramie sounds like an intelligent woman, and yet the horror, the terror, the fear of being hunted by this man has her running stupidly. If she's helped so many cops find victims, why isn't she approaching any of them? Surely ONE of them would believe her, would help her? She's figured out enough that she suspects her hunter has psychic abilities, so why hasn't she tried to figure out more about that connection? Figure out how to dull it, cut it, break it?
And she's such a goody-goody. Argh. It's so annoying. Sure, I completely sympathize with how Ramie thinks about demanding a price, but surely the victims' families have had some kind of response to what she does? They must have offered something to her after the victims are found. The way the connection affects Ramie is so horrible, that she must need some kind of help. Why does she think it's acceptable for her to be tortured?
Then there's her reaction to Caleb's concern. *Lotsa eye rolls* Ramie should be able to at least accept Caleb's gratitude. She so decries the help she provides that you'd think she'd found the cat's catnip mouse, ya know, the raggedy one that has lost most of its stuffing. Instead, she's saved the guy's beloved sister from death. How does she not see the value of that? Oh, no, it was nothing… Gag.
Oh, man, then she believes it would be better for her to be on her own and on the run. That, oh, no, she couldn't possibly stay in a well-secured house with a rich man who has a security company and wants to help her catch the bad guy. Noo…*more eye rolls*…
Okay, Ramie says she can only feel the negative emotions in people, then she goes on to say she feels Caleb's determination. And that it's not negative. Um. Yep. Psychic links are "hokey bullshit". Sure. Caleb believes in Tori's psychic abilities, in Ramie's, believes in what's being done to Ramie, but "psychic links are hokey bullshit". Is Banks even paying attention to what she's writing?
I'll buy Tori's reaction to Ramie. It is reasonable. But I do want to know how Tori knew that Ramie knows everything? The younger brothers' reactions? How dare they behave this way? When they owe Ramie so very much.
Yes, there is sex in this. And I skimmed most of it. So, it could have been hot, but how do you drop from terrifying, horrible fear into insta-hot, slick, desirable sex? All it did was turn me off.
They have this fancy monitoring system, and nobody is monitoring it? Caleb buys into the set-up?
It's quite clever how Banks has set up her bad guy, how he captures his victims. How do you battle something like this?
What? They don't think to tell her what happened at the end??
My recommendation? Do not bother. Unless you like overly melodramatic crap. At worst, borrow it from the library, as I don't think you'll appreciate having wasted your money.
The Story
Ramie St. Claire is the Deverauxs' only hope to find their missing sister. That video tape…Tori doesn't have long to live. Although. That may be a mercy.
The Characters
Ramie St. Claire is a psychic who experiences a connection with people when she touches something of theirs. Becky was a beloved foster sister.
Caleb Devereaux is the oldest sibling of the Devereaux family; Beau and Quinn are the younger brothers. Tori is their only sister.
Devereaux Security is…
…the Deveraux family's response to Tori's kidnapping. Dane Elliot, Eliza, and Eric Becket are part of the security team.
Detectives Ramirez and Briggs are with the Houston PD and desperate to save another victim.
Charles "Charlie" Bloomberg is a quiet, good-looking man.
The Cover and Title
The cover is black with random fluffy blue feathers darting across. The author's name is in a bright pink in the top half of the cover while the smaller title is in white.
The title tells us what Ramie needs, her one plea: Keep Me Safe.
Related Posts