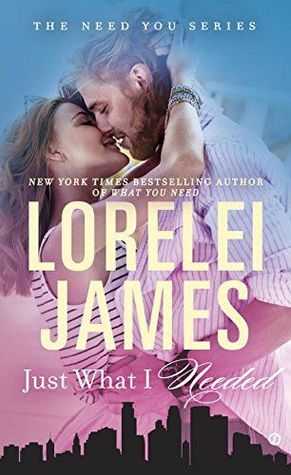 I received this book for free from the library in exchange for an honest review. This does not affect my opinion of the book or the content of my review.
Just What I Needed
by
Lorelei James
Genres:
Contemporary Romance
Published by
Berkley Books
on August 2, 2016
Pages:
368
Format:
Paperback
Source:
the library
Buy on Amazon
Goodreads
Also by this author:
"Schooled"
,
Wrapped and Strapped
,
Unraveled
,
What You Need
,
Racked and Stacked
,
Hang Tough
,
Spun Out
,
All You Need
,
When I Need You
,
I Want You Back
,
Want You to Want Me
Second in the Need You contemporary romance series and revolving around the Lund family of billionaires set in Minneapolis. The couple focus is on Trinity Amelia Carlson and Walker Lund.
My Take
Just 'cause it's a Lorelei James does not make it erotica. Instead, this is a sweet and cozy romance with warm characters you'll love with the unloved daughter with the quirky self-obsession with her art who lucks into the loved son of a wealthy family who prefers to go his own way.
It becomes personal when James uses a first-person dual point-of-view from Trinity's and Walker's perspectives, diving into their relationships, those between man and woman, friend and friend, family and child, sibling to sibling, and parent and son. This is a supportive family, even when they're being mad at each other…or too self-absorbed, lol.
It's a beautiful look into the life of one artist and how she copes. It's too bad she has such a jerk for a father. He is at least consistent in torpedoing his oldest daughter's life. And then there's Esther's response. I LOVE her!
I am so grateful that, for the most part, society is able to talk openly about depression, getting counseling, etc. With luck and a few more decades, no one will feel the need to panic or want to hide it under the rug.
That side plot with Jase's "new" diet was a crack-up, and a great way to round out a storyline. Oh, man, I do ADORE Selka. Wait'll you read her riot act when Laura walks up, LOLOLOLOL.
It's a romance that will make you smile and settle back with your feet up and the afghan over your legs with a cup of your favorite drink sitting by your hand.
The Story
Lying can really bite ya in the tush, as Trinity learns that night. But Fate, or is it karma?, has its own ideas with Walker Lund determined to find that sexy assailant.
The Characters
Trinity Amelia Carlson is an artist born on the wrong side of the blanket. Buttons is her cat. Laura is her stepmonster who decided she should be called "Amelia" as "Trinity" was too hippie-ish of a name. Kathryn (who just got engaged to Meyer) is her younger half-sister, who got Grandma Minnie's pearls!, the ones that were to come to Trinity. Bobby is a half-brother. Robert Carlson is her father, a former senator, and CEO of Carlson Technologies. Paul is his aide.
Trinity is a "quart and a half low on normal, but you're still not more than a smidge or two of crazy-pants".
Genevieve is one of her best friends; Connor is the sexy rugby boy she meets at the start. The snippy Ramon, an artist with a fine arts degree who supplements his income by running a food truck, is another of Trinity's friends. Davina is Ramon's wife; Esteban is his brother. The realistic Miguel is Ramon's partner in the food truck business. Nicolai is another friend and fellow artist.
Walker Lund broke from the family firm and is a successful contractor, partners with Jase Flint in their renovation/restoration business, Flint & Lund. Betsy is their office manager. Megan is the receptionist who makes bad coffee. Tiffany is Jase's wife.
The Lunds are…
…the owners of Lund Industries (LI), a family-run corporation worth billions. Brady is his older brother, who hooked up with Lennox Greene in What You Need, 1. Annika is their sister who heads up the PR department. Jenson "the Rocket" is the younger brother who plays football for the Vikings. Aggie is his about-to-be-former agent. Dallas is the baby and still in college. Ward (the middle Lund son) and Selka (she's their Swedish mother who likes to play up English-as-a-second-language) are their parents. Grandpa Jenson taught Walker about carpentry; Grandpa Lund was a major jerk.
Archer is Ward's older brother and the CEO. Monte is the younger brother and president of the LI board of directors. Walker's cousins include Jaxson, Ash, and Nolan. Jaxson "Stonewall" Lund plays hockey with the Chicago Blackhawks; Milora Michele "Mimi" Lund is his daughter. Lucy, a.k.a., Lucifer, is his ex-wife. Ash Lund is the chief operating officer for LI, and Nolan Lund is dating Paris. Aunts Edie and Priscilla are only some of the Lund matriarchs who are matchmaking. At the Lund family's house, Fabian is the groundskeeper. Maxwell is the head of catering.
LCCO is…
…Lund Cares Community Outreach, one of LI's charities, and the kids are expected to volunteer their time. Chris is the director of the Seventh Street Community Center's theatre group and Nate is his AD. And Walker has volunteered to build their sets.
Bob Higgins. Reggie is one of Walker's buddies. Igor, a Russian, and "Santa" Klaus "Axl" Hammerquist, a Swede, are hockey players and friends of Jaxson's. Kiley is Lennox's old roommate.
Esther Stephens is a potential buyer; Michael is her husband. Liddie had been Esther's best friend in college. Dagmar Kierkegaard is a freelance art curator who is a BIG name in the art world and a friend of Michael's.
Milo, an electrician, is Trinity's ex-boyfriend. Penelope is the toothpick-sized, D-cup he's dating. Randy is the previous ex-boyfriend. Tommy and Vance are a couple of guys at the bar. Walker has had some crazy exes, including Firebug Fiona, Wailing Whitney, Neurotic Natalie, Angry Amy, Vicious Vera, and Zoned-Out Zoë.
The Cover and Title
The cover is soft with its blue sky and pink sunset over the black silhouette of Minneapolis. Between the two colors are Trinity and Walker in a happy embrace, both blond, both in striped tops, and I gotta say Walker looks a lot like an old boyfriend of mine. The series information is teeny in white at the top while the author's name is large and pale yellow across their torsos. The title is small, in white, and at the bottom just above the buildings.
The title is Just What I Needed when Trinity kisses that strange blond at the bar.
Related Posts