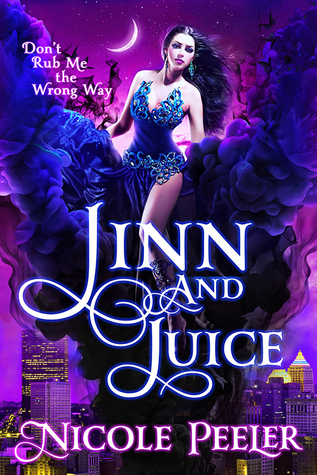 I received this book for free from Netgalley in exchange for an honest review. This does not affect my opinion of the book or the content of my review.
Jinn and Juice
by
Nicole Peeler
Genres:
Urban Fantasy
Published by
Orbit
on November 25, 2014
Pages:
384
Format:
eARC
Source:
Netgalley
Buy on Amazon
Goodreads
Born in ancient Persia, Leila turned to her house Jinni, Kouros, for help escaping an arranged marriage. Kouros did make it impossible for her to marry—by cursing Leila to live a thousand years as a Jinni herself.

If she can remain unBound, Leila's curse will soon be over. But Ozan Sawyer, a Magi with the ability to See, Call, and Bind jinn has other plans.
Oz needs Leila to help him penetrate Pittsburgh's steel-soaked magic, a juice potent but poisonous to supernatural creatures, in order to find a missing girl with her own mysterious connection to Kouros. Unfortunately for Leila, becoming Bound to Oz may risk more than just her chance to be human once more—it could risk her very soul...

Jinn and Juice is the first in a new series by fantasy writer, Nicole Peeler, set in a world of immortal curses, powerful jinni and belly dancing.
First in The Jinn urban fantasy series and revolving around a jinn, a genie if you will: Lyla.
This ARC was provided by NetGalley and Orbit in exchange for an honest review.
My Take
Jinn and Juice has a feel of Peeler's Jane True series, but they are completely different. In fact, I had to keep checking who the author was to remind myself that this was a Peeler story. That's a success in my book.
There are layers in this: Lyla's hope for freedom, the dreams of Kouros, Oz's dilemma and unmasterly behavior, and the constraints of Pittsburgh. Peeler also tosses in lots of disjointed action and problems — from a first-person point-of-view — that she pulls together around the middle, resolves near the end, and then upends completely, leaving me gaping like a fish gasping for air. And wondering how soon The Jinn #2 is coming out!
And, LOL, Peeler grabs your attention from the get-go *more laughter*. You kinda expect a dog to hump your leg, but when the first four words are "The chubby little human", all bets are off *laughing some more*
Lyla's back story is sad and too typical for too many hundreds of years. Men seeing the female sex as a commodity to do with as they will. When you read of her father's reaction…oh, boy. I can thoroughly understand the bargain Lyla wants to make and why she chooses to learn how to precisely use and twist language around. Makes you understand why women pushed for women's lib!
It's when Lyla is caught that the true horror of what she's trapped into sinks into me. It is an awful thing that Oz does, and it is funny to watch as Lyla manipulates him into "commanding" her to do what she wants, lol. I also like how she makes him uncomfortable — he deserves it. Jerk. He's being such a hypocrite!
There's a good, if minor, lesson in here for anyone about being so intent on one end result that the ramifications of it happening don't even occur to one.
Lessons aside, Peeler has set up a fun and loyal cast of characters with a lot of, ahem, odd quirks.
"…we looked exactly as you'd imagine a gothic burlesque would look,
if it decided to do a SWAT team number."
Oh, boy. Charlie has an interesting…hobby. Ick. It contributes to the atmosphere at Purgatory, or as in Lyla's words, it's "early gothic circus from hell".
Then Oz throws that little twist in, just as Lyla discovers the joys of spooning.
"…we're all bound to different things. And one of the only bindings worth anything is what you make with other people."
It's a little I Dream of Jeannie, a circus, and cartoonish all rolled up into one. The combination creates a sparkle you want to read.
The Story
It's a race against time before Lyla's most passionate wish comes true. She's so close, so very close before she's caught again. Her only hope is her new Master's ignorance.
The Characters
Lyla La More is a belly-dancing thousand-year-old jinni, masterless for the moment, and she intends to keep it that way.
Ozan "Oz" Sawyer is a cultural anthropologist…and a Magi, desperate for help. His mother was Turkish and a doctor who worked for the Red Cresecent; it's how she met Oz's soldier dad.
The now-seventeen-year-old Tamina is the Pashtu granddaughter who spoke English.
Purgatory is…
…a bar for supernaturals with live entertainment. Trey is one of the bartenders, a werewolf. Big Bertha, a troll, is one of the bouncers. Aki is a kitsune and Purgatory's dishwasher. He's also a thief, spy, sneak, and general ne'er-do-well.
The entertainment includes…
…Rachel Divide is human, a psychic, a drag queen, and in love with the gay Charlie, the owner of Purgatory who is also a former Oracle. Yulia is Lyla's best friend and a will-o'-the-wisp. Trip and Trap are twin spider wraiths.
Sid is Bertha's uncle and a troll who lives under the Frick Bridge. Blood Sect is a vampire gang. Lorenzo is their leader. Sebastian is one of his, as is Diamond, an Immunda — and she knows she's not supposed to lure humans inside the bar.
Exterminators are…
…a type of supernatural police force who ensure that the purebloods and Immunda stay off human radar. The siren in charge is an old dancing buddy of Lyla's, Loretta, a.k.a., Marissa. Suki (a gaki) and Puny (a naga) are two of the best Exterminators.
Dimitri is a human Russian sorcerer.
Kouros is a supremely powerful and old jinn who grants Lyla her dearest wish.
Magi are of Turkish descent. Sideways is also known as the demonic plane, Faerie, Olympus, etc. Unbound means a jinni is masterless; a Bound jinni is more powerful with access to the Deep Magic. It also means she has a master and must obey. Purebloods are purely magical beings — sidhe Lords and jinn — while Immunda are everything else — sirens, vampires, satyrs, gaki, succubi ++ Having the Sight means you see things as they really are. Nodes are a confluence of ley lines. Gakis are spirit vampires. Nagas are snake-shapeshifters.
The Immunda call Pittsburgh the City of Misfit Toys because it's a haven for them, safe despite it's powerful — and poisoned — Node. The Man Hole is a defunct gay bar owned by Miss Rose.
A bugbear is a nasty monster who can jump like a flea. Fodden are nasty, hands that rise up from the earth to eat you. Sorcerers don't come to Pittsburgh usually. When they do, they come thinking to rule over the Misfit Toys.
The Cover and Title
The cover is gorgeous with its red-violet sky, a scimitar of moon over Lyla's right shoulder and the black-haired gorgeous Lyla costumed in a showy dance costume of beaded royal blue, thick royal blue smoke holding her up above the Pittsburgh skyline before it splits into an impression of wings.
The title is a flourish of swirls and curls in white outlined in more blue. Combine this jinni as Jinn and Juice and imagine the power Lyla wields with her unique ability.
Related Posts