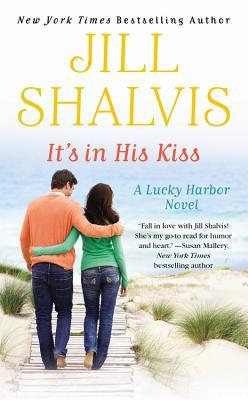 It's in His Kiss
by
Jill Shalvis
Genres:
Contemporary Romance
,
Romance
Published by
Grand Central Publishing
on August 26, 2014
Pages:
368
Format:
eARC
Source:
Netgalley
Goodreads
ONE KISS CAN LAST FOREVER
Becca Thorpe has uprooted her life and escaped to the beach. Now's her chance to get away from city living, throw caution to the ocean winds, and live in the moment. Especially if the moment includes the deliciously sexy surfer she meets shortly after arriving in Lucky Harbor. Something about the dark intensity of Sam's eyes and the thrill she gets at his touch convinces her to stay awhile.

Boatbuilder and investment genius Sam Brody is a self-made man who knows how dangerous it can be to mix business and pleasure. But he can't resist offering Becca a job just to hear her laugh and have her near. Yet when her brother comes to town asking for help, will he tempt her back to her glamorous life in the city? Or do Sam and little Lucky Harbor have a chance to win Becca's heart?
Also by this author:
He's So Fine
,
One in a Million
,
Forever and a Day
,
Second Chance Summer
,
Sweet Little Lies
,
Get A Clue
,
The Trouble with Mistletoe
,
Chasing Christmas Eve
,
"One Snowy Night"
,
Rainy Day Friends
,
Merry and Bright
Tenth in the Lucky Harbor romance series which has expanded beyond the three sisters and through the other inhabitants of town. The couple focus is on Becca Thorpe and Sam Brody.
A special thanks to NetGalley and Grand Central Publishing for allowing me to read this eARC.
My Take
It's that second paragraph that pulls me in, lol. How can you resist a woman who can appreciate a good popcorn? And it's that small town flavor that, in turn, pulls Becca in. People who take her to their hearts. A first for Becca. It's also Sam as he teaches her that love isn't always in the words, but it's Becca who points out another truism that applies to them both.
"Maybe you're too focused on the past instead of the here and now."

Hmmm, advice I need to take…
It's certainly a different twist on the sex with the girl wanting to dive right in, and the boy holding back. Oh, he wants to badly enough, but it has to be right, and he uses every excuse to try and stay away. Lucky for him he has his buddies who are very willing to run interference, lol. It's also a twist in that he is the one nurturing her. He wants to help, and he'll wait. He'll be patient yet relentless.
"You're still living in your head."
Seems Sam does have a couple of hot buttons, one of which is his dad.
I do like Sam's reasons for building boats…

"You should try it sometime … doing something for yourself."
Love that scene where Becca takes a lick of her ice cream as she appreciates the tableau of Sam, Tanner, and Cole, and then Olivia takes a lick of her ice cream. Can't ya just see it, lololol. Then the scene where Olivia and Becca are getting drunk and Sam comes a'knockin' on her door, but Becca doesn't want to see him. And she knows how thin those walls are.
I do like that Becca calls Sam on his no-dating policy. The scene is a bit awkward, but ya gotta laugh at the same time. Sam gets awkward again when Becca says those three little words no man wants to hear. It takes Cole to put Sam in his place with a firm reminder.
Jeez, her brother is such a jerk! And too much like too many people. If they don't experience what you do, then it's not real. You should be able to shake it off. It's not real. Because they don't feel it.
Ohh, then the Summer Bash when the band gets sick. Becca's kids want to perform and Becca is freaking until she realizes the truth of that gathering. I absolutely loved this bit…sigh… Something we should all remember.
I do love Shalvis' Lucky Harbor series. The stories have been cozy romances with various words of wisdom that anyone can apply to their own lives. I'm finding Shalvis one of those reliable writers, one I can't wait to cozy up with, expecting laughter, tears, and nuggets to tuck away.
The Story
It's an item on a list and a name that pulls Becca in. She's always wanted to see the ocean, and she could certainly use some luck.
Meanwhile, she needs a place to live. And a job. Luckily, Lucky Harbor Charter needs someone to organize them and answer the damn phone.
The Characters
Becca Thorpe, a.k.a., Peeper, is on the run from expectations and demands. A jingle writer and former concert pianist, she's blocked from her muse and hiding. Jase is her needy brother, the pianist who gets all the attention. Nathan Seagal, a longtime family friend, had been their manager until that one night. Evelyn, her mother, and her dad come to harass but encounter Sam first.
Sam "Grandma" Brody builds custom boats and keeps an eye on the finances for the charter company and a few friends. They say Sam knows everything, and he's got this need to take care of people. Mark Brody is his ne'er-do-well father. The man Sam supported his entire life and who is still leeching off his son.
Lucky Harbor Charters
If it's on or in the water, these guys can make it happen. And make you drool at the same time. It's Sam, Cole Donovan, and Tanner's baby. Cole is the captain, navigator, and mechanic while Tanner is an ex-Navy SEAL who now handles the planning and charting. I am curious where he fit the SEAL business in when the four of them were supposedly spending eight years aboard those oil rigs. Gil had been the fourth.
Amelia Donovan is Cole's mom and Sam's honorary mom. She took Sam in as a foster son years ago and has kept him ever since. Selena is a crazy almost girlfriend who scares me!
Lyons is Becca's new landlord. Lance is running the popcorn-ice cream stand on the pier. Jax Cullen is one of the owners of The Shack, and they need a waitress. Lucille is the local gossip queen, and she's older than dirt. Psst, she got kicked off Facebook! Olivia Bentley is Becca's new neighbor. Seems her store,  has grown too big. Ben is a longtime running partner of Sam's. Dr. Josh Scott is Mark's doctor and a friend of Sam's. Anderson runs the hardware store and hits on all the ladies. Yvonne is a client at Lucky Harbor Charters.
The rec center
Jack Harper is the fire marshal who hires Becca to teach at the rec center. Mitzy Gale runs the kids' programs at the center, and she's the principal at the elementary school. The kids include Pink, Kendra, Alex, Tray, Jose, and Carlos.
The Cover
The cover is a stroll on the boardwalk to the ocean, crossing the sand, heading toward all that blue that gradates up into a pale, pale blue. It's Sam and Becca, arm around shoulder and arm around waist, at peace with each other.
The title is all about Sexy Surfer's kiss, It's in His Kiss, as if Becca was his entire world.
Related Posts