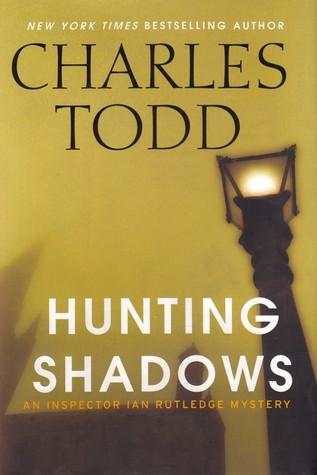 I received this book for free from the library in exchange for an honest review. This does not affect my opinion of the book or the content of my review.
Hunting Shadows
by
Charles Todd
Genres:
Historical
,
Mystery
Published by
William Morrow
on January 21, 2014
Pages:
330
Format:
Hardcover
Source:
the library
Goodreads
A society wedding at Ely Cathedral in Cambridgeshire becomes a crime scene when a man is murdered. After another body is found, the baffled local constabulary turns to Scotland Yard. Though the second crime had a witness, her description of the killer is so strange it's unbelievable.

Despite his experience, Inspector Ian Rutledge has few answers of his own. The victims are so different that there is no rhyme or reason to their deaths. Nothing logically seems to connect them—except the killer. As the investigation widens, a clear suspect emerges. But for Rutledge, the facts still don't add up, leaving him to question his own judgment.
Also by this author:
Question of Honor
,
An Unwilling Accomplice
,
A Pattern of Lies
,
A Fine Summer's Day
,
No Shred of Evidence
,
The Shattered Tree
,
Racing the Devil
,
A Casualty of War
,
The Gate Keeper
,
A Forgotten Place
,
The Black Ascot
,
A Divided Loyalty
Sixteenth in the Inspector Ian Rutledge historical mystery series and revolving around a WWI veteran suffering from PTSD as he solves crimes for Scotland Yard. The date is August 1920.
My Take
I find I much prefer the contemporary method of choosing a husband, and not worrying too much about what people think. Oh, we do still worry about that, but not as obsessively as the people of the 1920s and earlier did. When you look at how much went wrong. The loves lost, the lives lost. I cried.
So much that went wrong due to greed and that previously mentioned fear of what people think. It's such a fascinating look at the time period. The expectations, the mores, the worries and concerns. Some aspects I could wish we still paid heed to: the courtesy, the knowing of the people around you. Then there's the worries about keeping up with the Joneses, so to speak. The concerns about appearances and what is considered acceptable. I know we still try to "keep up with the Joneses", but it's not as important, as life-defining as it was here. When you realize how important appearances were in this, you'll be so grateful that society has lightened up. It's just sad to realize how terribly it affected people in the past. The waste of it.
As the series revolves around a traumatized soldier, there is always a background theme of war and its effects on men, on society. It's particularly absorbing as this was the first war that so violently changed society, and Todd gives us an inside view on how it affects individuals. In particular, an officer with intelligence and a conscience. And how terrifying that Ian's heroism in battle was a plea for death.
Interesting that it's mostly the women who see what Hutchinson was really like. It's also interesting to read about people gathering to watch people coming for an event. It didn't matter that it was a wedding for someone no one knew. It was something happening in their daily lives. Something different. When you think about it, these people didn't have television, the Internet, radios, or CDs. Nothing to entertain them at home. So it made sense that they'd gather for events that were out of the ordinary. A funeral. A wedding. Politicians speaking. It's made me think about our own lives now and how insulated we are from physical contact with others. News comes over the Internet, on television, or in newspapers so there isn't the need to gather in public. Entertainment is easy to find for a single individual, so there isn't the need to gather in the pub, on the village green, or cluster together on the neighbors' porches. No Twitter or Facebook. Not even a telephone to casually contact others.
I do enjoy the historical perspective that Todd includes on the foreign influences on the Fens and how it changed local architecture. The need for land that impels the scientific experiments to improve the fields for farming. The politics that are involved. The various professions the characters have that are no longer regular jobs in our time tickle my imagination: washerwoman, scissors grinder, hurdle maker, maids, ironmongers, ratcatchers, and more.
Todd has included layers of conflict as well. The background conflict is the insecure Markham, the new broom come to sweep the department clean, which has its own tension. Appearances are also a conflict with witnesses reluctant to denigrate the public reputation of the dead with some refusing to aid the police and others believing that the dead would want them to help find their killer(s). It does show how important even the least bit of gossip can be in ferreting out reasons and whys.
Todd keeps going back and forth, trying to find a connection between the dead men. Why does he never raise the question of there being a connection within the military?
I never knew this. That sharpshooters in World War I were shunned. It makes a kind of sense, as World War I was that bridge between the more "gentlemanly" war of individual swords, lances, pikes, and guns and a more brutal one of trench warfare and mustard gas. We don't see snipers today as men who have gone beyond the pale, and it's a cultural change that makes me curious. What sea change occurred that we no longer see a sharpshooter as someone to avoid?
In other ways, we're better off today, at least with the level of medical care. Sure, it's expensive today, but it does exist. When you read of what's available back then. Hoo, boy. Makes ya grateful.
I can't blame Alice Worth for not wanting to help Scotland Yard find Hutchinson's killer. I'd say she's gotten the justice she wanted. I think it's too bad that the justice was so swift.
The damage that war does to men, those unlucky enough to come back from it, who have to deal with the traumas of what they had to do, the memories they cannot avoid. It's not an experience that anyone who has not gone to war can understand, and this shows so well in Hunting Shadows. Governments expect soldiers to do as they're told, to endure what they must to achieve a government's ambition. When they're done, when the war is finished (or paused), those same soldiers who struggled through so much for another's aims are abandoned. It's so much easier to read an historical novel that deals with men missing limbs who are left to beg on the street, who struggle to deal with their memories and the injuries inflicted by battle, who battle at home for a job, to regain the lives they had to abandon, and we vent against a government who no longer cares about them. To think it's so much better in our day. And it's not. Today's soldiers have the same problems of an uncaring government, of having to pick up the threads of their lives such as they are, of struggling with medical issues caused by war. At least, thank god, today's soldiers don't have to deal with the invective that those returning from Vietnam had to deal with.
That letter from Meredith. How can she not know if the man is her missing husband? I don't get that.
That box from Africa…insisting on being buried in Bury…it's too sad, and I can't help crying for how stupid it all was.
Damn, the red herrings in this! It's gossip that truly solves this case, providing the leads that drill down to the truth. The horrifying, awful truth of a psychopathic personality.
What's amazing is how Todd ties it all together at the end. The if onlys it raises will make you weep.
The Story
Major Clayton had saved his life. Now, the least he could do was pay his respects. Respects that became an impossibility when he saw the one man who had blighted so many lives.
It's anger that causes a society wedding at Ely Cathedral in Cambridgeshire to become a crime scene when a man is murdered. After another body is found, the baffled local constabulary turns to Scotland Yard. Though the second crime had a witness, her description of the killer is so strange it's unbelievable.
Despite his experience, Inspector Ian Rutledge has few answers of his own. The victims are so different that there is no rhyme or reason to their deaths. Nothing logically seems to connect them — except the killer. As the investigation widens, a clear suspect emerges. But for Rutledge, the facts still don't add up, leaving him to question his own judgment.
The Characters
Inspector Ian Rutledge dives into work, into investigating to quiet his own ghosts. Corporal Hamish MacLeod is the most prevalent ghost. One who has followed Ian from the battlefield where Ian shot him as an example. Jean is the fiancée who wouldn't cope. Meredith Channing is another who left Ian. The newly engaged Frances is Ian's worried sister. Molly is her maid. Melinda Crawford is an old friend of the family.
Mr. Belford is likely to be with Military Intelligence and not a man to whom Ian wishes to be beholden.
Scotland Yard
Acting Chief Superintendent Markham (he's replaced Chief Superintendent Bowles after his heart attack) hates Rutledge. Sergeant Gibson is Rutledge's contact and will suss out more information for him.
Constable Lark is based in Wicken.
Wriston, in the Fens
Marcella Trowbridge lives in the cottage out by the windmill, the Bower House. Clarissa is her wayward cat. The lonely Miss Priscilla Bartram runs The Dutchman Inn which has its own colorful history. Mr. Banner is the butcher. Mrs. Percy, an elderly seamstress, is being ridiculed for telling the truth. I'd like to smack that constable and the inspector around! Martin Ross is the ironmonger whose dormer window was used.
Herbert Swift, a solicitor, is a popular Tory candidate who is seeking escape from the loss in his life. Eileen was his wife; Susan Tompkins had been her maid before she went to work for the insightful and compassionate rector, Andrew March. The other legitimate brother kept the farm. Anson Swift was the angry bastard son who left. His rival is the Liberal candidate who is more interested in the free beer. Constable McBride is based here. Burrows is a farmer who has a close call; his daughter, Meg, is worried. Bill Waters has a dog they'll borrow, Hector. Sam Turner has a ghastly encounter. Mrs. Prescott had her own selfish reasons to question Herbert Swift. Ben Montgomery had been a rival with Swift over the same girl, Helena. She became engaged to Dr. James Trowbridge. Randolph Abbot is the husband of one of the Montgomery daughters who now runs the farm. Mrs. Abbot's older sister married a horse trainer, Ted. Angus is the man who took care of the windmill after he took it over from Mr. Sherborne. Dr. Harris treats Burrows' infection. Seems Mrs. Harris has some useful gossip for Ian from her cousin, Alice Worth, who was Mary Hutchinson's friend.
Corporal Peter Jenkins, a cobbler before the war, drifted through some weeks ago. Jeremiah Brenner is the ratcatcher.
The wedding at Ely
Captain Gordon Hutchinson is an opportunistic butt-kisser, quick to seize the advantage. Mary is the wife he drove to suicide. The Honorable Reginald Sedley and his wife, Eugenia, were Hutchinson's hosts. Major Alexander Lowell, a close friend to the bride's father, was an artillery man who took charge; Colonel Rollins left him to it. Dr. Bradley holds by his statement. Jason Fallowfield was the bridegroom and Hutchinson's cousin. Barbara was the bride. Mr. Hurley is the rector at St. Mary's. Mr. Harvey loves windmills. Mrs. Boggs is a washerwoman and a good witness as is the deaf Teddy Mathews who came to see what the fuss was about. Sadie is the sister who cares for him.
Inspector Warren is based in Ely.
Isleham
Lieutenant Kimber Thornton is sick of war, of society. Tom Hendricks has a little dog.
Soham
The hurdle maker, whom Ruskin went after with an ax, is a Lovat. Paul Ruskin is a cooper.
The funeral at Burwell
Majror Clayton had died and it's most likely a blessing. His sister, Vera, will inherit everything. Mrs. FitzPatrick is the woman with whom Miss Clayton stayed while in Burwell. Colonel Nelson came up from London for the funeral.
London
Miss Hutchinson is a cold woman who doesn't seem too interested in finding her brother's killer. Of course, she's not interested in anyone but herself anyway. Miss Newland was Mrs. Mary Hutchinson's maid who got pensioned off. Mrs. Cookson is the careful housekeeper. Thaddeus Whiting was Mary's uncle and guardian. Catriona Beaton was the young Scots maid taken on. MacLaren at Trahir House was Catriona's grandfather and was with the Lovat Scouts in the war.
Newmarket was for…
…the races that military men and Whiting came for. Constable Henry is based here. Michael Flannery is one of the trainers. Baron is a barrister. Others in the story visited Newmarket.
Mary Whiting is the woman he loved.
Black Shuck is a harbinger in the Fens.
The Cover and Title
The cover carries a feel of smoggy London with its hazy mustard yellow background. The perspective is from the ground up, looking up at a solid black iron street lamp with its gassy bright yellow glow and the fuzzy buildings lurking in the background.
The title is almost a giving-up, Inspector Warren's frustration at Hunting Shadows.
Related Posts