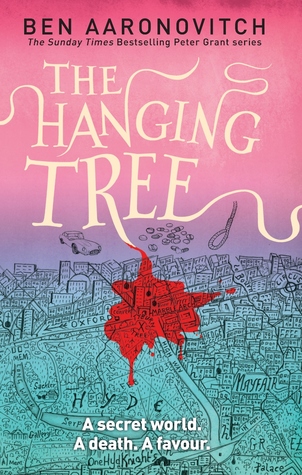 I received this book for free from the library in exchange for an honest review. This does not affect my opinion of the book or the content of my review.
The Hanging Tree
by
Ben Aaronovitch
Series:
,
Genres:
British
,
Urban Fantasy
,
Detective
Published by
DAW Books
on January 31, 2017
Pages:
292
Source:
the library
Buy on Amazon
Goodreads
Also by this author:
Midnight Riot
,
Whispers Under Ground
,
Broken Homes
,
"The Furthest Station"
,
Lies Sleeping
,
False Value
,
"What Abigail Did That Summer"
Sixth in the PC Peter Grant urban fantasy-detective mystery series (a.k.a., the Rivers of London series) set in London and revolving around a magic division of the police, in particular one police constable learning the trade, the magic one.
A character's color or race never seem to impact me much, and it wasn't until this story — the sixth!! — that it dawned on me that some might want to know — and revel — in a story in which a black man is the hero. So take it away, Police Constable Peter Grant…
My Take
The inner thoughts hook and that first-person protagonist point-of-view is what pulls you in, as Peter makes it personal. Lord knows he has plenty going on as the Folly liaison with the goddesses, his relationship with Beverley, his encounter with Caroline and what that all brings to light — whoo-wee, those two are going to make it interesting, and the truth about the Faceless Man. Hang on for a ride!
Oh, yeah, this is so character versus character, as the Folly and the new pair go up against the bad guy(s) with plenty of interference all around. New pair, you ask? I suspect Aaronovitch is increasing the number of core magic characters.
Lady Ty puts Peter between a rock and a hard place, and I had to laugh at how quiet Peter kept it all. I also gotta wonder just how smart Olivia is when she "confesses" right off the bat.
On being pulled over by the cops, Peter is told that he "just looked so bloody cheerful — it was suspicious."
It's a game of cat-and-mouse…or should I say fox-and-hound?…as Peter is led on a merry chase.
There's plenty of back history in this from Lady Helena's past — one that includes the original Faceless Man back in her '60s days as a wild child — and her ancestors', Sir Isaac Newton's involvement, the American version of the Folly, the "day the British government forced practitioners to clean up and the women got dumped — sound familiar?
You could say that the inciting incident is a variation on the closed-door mystery, and Aaronovitch follows it up with flashbacks, analepsis, those bloody red herrings, and a eucatastrophic ending, what with the Faceless Man 2.0 and Peter's revelation about Lesley's importance.
I know it's inconsequential, but the way Aaronovitch describes the "explosion" of the wealthy's houses, oh man, it's too funny, and partly because you just know the rich are probably doing it for real.
Yep, Aaronovitch is as snarky as ever with plenty of action and humor to keep you flippin' those pages.
The Story
Lady Ty's daughter is caught up in a mess, and Lady Ty wants her kept out. It's time for Peter to pay back that favor, and it all goes for a ball of chalk.
Everyone is lying about everything, and it'll take a monumental effort — and new friends — to sort it all out.
The Characters
Police Constable (PC) Peter Grant is an apprentice in magic under Nightingale. His dad, Richard "Lord" Grant, is making his jazz comeback at the Bull's Head with his band. His mum is from the Fula tribe in Sierra Leone.
Lord Grant's Irregulars include Jimmy Lochrane (teaches seventeenth century French history) on drums, Max Harwood plays bass and is an integrated systems specialist for the London Underground, and Daniel Hossack, a classically trained music teacher, is on keyboard.
Beverley is Peter's girlfriend, one of Lady Ty's sisters, and goddess of the Beverley Brook who is reading Environmental Science. Maksim is the administrator and only employee of the Beverley Brook Conservation Improvement Trust. Douglas and Melanie are some of Beverley's friends from university.
The London Police
The Folly, a.k.a.…
…the Society of the Wise, was founded by Sir Isaac Newton and is the headquarters for the wizards. Detective Chief Inspector Thomas Nightingale, a.k.a., the starling, is in charge and is a formidable man and practitioner. Dr. Harold Postmartin is the official archivist for the Folly. The Scottish Dr. Walid is their forensic pathologist with experience in magic as well as being a gastroenterologist. Dr. Jennifer Vaughan is the clever assistant Walid is training up. Molly is something other and acts as the Folly's housekeeper and cook. Toby is the little dog they inherited from a victim in Midnight Riot, 1. Russell House Press is a publishing company for the Folly.
Operation Marigold is…
…the name the police give the investigation into the death of the girl. Detective Constable (DC) Sahra Guleed, a.k.a., the Muslim ninja, has worked with Peter in the past. Her boss is Detective Chief Inspector (DCI) Alexander Seawoll who is not a Folly fan. Detective Inspector (DI) Stephanopoulos was first on-scene. When Peter is in the police station, he shares a desk with Guleed and DC David Carey. DC Fergus Ryan is brand new. Detective Sergeant (DS) Kittredge is with Counter Terrorism Command (CTC) along with Finula and Blondie. Seems CTC is concerned about the abilities of those at the Folly.
DI William Pollock from the Department of Professional Standards is in charge of Operation Carthorse, the hunt for Lesley May, a colleague of Peter's until she betrayed them all in Broken Homes, 4. Deputy Assistant Commissioner Folsom is leaning on the Folly. Frank Caffrey is a fire investigation officer, a former para, and a Folly liaison. PC Omer Kubat (he's so gorgeous that nobody ever believes he's with the police) will take part in the raid on the Fox Club.
The Diplomatic Protection Group (they do bodyguard work for Royals and others whom the government wants alive) wants to get their fingers in.
The Americans
Special Agent Kim Reynolds is with the FBI and worked with Peter in Whispers Under Ground, 3, during Operation Matchbox. As a result, she was transferred to the Office of Partner Engagement. Peter reckons it's their X-Files.
The Virginia Gentlemen are…
…a.k.a., the Virgins, the American version of the Folly. Crew Cut, a.k.a., former reserve Captain Dean Miller, is an American with three thuggish friends including Teddy and Andy?, who are with Alderman Technical Solutions, which is based in Virginia and does contract work for the government.
The Magic
Lady Ty, a.k.a., Lady Cecelia Tyburn-Thames (the goddess of the Tyburn River and a non-executive director for five firms), wants that favor paid off now. Olivia Jane McAllister-Thames is her daughter; I think Stephen is their son. Her husband, George McAllister-Thames, is a civil engineer and out of the country. More family includes Sir William of Tyburn, an early ancestor and old Father Thames' son. Her sister, River Fleet, is married to a Fae. Oxley is married to Isis, and Effra is married to Oberon. Brent and the nine-year-old Nicky are more of Ty and Beverley's [black] sisters.
Phoebe Beaumont-Jones is Olivia's best friend. Her father, Jeremy Beaumont-Jones, is filthy rich.
Reynard Fossman (Broken Homes) claimed he was a fairytale prince; in truth, he's from a long line of foxes.
Christina Chorley had been seventeen. Her boyfriend had been James Murray, also seventeen. Martin Chorley is her father. More of the partiers included Maureen, Rod Crawford, and Albertina Pryce, a fellow student of Olivia's, and Alasdair who is Albertina's boyfriend. Albert Pryce is her father, a Booker Prize shortlistee and so incredibly obnoxious you want to punch him out. Aiden Burghley is a wannabe suburban drug dealer. Patricia Polly is his solicitor.
Awa Shambir had been a cleaning lady back in the day when Peter was arresting her (Broken Homes). Lady Caroline Elizabeth Louise Linden-Limmer (her mum's a viscountess, Lady Helena, who was trained by her mum and comes from a long line of magic users) has quite a few tricks up her sleeve, besides having been a man.
The Chestnut Tree is…
…a famous pub in Marble Arch for the demi-monde and owned by Chipmunk Catering which is owned by County Gard which is registered to James Hodgkins. Michael Cheung claims to be a legendary swordsman. Wanda Pourier is the manager of the pub and a Falloy, a creature who's half-human, and various parts Seelie and Unseelie fae.
Operation Wentworth is the investigation into the demolition of Skygarden, which happened to be managed by County Gard Ltd (Broken Homes).
The Quiet People were…
…living quietly in the tunnels alongside London's Underground. Zachary Palmer is a goblin boy and Lesley's former lover. Since Whispers Under Ground, he's become the liaison for the Quiet People. Elizabeth Ten-Tons is the daughter of their king.
Dr. Death is the street name for PMA, a.k.a., Magic Babars. Hyperthaumaturgical degradation is when the magic uses up your brain. Demi-monde is shorthand for the people involved in some way with magic. The Third Principia is a lost manuscript written by Sir Isaac Newton. A shade is a creature that looks like a man but walks in the shadows. Vestigia is an afterglow from magic. Babbage and Ada Lovelace, Byron's daughter, had worked on a Mary Engine. Witches were strong during the time of Caroline of Ansbach who was married to George II. The queen had done experiments and kept company with Phillip Boucherett, a former protégé of Isaac Newton's. Jonathan Wild, a self-styled Thief Taker General back in 1725, was a fence, and his final The Wild Ledger is up for auction. Sir John Maynard Keynes had been an associate of a magic group back in the day.
The Little Crocodiles (Moon Over Soho, 2) had been a dining club at Oxford University who gathered to learn magic under Geoffrey Wheatcroft. It's the club that spawned the first Faceless Man, Albert Woodville-Gentle, a magical serial killer (Whispers Under Ground). Seems Varvara Sidorovna Tamonina is a lying witch. Larry "the Lark" Piercingham didn't fare too well under Faceless Man 1.0 (Broken Homes.
Thomas Gantry and his dog, Chuck, found one of the victims. Witnesses to the flood include David Hantsworth.
The Cover and Title
The cover is consistent with previous books in the series with its line-drawn map of the city of London and a bloody splot, bleeding out from the R of the title and marking that part of the city involved in the story. The background itself is gradated from a mint green at the bottom up to a bright pink at the top where the author's name is in black. Below it is the title in a pale yellow, fanciful font. Between title and map are additional line drawings of a car, pills, and a hangman's noose.
The title is a key clue, The Hanging Tree of the past.
Related Posts