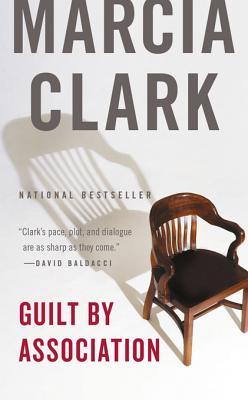 Guilt by Association
by
Marcia Clark
Genres:
Mystery
,
Thriller
Published by
Mulholland Books
on January 26, 2012
Pages:
432
Format:
eARC
Source:
Netgalley
Goodreads
Los Angeles D.A. Rachel Knight is a tenacious, wise-cracking, and fiercely intelligent prosecutor in the city's most elite division. When her colleague, Jake, is found dead at a grisly crime scene, Rachel is shaken to the core. She must take over his toughest case: the assault of a young woman from a prominent family.

But she can't stop herself from digging deeper into Jake's death, a decision that exposes a world of power and violence and will have her risking her reputation--and her life--to find the truth.

With her tremendous expertise in the nuances of L.A. courts and crime, and with a vibrant ensemble cast of characters, Marcia Clark combines intimate detail, riotous humor, and visceral action in a debut thriller that marks the launch of a major new figure on the crime-writing scene.
Also by this author:
Guilt by Degrees
,
Killer Ambition
,
The Competition
First in the Rachel Knight legal thriller mystery series and revolving around an L.A. prosecutor. In this story, she's investigating a fellow lawyer's death while working on the Densmore case about a daughter who was raped.
My thanks to NetGalley and Mulholland Books for providing this ARC for my enjoyment.
My Take
Just like Brian Freeman's The Bone House, people are leaping to salacious conclusions. Hey, what fun is it to wait for the truth when you can start judging without the facts? Take the easiest way out.
It's Kevin Jerreau who puts it in perspective, asking Rachel why she hasn't asked if he knew Jake was gay. Her answer is a truth that most people ignore.
That said, Clark goes to town on this, dragging us around in circles with the evidence mounting and only Rachel's belief in her friend holding on.
This is a fun and exciting combination of life outside work and the work itself. It's pretty much 24/7 for Rachel and Bailey; they're prepared to leap up and go whenever the call arrives. When they're not working, they're partying with Toni and enjoying the convenience of Rachel's hotel room — and that lovely room service! Ooh, here's a new perspective from Graden on the J.D.-Toni dance!
It makes me so sad and depressed to see what happens to kids whose parents are such losers. Well, losers or jerks. If we could provide more support to these kids when they're kids, we'd cut back on the adult criminals and abusive parents so many of them become. Then there are the foster parents just in it for the checks. These kids can't get a break.
Fortunately, there are some fun moments, like that exchange over lunch at Graden and Rachel's first date:
"'I sell dope on the side,' he said with a grin.

'Oh good. I was worried you might be doing something sleazy. Like movie-set security.'"
Rachel's attitude with the rape victim was so soft and non-threatening. A very nice sensitivity on her part. I love that Rachel wants, no, demands the truth and doesn't allow anyone to roll over her. You know what else I like about this story? The cooperation between cops, techs, and lawyers. Sure there are those who don't — makes for a better story, *grin*, but I like Graden offering to help out, listening to Rachel's concerns. Of course, there are the clues that Rachel and Bailey follow. It always amazes me how cops can start with almost nothing and keep pulling threads and trying different casts.
Very nice with the ganger sentence structure. Clark "said" a lot with Luis' grammar and his corrections. An excellent example of show. Yep, I am gonna like Luis. He's got spirit, ambition, and chutzpah, lol.
The Story
Coming off a court victory, Rachel is finally heading home when she runs across a very busy crime scene some lieutenant tries to chase her out of. Rachel very quickly discovers why when she sees Jake being wheeled out on the gurney.
Murder-suicide. Star lawyer kills his seventeen-year-old male lover and then kills himself in a rathole of a motel.
Rachel refuses to believe it. She won't believe it. And she'll do everything in her power to prove it. Meanwhile, she has to dodge the gang members who are hunting her down.
The Characters
Deputy District Attorney Rachel Knight is with Special Trials and lives at the Biltmore Hotel — a gift from a grateful client. Romy is/was Rachel's older sister, kidnapped when she was eleven. Carla "the Crone" is a friend and Rachel's childhood therapist. Daniel Rose is a "world-class criminal defense attorney … sought-after Strickland expert. And for a brief time, he was the paranoid Rachel's boyfriend until she kicked him to the curb. Now he's back in town… Beatrice Danziger is a friend who'll help out. "Prally" a felony! Lucky for Luis that his cousin, Enrique, looks a lot like him.
Special Trials is…
…"a small elite unit that handled the most complex and high-profile cases". The angelic Jake Pahlmeyer is a kindred spirit for Rachel; they both see prosecution as a mission to balance the victim's suffering with a measure of justice. Toni LaCollier is another Special Trials prosecutor and another of Rachel's best friends. Eric Northrup is the head deputy; Melia Espinoza, a.k.a., Gossip Central, is his useless, tabloid-reading secretary. District Attorney William Vanderhorn is in charge, but clueless.
The gay Kevin Jerreau is a deputy in charge over at Juvenile; he was a baby DA with Rachel.
The Judges
Judge Tynan does not tolerate bad language. J.D. Morgan is Toni's off-again, on-again boyfriend. Attorneys on both sides like him because he's fair. A former cop and "whip-smart with life experience … and an infectious laugh", he's commitment-phobic.
The LAPD
The brilliant Detective Bailey Keller is with Robbery-Homicide and one of Rachel's best friends. Lieutenant Graden Hales is Bailey's boss at Robbery-Homicide; he was into creating video games as a kid and one went off after his brother Devon worked up Code Three. He catches Jake's suicide. Detective Hughes "Useless" Lambkin is in charge of the Densmore case.
Coroner's Office and Scientific Investigation Division (SID)
Scott Ferrier is a coroner's investigator and a friend of Rachel's, one who'll do her special favors. Dorian Struck is "one of the few veteran female criminalists" and has been around for twenty-two years. I do like her. She's abrupt and abrasive. And very good at her job. Ben Glosky is another criminalist and almost as good as Dorian. Fukai does DNA testing. Dr. Loujian is the coroner.
Jake's death
Kit Chalmers was the boy found with Jake, and he's got a long rap sheet, all misdemeanors. Including the prostitution charge. Kit went to school at Marsden High where Ms. Wilder is the counselor holding up on the cell phone. Eddie and Dante are Kit's friends with information. Olive Horner was his last foster-mother. T'Chia Arendt was Kit's girlfriend, although Rachel has her own interpretation. Adam is a new foster kid with Olive, and he knows the dirt on Jake Pahlmeyer and Kit.
Jake's sister, Jennifer, is a psychologist doing research. Perfect since she's not into people.
Clive Zorn heads up a vigilante group, PedoAlert, that focuses on capture pedophiles and child pornographers. He's on the up-and-up with good tips on what to look for.
The Densmore case
Dr. Frank Densmore has an ego to beat the band (I wanna smack him around!) and commands everyone to leap to his bidding, including the cops whom he informs as to the identity of the perpetrator. Susan Densmore is his daughter, and she was raped one night in their home. Janet is his wife. Esperanza is the housekeeper.
Norman Chernow is head of security for the neighborhood. Deputy Duane Pickleman has some questions to answer. Amy Pickleman, a runaway, and Deandra Scorper live with Duane. Carl Stayner is Aryan Brotherhood and getting all chummy with the kids. Fred Goins is a deputy district attorney in Florida. Miley Barone is a personal trainer.
Luis Revelo is the gangbanger Susan was helping through a program at school. His gang is the Sylmar Sevens, and he's their shot-caller. Manny and Hector "Droopy" Amaya, arrested for burglary a few doors from Susan's, are two of the boys. Tyrone Jackson is Luis' parole officer.
The doc has a string of health centers: Evelyn Durrell is the office administrator at the Beverly Hills clinic, and the Hollywood Children's Health Center is run by Sheila Houghton.
The Biltmore Hotel
Rachel lives at the hotel through a deal with its CEO. Angel is the doorman. Rafi is the valet annoyed with Rachel for her lack of car use. Tommy is the night manager. Drew Rayford is another friend of Rachel's and her favorite bartender. Elan is hotel security. Zoey runs the hotel office. Desiree is a frequent tranny who makes Rachel smile.
The Cover
I like the simplicity of the new cover. A white background with the typical wooden court chair off-center and cocked with a long shadow being thrown behind it. Hmmm, the long arm of the law reaching out…? The author's name is huge at the top, but the darker gray helps it blend back while the red of the smaller title at the base of the cover gives it a bit more oomph.
I think the title is a reflection and judgment on the cops, feds, and lawyers who believe the worse of Jake as well as Dr. Densmore. As far as they're all concerned, it's Guilt by Association.
Related Posts