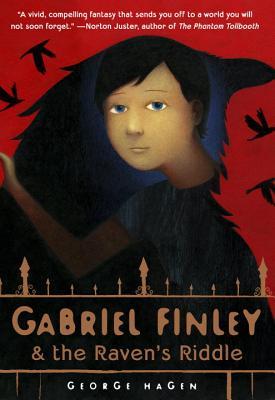 Gabriel Finley and the Raven's Riddle
by
George Hagen
Genres:
Fantasy
,
Middle Grade
Published by
Schwartz & Wade
on August 26, 2014
Pages:
284
Format:
eARC
Source:
Netgalley
Goodreads
How can twelve-year-old Gabriel find his missing father, who seems to have vanished without a trace? With the help of Paladin—a young raven with whom he has a magical bond that enables them to become one creature—he flies to the foreboding land of Aviopolis, where he must face a series of difficult challenges and unanswerable riddles that could lead to his father... or to his death.
I suspect this is the first in a series, although Hagen hasn't given it a name yet. It's a fantasy for middle-grade readers, and the story is based in Brooklyn.
A special thanks to NetGalley and Schwartz & Wade for allowing me to enjoy this eARC.
My Take
This truly was great fun with a unique twist incorporating vampirism. It's a combination of family, bullying, shapeshifting of a sort, and my favorite part, the riddles. Why is it my favorite? Because I can figure most of them out!! Woo-hoo! Usually I'm terrible at riddles.
Hagen starts with a raven origin story, why ravens no longer speak to us, and it makes me wonder if this is more of a horror story. If it is, parents needn't worry about this keeping the kids up at night as it's really very mild with a breath of the Lord of the Rings in this when they descend into Aviopolis.
It's an odd story with uneven execution. Some parts are just brilliant and make me question and laugh; other parts don't seem well thought-out. Parts like Mrs. Baskin. Why on earth does Aunt Jaz allowing the bullying from the "friend" whom she's helping out of a tight spot? Why is this stupid, mean, nasty, wicked woman even being so mean? What business is it of hers to be ordering Gabriel around? Part of me kept expecting to discover she was hand-in-glove with the bad guy. Or, maybe she's infected?! She's also a cookbook editor…how is it possible she's never learned anything from the books she's edited? Plus she's obsessed about sugar- and salt-free! Oh man, how Mrs. Baskin would hate the sound of that luscious, yummy bowl of oatmeal. I gots ta pick me up some cream!
"'Bouillabaisse?' he repeated. 'Is that French for socks?'

'Judging from the colors bubbling around the lid, the evening's dinner was a brown sweater.'"
You know, I don't get that part about Baskin and daughter having no home. Since their apartment building burned down, they're obviously not having to pay any rent. So why can't they go rent another apartment?
Why is Gabriel's father so passive with Corax? It's one thing to hope that one's brother will come back to the light, so to speak, but it's another to be naive enough not to take precautions. Nor do I understand why Hagen sets up these possibilities for betrayal and then doesn't do anything with them. They would have created some great tension. There's no point even setting this up if you're not going to do something with it.
At one point, Paladin questions Septimus' claim that he's a good friend of Gabriel's father, and it still doesn't seem to make a dent in their thinking. Can these two possibly be any more dense and naive? Of course, so is his dad, giving away the secret of how to get the torc from Gabriel while they're still in Aviopolis. Duh much?
The illustrations are great, as are a number of events in the story: a treasure hunt with a shy, dancing desk, flying through the city, a sister who makes candy(!), an underground city, a magical violin, a silly dodo, and a cursed torc. I did enjoy the Chasm of Doubt and how the children got over it. Very neat. There's a sweet story about how Adam met his wife.
Hagen cracked me up with his description of Aunt Jaz's reaction to Gabriel growing out of his clothes: "She had been teaching for so many years that she assumed children came in one size: fourth grade." Hmmm, maybe this explains her cluelessness when it comes to that nasty cow of a friend of hers. I really am surprised that a schoolteacher wouldn't recognize rudeness. As for her friend's cooking? WHY does she put up with this?
Somes is an odd duck. And that's understating it.
As for the pigeons. Well, I had no idea, *grin*.
My last problem with this is that it was simply too easy. There's such promise in this, and I can see how it could be so much better.
"The awful thing about dark magic, you see. It takes whatever matters most to you that you'll forever  miss."
The Story
It's been three years since Gabriel's father disappeared, and Gabriel is getting more and more curious and anxious. Enough so that Aunt Jaz gives Gabriel his father's diary. A diary filled without wondrous ideas and fanciful possibilities.
But it will take a tragedy before Paladin and Gabriel become friends.
The Characters
Gabriel Finley is twelve and adores riddles, partially because of his father. Adam Finley. The one who disappeared three years ago. Corax is Adam's older brother, and he disappeared even longer ago. Silverwings was his amicus. Hmmm, I thought humans were the amicus? Well, I guess it goes both ways. He's also the leader of the valravens. Jasmine Finley is Adam and Corax's sister and a schoolteacher; she's taken care of Gabriel since his father disappeared.
Paladin is a baby raven destined to join with Gabriel. Endora is Paladin's mother. Baldasarre was Paladin's grandfather and Muninn is his ancestor. Bertolt is a bird who arrives with a warning. Twit is a melodramatic brown finch. Hobblewing is a raven who hatched in Pleshette's shop. Tiberius is an eagle with part of the riddle. Ulyssa, the leader of the Romany geese will send Gabriel on his path. Caruso is the owl who followed Paladin. More ravens include Specklewing, Hotspur, and Burbage who is Crawfin's brother.
The colorful and eccentric Abigail Chastain is another new student, and she likes riddles. She's also Gabriel's new neighbor as she and her family have moved into Addison's old house. Viv is the candy making sister while Etta is the other.
Somes Grindle is a new boy in Gabriel's class, and he's something of a bully. And he's a good example of why you should look beyond what you see initially. Mr. Grindle is his dad and works for the Quinn Bakery alongside his friend Arturo. Addison Sandoval is one of Gabriel's friends. Well, until he moves. Ms. Cumacho is their teacher.
The extremely rude Mrs. Baskin is a childhood friend of Aunt Jaz's  and a cookbook editor — and she still has a crush on Corax. She and her daughter, the violin-playing Pamela, have come to stay since their apartment building was destroyed by fire.
Crawfin is a raven and his amicus, the wishy-washy, cowardly Septimus Geiger, have a symbiotic relationship: Crawfin steals while Geiger tells him what to take.
An amicus is a raven's human friend. They can read each other's minds, share their bodies, and fly together — paravolating. Muninn and Huginn were the king's ravens, only Huginn bought into the wicked idea. Aviopolis is the city the dwarves built and which the king gave over to the birds. Pleshette's Exotics is a bird store owned by the suspicious Mr. Pleshette.
Valravens are immortal because they have eaten the flesh of their friend, their amicus. They're also very wicked and you'll need a riddle to tell the difference. Hookeye, Crooked Leg, Cromwell, and Grinderbeak are wicked valravens while Snitcher is one of the naughty robins.
The Cover
The cover is bold with its red background with the ravens flying through it. In front of it, Gabriel is superimposed on top of Paladin, a metaphor for their ability to join. I do like the wrought iron fence serving as a frame for the title.
The title introduces the excitement of Gabriel Finley and the Raven's Riddle, for Gabriel meets his amicus in a tragic moment and solves his riddle.
Related Posts