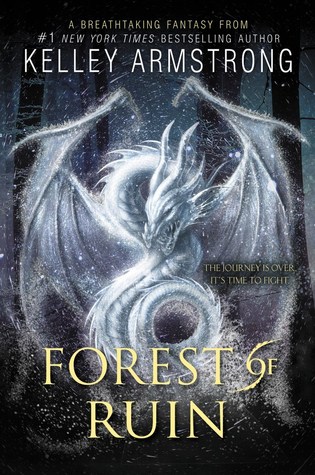 I received this book for free from the library in exchange for an honest review. This does not affect my opinion of the book or the content of my review.
Forest of Ruin
by
Kelley Armstrong
Genres:
Fantasy
Published by
HarperCollins
on April 5, 2016
Pages:
448
Format:
Hardcover
Source:
the library
Buy on Amazon
Goodreads
Also by this author:
Omens
,
Wild Justice
,
Sea of Shadows
,
Visions
,
The Masked Truth
,
City of the Lost
,
Betrayals
,
A Darkness Absolute
,
Indigo
,
Rituals
,
The Unquiet Past
,
This Fallen Prey
,
Stolen
,
Rough Justice
,
Dime Store Magic
,
Industrial Magic
,
Haunted
,
Broken
,
Dark Screams: Volume Nine
,
No Humans Involved,
,
Waking the Witch
,
Portents
,
Missing
,
Alone in the Wild
,
Watcher in the Woods
,
Otherworld Secrets
,
Wherever She Goes
,
"The Case of the Half-Demon Spy"
,
"Truth & Consequences"
,
"Territorial"
,
"Escape"
,
"Adventurer"
,
Otherworld Chills
,
A Stranger in Town
,
"Bargain"
,
Hex on the Beach
,
"Recruit"
,
"Checkmate"
,
"Framed"
,
Cursed Luck
,
High Jinx
,
Bitten
Third and last in the Age of Legend fantasy series for Young Adults and revolving around the twins, Moria the Keeper and Ashyn the Seeker of Edgewood.
My Take
On reading the start of the summary as "the empire rests on the edge of a knife", one would expect there to be a lot of tension, but it's really very lightweight. Dramatic, yes, but not enough to keep you awake at night.
Part of that drama is the emperor's command for Moria to return to her jailer. A sweeter drama is Tyrus' sense of honor. He's in love with Moria, but if she wants Gavril… Yet more is what is revealed when Moria dispels a shadow stalker.
Gavril's constant insistence on being Moria's friend and saying he's responsible for the massacre really annoys me. It also really annoys me that he thinks Moria should accept anything he says now that he claims he's reformed. Yeah, right…
We get the back history on Tatsu and Kitsune's past, as well as Gavril's reminiscing about his childhood. Poor kid. We get some of Ronan's back history as well when he reveals why he is so afraid to commit to Ashyn. Why he dare not shirk his duty.
One thing I absolutely adore about this series is the equality between boy and girl. Prince Tyrus loves that Moria is a strong person, just as he is a strong person in himself, willing to listen to others, to be considerate, to protect.
That done-to-death trope of not realizing that each loves the other has, yes, been done to death in this story. I wanted to bash Ronan and Ash over their heads for how incredibly obtuse Armstrong wrote them. I did, on the other hand, appreciate Ash's estimation of the situation, of all that Ronan would be giving up if he didn't pursue his original dream.
I must say, I won't miss the court Seeker and Keeper. Talk about hidebound idiots!?
It's an oddly dissatisfying ending with resolution for some and others are left hanging, and I suspect a second trilogy will be forthcoming.
The Story
Prince Tyrus has been branded a traitor to the empire, seduced by the evil Moria. It'll take a miracle to rehabilitate the prince and that "evil seductress" in the eyes of the people.
And it's a brutal demand that the emperor will enforce through betrayal.
The Characters
Moria is the Keeper with the power to banish evil spirits; Daigo is her wildcat and bond-beast, a Wildcat of the Immortals, possessed of the spirit of a great warrior. Prince Tyrus is the emperor's son by a beloved concubine, Maiko. Gavril Kitsune has been by turn, friend, traitor, jailer, and betrothed to Moria. With Tyrus, he had been his best friend. Kiri is Gavril's helpless mother.
Ashyn is the Seeker and a battle healer who soothes spirits…and Moria's twin. Tova is her bond-beast, a Hound of the Immortals. The casteless Ronan had been an exiled convict in the Forest of the Dead and determined to protect Ashyn. Jorn and Aidra are Ronan's siblings in the dubious care of an aunt.
Edwyn explains that he is the twins' grandfather from Silvershore. Tarquin is a guard. There are four types of dragon: snow, sand, timber, and rock. In one of Edwyn's stories, Isobo was a snow dragon with two children, Zuri and Ponto.
Emperor Jiro Tatsu is compassionate but hard and traitorous himself toward those he will use. Lysias is his captain of the guard. Thea and Ellyn are the insular court Keeper and Seeker.
Dalain is the son of the Warlord Okami, the Gray Wolf. Sabre is the tomboy daughter of a tribal chieftain within Okami's domain.
Alvar Kitsune is Gavril's traitorous, cowardly father who was exiled. Rametta is Alvar's ancient nursemaid. Halmond is the guard.
Toman is the leader of the bandits. Lord Jorojumo is a warlord.
The people of Edgewood were…
…turned into shadow stalkers by Alvar. Jonas, Niles, and Chera are from Edgewood; Hogan is from Fairview.
Simeon is the traitorous scholar.
The Keeper and the Seeker are highly respected, sacred positions and always held by twin girls. Neither can marry nor have a child without special permission.
Fiend dogs are shadow dogs, the spirits of warriors damned for cowardice. A shadow stalker is a bundle of souls caught in one body.
The Cover and Title
The cover is a'sparkle with a silver dragon rearing up, its wings flared open and raised above its head against a deep night background, trees silhouetted against it with a hint of dusk with the purple at the horizon. The title is in an embossed silver that does not stand out very well while the white for the rest of the text, including the author's name, stands out much better.
The title is something of a misnomer, unless the Forest of Ruin refers to Alvar.
Related Posts