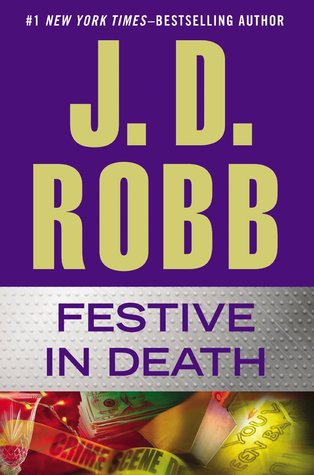 Festive in Death
by
J.D. Robb
Genres:
Romance
,
Romantic Suspense
on September 9, 2014
Pages:
389
Format:
Hardcover
Source:
the library
Goodreads
Eve Dallas deals with a homicide—and the holiday season—in the latest from the #1 New York Times bestselling author.

Personal trainer Trey Ziegler was in peak physical condition. If you didn't count the kitchen knife in his well-toned chest.

Lieutenant Eve Dallas soon discovers a lineup of women who'd been loved and left by the narcissistic gym rat. While Dallas sorts through the list of Ziegler's enemies, she's also dealing with her Christmas shopping list—plus the guest list for her and her billionaire husband's upcoming holiday bash.

Feeling less than festive, Dallas tries to put aside her distaste for the victim and solve the mystery of his death. There are just a few investigating days left before Christmas, and as New Year's 2061 approaches, this homicide cop is resolved to stop a cold-blooded killer.
Also by this author:
Mirror, Mirror
,
Obsession in Death
,
"Wonderment in Death"
,
Down the Rabbit Hole
,
Devoted in Death
,
Brotherhood in Death
,
Apprentice in Death
,
Echoes in Death
,
Secrets in Death
,
Dark in Death
,
Leverage in Death
,
"Interlude in Death"
,
Vendetta in Death
,
Golden in Death
,
Shadows in Death
,
Faithless in Death
Thirty-ninth in the In Death romantic suspense series and revolving around Lieutenant Eve Dallas and her gorgeous Irish husband, Roarke. The story is based in New York City in December 2060.
My Take
Jeez, this guy is such a jerk. I keep wanting Dallas to shut the case down and do anything else. I can't think of anyone who is more deserving of being murdered. How sad is that?
The more I read about this guy, the more I wish I could'a helped. I don't know how Robb does it, coming up with these major jerks in every book. Very impressive. And kinda scary…
I do adore Robb's In Death series. I can't help it. it's the right blend of mystery, science fiction — I so want an Auto Chef! — love, and conflict with such terrific characters. Eve and Roarke have it made with his money and yet the money isn't important. Sure Roarke enjoys having it to spend and "torture" his wife with gifts, and I adore hearing about the parties they give, but Robb has included some nasty psychological issues for both of them. It's been sweet — through all 39 of 'em so far, lol — to watch as Eve begins to come to terms with what happened to her. How being with Roarke has eased her heart. Loosened those bonds that have wrapped her up so tight, keeping her from experiencing life, having friends. That dream she has feels like an icebreaker for Eve and that effing father of hers. I'm looking forward to seeing how much further she gets in putting that early part of her life behind her.
Eve worries over those marriage rules and what to do with friends. Her frustration about who you have to give presents to is too funny for words. That bit where she finds out about the gifts room in the house? Priceless. You just know that Dallas has Dickhead in mind. I can't wait to see where Robb goes with that one in the future.
Hear, hear…
"If he doesn't want the cops to have all the information they can get on finding out who killed him, he's too stupid to live anyway."
Oh, lord, that Christmas tree the detectives put up in Homicide is too funny. Ya gotta keep your sense of humor when you're knee-deep in the kind of muck they trudge through, and it really shows this Christmas, lol. The banner the detectives put up about no matter how much of a jerk you are, if you get dead, they're there fer ya.
Ya gotta laugh every time Dallas screws up on timeworn clichés…until you remember why she doesn't know such basic cultural phrases. And then you'll want to cry, even as you appreciate how Robb makes use of the forbidden cliché.
Eve should know better. Make a deal with the devil, and you'll be decorating the house for Christmas too, lol. Roarke certainly got into the festive spirit with Galahad. Who'd'a thunk…
Eve and Roarke are so comfortable with each other. It cracks me up as they each explain how they'd destroy the other if they caught them cheating. Creative. Oh, I do love it when Eve goes after some guy who thinks he's superior to women.
Dallas has the nastiest dreams, and the ones in Festive in Death are bad and made worse by the victim and his attitude. It's those smart-ass remarks that make up for it…
"'Aw, Dallas, he called me a twat. How come you get to be a bitch, but I only get to be a twat.'

'It's the rank, Eve told her. 'You'll make bitch one day.'"
The bad is offset by so much good. I love that Eve and Roarke's two sides are blending more, being friendly with each other. There are intelligent people on both sides of their lives, and Eve and their people are learning. That party is such a treat to read about if only for those who discover how much they have in common, the surprises they spring on those around them.
"It's nice when the family gets together."
The struttin' Dee gets her pink magic coat, lol. This'll be fun!
There's a couple of nasty twists at the end. One of 'em is still making me cry.
"Did you ever wish you could turn back the clock? Just one day. Even just a few hours. … Did you ever wish you could do just that, just turn the clock back?
Festive in Death combines the best in books: characters you love and hate, laughter, tears, anger, despicable behavior, a mystery with twists, family, supportive friends, and love. Lots and lots of love.
The Story
It's murder, and it doesn't matter how much of a scum bag you are, Eve Dallas will stand for you. She will do everything in her power to find the guilty parties and take 'em down. Even if she does gag at the thought of her victim.
The Characters
Lieutenant Eve Dallas is not a girly-girl. She'd much rather get down in the mud, beating on a suspect than have to get all prettied up for one of Roarke's dinner parties. Roarke, a former thief, a brilliant e-man, is all man and still knows how to treat a lady. It helps that he's totally gorgeous and probably the richest man on earth. He has such fun teasing Eve, and she dishes it right back. Summerset is a father figure to Roarke and now works as his majordomo. He has an adversarial relationship with Eve. Galahad is their fat cat. Richard Troy is the father Eve killed to survive.
The NYPSD
Detective Delia Peabody is Dallas' partner and one of her best friends. She's cohabbing with Detective Ian McNab from the Electronics Detective Division (EDD) where yet another friend and Eve's mentor, Captain Feeney, is in charge. Detectives Baxter, Reineke, Jenkinson, Santiago (he found the tree and may start playing ball with Dexter from Roarke Industries), and Carmichael (she decorated it). Officer Trueheart is at the party with his girlfriend. The detectives are trying to be inclusive, ahem, Zombie Santa?
"We're all inclusive in Homicide, 'cause whatever your race, color, or creed, you can get dead."
Li Morris is the chief medical examiner, plays saxophone, and is starting to emerge from mourning for Amaryllis Coltraine. I do like Morris. He's intellectual with a sense of humor and lots of compassion. Dr. Garnet deWinter is the new forensic anthropologist and dating Morris, as friends. Commander Jack Whitney is Dallas' boss; his wife, Ana, is another one who scares Dallas. Officers Kenseko, Ryan, and Shelby are the ones on-scene at another murder. Cher Reo is the assistant prosecuting attorney with whom Dallas most often works. Dick "Dickhead" Berenski is the chief tech whom Eve has to bribe all the time, and everyone is shocked and appalled when he does the "sexy dance". Harvo is another tech and the queen of hair and fiber.
Dr. Charlotte Mira is a mother figure and a friend to Eve; she's also the best psychiatrist and profiler in the city. Dennis is her sweet husband. Mavis Freestone is Eve's best friend. A popular singer, she and Leonardo, the dress designer Roarke commissions almost always for Eve's clothes, have a baby, Bella. Nadine Furst is Channel 75's top air reporter and a friend of Dallas. A journalist with a heart. Crack is there at the party, the almost seven-foot sex-club owner dancing with Nadine. Charles Monroe, a sex therapist, and his wife, Dr. Louise DiMatto, show up for the party.
"Marriage is an adventure. And a comfort."
Trina is about the only woman on earth Dallas is afraid of. The owner of Ultra You, she is always jumping all over Eve's face, hair, and body. Doing stuff to it. It's hell. Sima Murtagh is planning revenge against her now ex-boyfriend. Carlos, Vivi, and Ace were the rest of the partiers that night.
Caro is Roarke's very efficient admin.
Trey Ziegler is a personal fitness trainer and massage therapist who's a player and a user. Alla Coburn owns Natural Way, a health-food store, and was one of Trey's exes.
Clients
Natasha Quigley is married to John Jake Copley (he works at ImageWorks Public Relations), and the marriage is shaky. Martella is her sister, and she's married to Lance Schubert. Catiana Dubois is Martella's social secretary and almost part of the family; she's dating a great guy, Steven Dorchester. Louanne Parsons is a partner in a gift shop. Teera Blankhead is on her second marriage and raged as she cried. Kira Robbins is a fashion blogger with bad memories from her past. Brent is the doorman at one of Roarke's buildings. Felicity Prinze is the side piece. She's actually a sweet but naive girl from Shipshewana, Indiana, planning to make it big as a performer. Sadie is a friend of Felicity's, from the Starshine Club where she used to dance. Chantal is one of Felicity's three sisters; her parents are Jonas and Zoe.
Buff Bodies (BB)
Lill Byers is Trey's supervisor. Evan is her son. BB instructors include Gwen Rollins — she went to the conference; "Juice", a.k.a., Jacob Maddow, was a rival instructor and a friend of Rock's (he's married with a daughter, Mimi, and another on the way); Lola; and, Selene.
David "Rock" Britton left BB and opened his own gym, Rock Hard. Rock has a sister, Kyria, whom Trey hit on. Master Wu is a martial arts champion Dallas met on a case.
Tiko is a street businessman, a young teen Eve encountered a few stories back. He's got employees now: Deke and Manny. Astrid and Ben is the mom-and-pop who, with Tiko, help Eve get her shopping done. Ursa was the jeweler from another case. Zeke, Dee's brother, gets a mention. Stanley Physter, a.k.a., Stefano, was the boy Dee and her sister wanted when they were young. Omega is the head designer for the Christmas party. Bower is the florist. Dr. Campo is the neurosurgeon operating on Tash. Janis Vick is the head nurse. Edie McAllister of Silbert, Crosby, and McAllister is the very unwanted lawyer. Hey, she's a woman… I think Drunk Santa is a nicer guy than Trey.
Update: The building in Hell's Kitchen that had twelve young girls buried in it was rehabbed into a safe house for troubled kids, An Didean. Now Roarke is adding a memorial roof garden with a dome.
The Cover
The cover is the trademark In Death design with its almost two-thirds of solid deep, deep purple background on top showcasing the author's name, a wide strip of diamond plate as a border for the title, and a colorful strip of a collage at the bottom incorporating elements of the story: a champagne glass, money, ornaments, crime scene tape, ribbon, and a yellow note that says "You've Been Bad" ho-ho-ho…
The title is too true, for how can you not be Festive in Death during the holiday season?
Related Posts