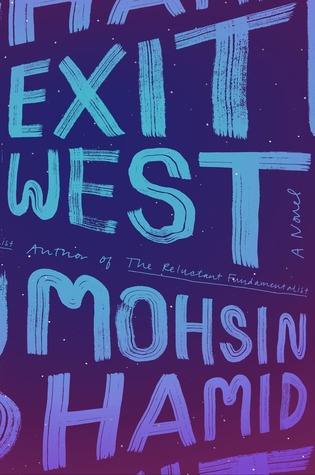 I received this book for free from the library in exchange for an honest review. This does not affect my opinion of the book or the content of my review.
Exit West
by
Mohsin Hamid
Genres:
Magical Realism
Published by
Riverhead
on March 7, 2017
Pages:
231
Format:
Hardcover
Source:
the library
Buy on Amazon
Goodreads
A standalone story of magical realism that brings a sad hope to so many seeking to escape the violence of civil war.
Exist West was nominated in 2017 for the Man Booker Prize.
My Take
It's an unsettling tale using third-person point-of-view that gives insight into the plight of refugees, desperate for safety and a home, as seen through the eyes of one couple in a relationship imposed by circumstances.
It's a conflict of being true to themselves, of having a choice. The independent Nadia and the suddenly religious Saeed, as they struggle to survive insurgents, other refugees, and those native to the countries to which they flee.
I'm tellin' ya now that I have a prejudice against militants who try to enforce their beliefs on others, so it may well color this review. More resentment is due to my not understanding the bit about those doors. I thought it was supposed to be a real thing until it dawned on me: magical realism. Duh. And that's the whole point of magical realism, that it feel so real with just that touch of fantasy.
My favorite part of this story was Nadia's reason for wearing her all-concealing black robe. Smart girl, lol.
It's an interesting look into another culture, another way of life. Of the constrictions between unmarried men and women. Of refugee problems as well as understanding the anger on the part of those whose lands are being "invaded". It's a catch-22 of survival.
"…by making the promise he demanded she make she was in a sense killing him, but that is the way of things, for when we migrate, we murder from our lives those we leave behind."
Hamid is smooth and his voice is consistent, as he slowly pulls us back and forth emotionally, following the downward slide of our protagonists. It's a realistic exploration of a relationship founded more on desperation than actual love, and I felt so sad as I read this. I imagined my own life imploding as was theirs…and I couldn't. I didn't want to.
The Story
In a country teetering on the brink of civil war, two young people meet — sensual, fiercely independent Nadia and gentle, restrained Saeed. Their furtive love affair is soon cloistered in a premature intimacy by the unrest roiling their city.
When it explodes, turning familiar streets into a patchwork of checkpoints and bomb blasts, they begin to hear whispers about doors — doors that can whisk people far away, if perilously and for a price.
As the violence escalates, Nadia and Saeed decide that they no longer have a choice. Leaving their homeland and their old lives behind, they find a door and step through.
The Characters
Nadia works in an insurance office. Her family cast her off for wanting to be independent.
Saeed works in outdoor advertising. His mother is a retired teacher while his father is still a university professor, but on reduced wages. Both his parents were readers…so romantic IMO.
The Cover and Title
The background of the cover is a gradient of deep, deep blue that pales into the middle before descending into a grayed-out red-violet. The title and author's name are in a pale blue scratchy sort of font that reinforces their desperateness, words that begin to disappear into the background at the bottom. Both title and name are on a slant, although each has its own angle, rushing to leave, just as Nadia and Saeed rush.
The title is what Nadia and Saeed seek, an Exit West to escape the turmoil in their country.
Related Posts