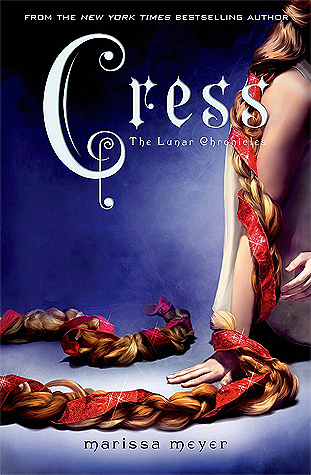 I received this book for free from the library in exchange for an honest review. This does not affect my opinion of the book or the content of my review.
Cress
by
Marissa Meyer
Genres:
Steampunk
Published by
Feiwel and Friends
on February 4, 2014
Pages:
550
Source:
the library
Buy on Amazon
Goodreads
Also by this author:
Cinder
,
Scarlet
,
Winter
,
Heartless
Third in The Lunar Chronicles steampunk series for young adults and revolving around Cinder, a steampunk princess no longer in hiding. The focus is on Crescent Moon, the still-alive daughter.
In 2014, Cress was nominated for the Goodreads Choice Award for Young Adult Fantasy & Science Fiction.
My Take
The fairy tale theme is Rapunzel, and the prince who rescues her from her tower. The joke in it is Thorne's reaction to that rat's nest of long, long, long, seven years long hair, but it does bring to life how isolated Cress has been. For certain sure, she is an inventive thing with quite the brainiac ideas. Unfortunately, she dreams of passionate kisses as she expects real life to conform to the videos she's spent her entire life watching.
We find out the truth about the ID chip harvesting. Yuck. For yet more proof that the nasty Sybil doesn't think too far ahead — I guess she's too used to being omnipotent — when she doesn't remember who has been shielding all those Lunar ships. And why does Kai find it such a surprise that Levana would choose to bring her army to the Commonwealth?
Sure, it's a trope that finds our heroes rescuing Cress, but Cinder's reason for it definitely is a twist, lol. Jacin sounds so plausible in his hatred for the queen, for being controlled.
Priya is brilliant about her droid suggestion, and it makes it quite natural as a way in for Cinder and her team. As horrible as the idea of wedding Levana is, all the jabs Kai makes about it are hilarious:
"Delete anything that has to do with love, respect, or joy, and I'll sign on the dotted line."
It's so sweet how the citizens of Farafrah take to Cinder, how protective they are, which makes the end all the worse. Another scene that makes me weep is the one in which Wolf is pacing back and forth cradling a can of tomatoes. Yet more tension comes with the palace infiltration and the battle on the rooftop.
On the other end of the emotional spectrum is Thorne's explanation of that card game and the prize he claims for Iko. Hmmm, maybe Cress is right and he truly is a good guy…
I don't understand why normal humans think cyborgs are so awful. They are humans too, simply ones who were saved through surgery. It's a rather obvious ploy by Meyer to create an underdog who needs a champion, but is also a very true look at prejudice and bigotry. And Cress finds Kai questioning his grandfather's signing the Cyborg Protection Act.
The Lunars are an enemy you simply cannot wait to destroy; they're so bloody arrogant!! I know I'm anticipating war with glee. What I don't understand is why the Earthens don't appear to have bothered trying to come up with any defensive weapons against the Lunars.
It's a fine line Cinder walks, as she uses her Lunar gift in extremis and wonders if she's turning into Levana.
The Story
Everyone knows the Lunar Queen intends to kill Kai as soon as she has an heir. What everyone hopes is that she will not attack the rest of the world once she's empress.
While only Cress knows that vid-star gorgeous Carswell Thorne is truly a hero. But her excitement at being rescued is tempered by Scarlet's kidnapping, her slog through the desert with Thorne, and his explanation of all those "heroic" actions.
Meanwhile letumosis is mutating, affecting Lunars.
The Characters
Cress, a.k.a., Crescent Moon, is Dr. Erland's daughter, a shell and hacker extraordinaire, who has been caged in a satellite for seven years. "Cress" is the ten-year-old self she programmed as a companion. Mistress Sybil is her control.
Carswell Thorne is "captain" of the Rampion military-class cargo ship he stole from the Americans. Wolf is an ex-street fighter and Lunar spy/wolf hybrid whose genes were altered as part of the queen's experiments. He fell in love with Scarlet Benoit (Scarlet, 2), a half Lunar young woman whose grand-mère, Michelle Benoit, watched over Cinder while she was in her coma.
Linh Cinder is the hidden Lunar princess whose life was saved after major surgeries turned her into a cyborg. Iko is Cinder's droid friend from Cinder, 1, and who was implanted into the Rampion in Scarlet.
The Eastern Commonwealth is…
…led by Emperor Kaito "Kai" who has agreed to marry the Lunar queen and still hopes, desperately, that the missing Lunar princess can be found. Gag. Konn Torin is Kai's chief advisor. Tashmi Priya is the long-suffering wedding coordinator who cares about Kai. Nainsi is Kai's android assistant. Deshal Huy is the chairman of national security. Fateen-Jiĕ is one of the letumosis researchers. Chang Sunto was the child who recovered from the plague in Cinder. Tan Kaoru, tracking number 0089175004, doesn't actually exist.
The nasty, wicked Linh Adri, Cinder's stepmother, and Linh Pearl, her stepsister, are invited to the wedding.
The Sahara in Africa
Dr. Dmitri Erland was a Lunar in hiding in charge of the Eastern Commonwealth's research department to find a cure for letumosis. Seems he had also been one of Lunar's leading scientists, Dr. Sage Darnel, on the genetic engineering research team under Channary, the previous queen. Now he's hiding out in Farafrah, Africa, with its large Lunar refugee population.
Kurfra is a trading city on the eastern edge of the Sahara. Darla, a.k.a., Darling, is an escort-droid. Jina and Niels head a trading caravan. Kwende, their hunter, and Jamal are some of the men.
Dr. Edelstein pronounces on the wolf hybrids.
Other leaders in the Earthen Union include…
…Prime Minister Kamin of Africa who will be the wedding officiant. Samhain Bristol is the parliament representative from Toronto. Bromstad is the European prime minister. Queen Camilla rules in the United Kingdom. President Vargas is the leader of the American Republic. Governor-General Williams leads in Australia.
Luna is…
…the moon on which the human colonists have evolved and can manipulate the bioelectricity of others. Artemisia is its capital city. Levana is the psychopathic, vicious Lunar queen. Princess Winter is her mad stepdaughter who hasn't used her gift since she was twelve. Ryu is her pet wolf. Mistress Sybil Mira is Levana's chief thaumaturge. Sir Jacin Clay is her pilot and was the guard at the ball who held Cinder captive. Thaumaturge Aimery Park is Levana's second thaumaturge, for now. Lieutenant Hensla is in charge of finding Cinder after that rescue. Sierra. Jerrico is the captain of the queen's guard.
Julian had been one of the shells taken for experiments by the Lunar queen. The Venerable Annotel and wife have "adopted" Scarlet on whom their nasty eight-year-old son, Master Charleson, experiments.
The Treaty of Bremen is to be signed after the wedding. Kate Fallow was the student for whom Thorne stood up.
The Cover and Title
The cover is nicely Rapunzel-like with the long, winding, braided tail intertwined with red ribbon, as it cascades down Cress' back and wraps around her arm. The background is an offset gradient of pale blue to royal to deep blue while the title and series information is in a Gothic silver-embossed font. The author's name is in black, small, and at the bottom.
The title is the protagonist, Cress, or Crescent Moon.
Related Posts